Page 3 of 3
"They create pockets of stability. There's been a little more pride in the city. I'm starting to see more people strolling the streets than before," she says.
Mayor Valentine agrees. "It seems that whenever we do something cultural, it takes off. [People] will come if you do it," he says. "We need a lot more of that. We get set backs—like the economy—but they are small steps back, not big ones. There's a lot of new activity still going on."
Valentine also credits the renewed pride to the reality that Newburgh isn't really one homogenous city, but a conglomeration of very different, very special neighborhoods. As an example, he points out that the city's East End is very urban, while the West End is "almost suburban." Neighborhoods like Washington Heights and Colonial Terraces are as different from other sections as they are from each other.
"We have a lot of neighborhoods that make Newburgh a special place. All the communities are unique and can't really be lumped together, which is a good thing," Valentine says.
THE YOUTH GAP
One of the biggest complaints from young people in the area is often that there isn't much for them to do. With only three area movie theaters (two of which are not actually in the city itself), no skating rink or other place for teens to hang out, Newburgh's youth sing the same tunes.
"There's nothing geared toward folks [who are in their] mid teens to 30 or so, unless you have kids," says Holly Berchielli, who runs the new Mrs. Max boutique on Liberty Street with her mother. "I think that's a big deal."
To give the young people another venue, Berchielli says she's pushing to host concerts at nearby Washington's Headquarters this summer and will also begin re-publishing Outsider magazine, a local music, art, tattoo, car, and poetry publication that has been on a two-year hiatus.
"The city's not involved with talking to the young people," says Berchielli. "I guess it's up to us business owners to make that happen, because how successful can a city be if in the middle no one is interested?"
It is a gap that Valentine fully acknowledges. "We don't have some cultural things—like coffee shops, places to dance, book stores—that a city needs for young people. We once had three hotels and seven theaters. That did it. We need something like that again."
Until then, Haggerty Wenz thinks the variety that is Newburgh will eventually characterize it more than the negative images and stereotypes will.
"I don't think the crime and blight defines us. What defines us is the diversity," she says. "I love this city."
FOR MORE INFORMATION
Caffe Macchiato www.caffemacchiatonewburgh.com
Downing Film Center www.downingfilmcenter.com
City of Newburgh www.newburgh-ny.com
Newburgh Restoration www.newburghrestoration.blogspot.com
Newburgh Revealed www.newburghrevealed.org
Newburgh Waterfront www.newburghwaterfront.com
Safe Harbors of the Hudson www.safeharborsofthehudson.org
Newburgh's waterfront walkway with views of the river, Beacon and the Newburgh-Beacon Bridge, adjacent to the restaurants and shops on Front Street.
The people's garden of Newburgh on Gidney avenue.
James Johnson's Freedom of Movement sculpture at 208 Broadway.
The exterior of Caffe Macchiato on Liberty Street.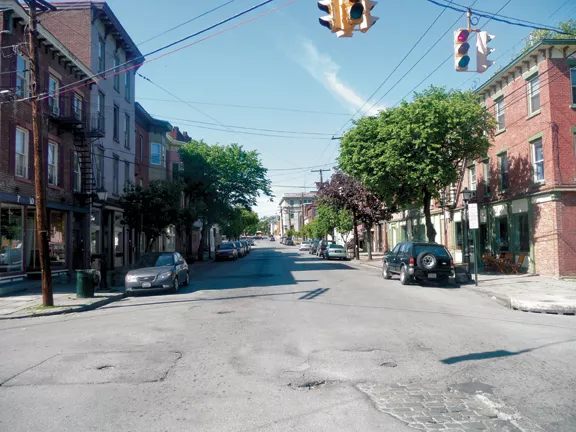 The intersection of Liberty and Washington Streets south of Broadway.