Sara Cwynar's Ultra Cosmetics (Nail Polish Forty Fabulous Shades), from the exhibition "Gilded Age" at the Aldrich Contemporary Art Museum in Ridgefield, Connecticut, June 9 to November 10.
Sara Cwynar at the Aldrich Museum
Canadian-born Cwynar's first solo museum exhibition on the East Coast, "Gilded Age," spans photography, installation, bookmaking, and film. Her work deftly probes from all angles the methods by which images are constructed, pushed, recycled, and—since the advent of the Internet—never allowed to expire. Cwynar poses questions about entrenched stereotypes through appropriation and layering of both real and virtual material, from the curbside Dumpster to eBay.
June 9-November 10
Wendy Hollender at Lifebridge Sanctuary
The internationally renowned botanical artist, perhaps best-known locally for her book project with forager Dina Falconi, Foraging and Feasting, shows her anatomically detailed illustrations at the Rosendale retreat center. Her illustrations have been published in the New York Times, O, the Oprah Magazine, Real Simple, and the Observer. Hollender's self-described technique is to "undress" the plant in her drawings, exploring plants and flowers on a micro level, the way an insect does, revealing the mystery within.
June 2-July 31
David Hornung at Elena Zang Gallery
Throughout his career, David Hornung, the chair of the Department of Art and Art History at Adelphi University, has been drawn to the flattened pictorial spaces of icon painting. His works feature an amalgam of landscapes, portraits, and still lifes that makes the viewer work to piece together a story from the seemingly disparate elements. Hornung's work wrestles with the essential duality of painting: the simultaneous construction and presentation of image and object.
June 15-July 2
Andrew Neumann at 11 Jane Street
For his first solo show in six years, Andrew Neumann will be presenting a series of video projections, text panels, photographs, and sculptures at this unconventional new art space in Saugerties. Neumann's works reflect on issues concerning the uses of technology, language, and transmission of power. The video projections consist of multichannel loops that deconstruct iconic scenes from classic films—think big-budget Hollywood musicals from the `30s and `40s. On June 15, Neumann will present a live, interactive video projection piece.
Through July 31
The daughter of renowned artist Thomas Cole, who founded the Hudson River School, Emily Cole (1843-1913) was an accomplished artist in her own right. She created an extensive oeuvre of botanical illustrations, which includes over 100 watercolors on paper and painted porcelain objects that now reside in the collection of the Thomas Cole National Historic Site in Catskill. This is the first solo exhibition of Cole's artwork on both paper and porcelain, featuring 12 original sets of painted porcelain works and 13 works on paper.
Through July 7
Peekskill's contemporary art powerhouse hosts Malaysian textile artist Anne Samat's first solo exhibition in the United States. In her new body of iconic wall hangings "Greatest Love," Samat blends intricate textiles and found objects into woven totems to her family, starting with her mother and continuing three generations to her first nephew. Samat, considered to be among the most important artists emerging in Asia, will be in residency at HVMoCA for three months.
Through September 8
Fight, a pen and ink drawing by Annabelle Popa.
Annabelle Popa at Kingston Pop Museum
This millennial illustrator brings her fantastic worlds and strange creatures to Kingston this month. Inspired by nature and folklore, Popa's illustrations and murals meticulously depict otherworldly creatures that could be straight from the golden age of comic books.
June 1-16
We Should Be Heros, one of the paintings featued in the exhibition "Peter Bradley: New Work," at Emerge Gallery in Saugerties, June 1-30.
"Peter Bradley: New Work" at Emerge Gallery
Abstract painter Peter Bradley has his first solo show in 1972 and in the four-and-a-half-decades since, the color field artist has exhibited across the world. His work is in the permanent collection of The Metropolitan Museum of Art, the Whitney Museum of Modern Art, and the Museum of Modern Art. Bradley continues to paint and make sculpture at his landmarked 18th century Dutch stone house.
June 1-30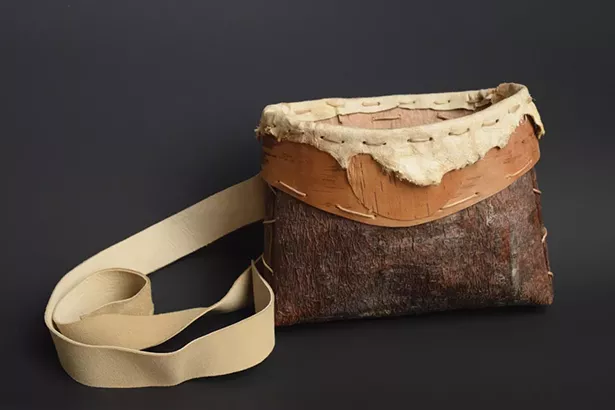 A basket by Katie Grove, one of the works featured in the exhibition "Art of Everyday Objects," at Wired Gallery in High Falls through June 23.
"Art of Everyday Objects" at Wired Gallery
This show encapsulates a cross-section of goods by 25 local makers—from furniture and home goods to wearables—chosen by curator Erin von Holdt-Gilbert, a Woodstock-based fiber artist, teacher, and one of the exhibiting makers. Exhibiting artists include Danielle Bliss, Jacinta Bunnell, Aditi Chang, Jenny Lee Fowler, Cheyenne Mallo, Cal Patch, Jasmine Redfern, Emily Ritz, Lora Shelley, Victoria van der Laan, and Jenny Younge among others.
Through June 23