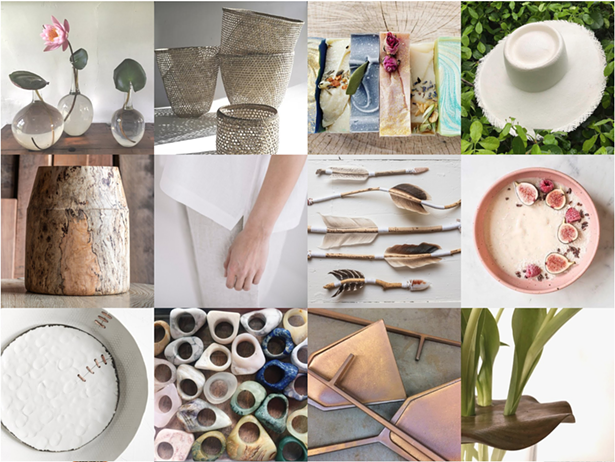 Field + Supply's Spring MRKT comes to Hutton Brickyards this Memorial Day weekend.
fairs & festivals
Field + Supply Spring MRKT
Field + Supply, a modern spin on traditional craft fairs, started in 2014 with a desire to showcase the wide range of artisans from the Hudson Valley. The festival is known for its fall Columbus Day weekend event, but Memorial Day weekend, for the first time Field + Supply will introduce Spring MRKT, with an emphasis on the great outdoors. Browse through fine furniture, apothecary, jewelry, apparel, home accessories, and more from a wide variety of vendors. The MRKT will kick off Friday night, May 24, with a cocktail party, dinner, and live music, and run through Sunday afternoon. $15. Fieldandsupply.com
food & drink
Mushroom Festival
The Mushroom Shed, a community-based public art project in New Paltz, will be home to edible and medicinal mushrooms grown on spent beer grains and coffee grounds from local businesses. An extension of The Reformed Church's Community Garden, The Shed already has a crowd of supporters and collaborators including several community businesses like the Mid-Hudson Mycological Association, Catskill Fungi, Bacchus Brewery, and People's Cauldron. The Shed will be inaugurated with a Mushroom Festival on May 10. Attendees will be able to try all sorts of fungal treats like mushroom beer, mushroom chocolates, and mushroom coffee. The festival offers mushroom-themed activities and workshops as well, including art, yoga, puppet theater, and a mushroom inoculation demonstration. Built in the style of a historic smokehouse that existed on Huguenot Street in the 1700s, the Shed welcomes every member of the community to enjoy the funky festival.
books & authors
Amy Hempel Reading
On May 4, Bank Holiday, a new Catskill-based reading series presented by After Hours, will celebrate its launch at
Bills Bar
. Award-winning writer Amy Hempel will headline the show, with a reading from her new story collection,
Sing to It
. Hailed as the "master of the minimalist story," Hempel's collection emphasizes moments of revelation and transcendence, tying together the most private and fundamentally shared human experiences. Since the venue's conversion from a First Niagara Bank branch to Bills Bar is still underway, drinks will be served by a neighboring bar, HiLo, and Hudson's Spotty Dog will be teaming up with Bills for book sales. Acclaimed author Marie-Helene Bertino will introduce Hempel's work and spark discussion. The next reading, on August 3, will showcase poet Ariana Reines, whose collection
Sand Book
goes on sale this June.
books & authors
Neil Gaiman + Coraline Screening
Dakota Fanning in Coraline (2009)
Award-winning author Neil Gaiman will be at Upstate Films in Rhinebeck on May 5 for a matinee screening of the captivatingly dark film Coraline, directed by the stop-motion master Henry Selick. Based on Gaiman's fantasy children's novel of the same name, the film portrays the magical-yet-sinister journey of Coraline as she ventures into a fantastical Other World. Things are seemingly better than real life in this mirror realm, but suddenly everything begins to unravel and Coraline must find her courage to make a challenging choice. Following the screening, Gaiman will answer questions from the audience. $12-$18. May 5, 12:30pm.
food & drink
Gardiner Cupcake Festival
Launched on the village's Main Street in 2009, the Gardiner Cupcake Festival has become a beloved springtime tradition. This year's festival (May 18) will begin with a Gardiner 5K Cupcake Classic run through the apple and peach orchards of the Wright's Farm, a 453-acre property with majestic views of the Shawangunk mountains. The festival boasts cupcakes of every variety, plus other food, music, local vendors, local wine tastings, and plenty of fun opportunities for the children. The vendors hail from the sweetest communities of the Hudson Valley, like Deising's Bakery from Kingston; Peace, Love and Cupcakes from Woodstock; and Mid-Hudson Cakes from Wappinger Falls. But if you're watching your sugar, don't worry. The festival also includes Jamaican and Mexican food, pizza, and creations from Hudson Valley BBQ.
fairs & festivals
Chancellor's Sheep & Wool Festival at Clermont
Hosted by the Clermont State Historic Site, the Chancellor's Sheep and Wool Festival brings together over two dozen local vendors and more than 30 skilled artisans and local craftspeople for a day of shearing, spinning, carding, dyeing, and weaving. This fiber-forward festival is geared toward families, and children will be entertained by the colorful yarns, 18th century reenactors, and arts and crafts. Showcasing sheep and wool farmers and vendors from across the Hudson Valley, the festivities celebrate historic fiber arts, culture, and techniques. $8-10. May 4.
fairs & festivals
Basilica Farm And Flea Spring Market
Talented farmers, creators, collectors, and artisans from the Hudson Valley unite at the Basilica Farm and Flea Market on May 7 and 8. Spring-inspired goods will be sold inside Basilica Hudson's epic industrial venue, including handcrafted apparel and vintage garden sets. If you get hungry strolling through the tables of vendors, there are plenty of opportunities to eat. On Saturday, Swoon will host a pop-up, with a bar and complete menu. On Sunday, Bonfiglio and Bread will take their spot, serving up a spring menu and bar. Originally created on Thanksgiving Weekend 2013 as the antithesis to Black Friday, the fair has grown into a general celebration of the ingenuity and talent of community members while remaining committed to sustainable practices and supporting the local economy. $5.
food & drink
Food is Medicine
If your stomach gets queasy after a simple meal, or if you're tired of popping digestive pills before dinner, consider attending Chef Mike Dederick's five-course feast "Food is Medicine" at Talliaferro Farms. Working as a chef for 30 years, Dedrick has developed a fascination with food as natural medicine for the mind, body, spirit, and gut. He argues that while American consumers are bombarded with new research every day relating to proper food habits, in reality the majority of foods that we consume are made toxic by pesticides, hormones, and antibiotics. This health-supportive five-course meal includes a lactofermented vegetable salad, fresh salmon and trout, local rabbit with Wild Hive polenta, apple cake, and fermented kefir ice cream. May 18. $85.