This clip uses video footage from the original production of "FLINT" at Jeff Daniels' Purple Rose Theatre in Michigan.
"Flint" at Shadowland Stages
September 13-29
An all-too-real unraveling of the American Dream comes to life on stage in the East Coast premiere of "Flint". The intense play, written by renowned, Michigan-born actor and playwright Jeff Daniels, will be performed at Shadowland Stages in Ellenville September 13-29. The 75-minute play shows two neighboring families—a black couple, Mitchell and Olivia, and a white couple Eddie and Karen—as they grapple with conflicting reports about the impending water crisis in Flint. Everything comes to a head one evening in Mitchell and Olivia's kitchen, as the four discuss the state of affairs since the men lost their jobs at the GM plant three years prior. As the stress mounts, deep-seated race and class tensions boil to the surface in this ambitious and tense play.
"Dracula"
September 20, 21, 28, 29
For the second consecutive year, Theatre on the Road transforms Bannerman Island into Transylvania-on-Hudson for the traveling troupe's production of "Dracula." After reviewing multiple versions of the play, director Frank Marquette selected a loose adaptation of the Bram Stoker novel written by Crane Johnson in 1976 and based the setting in the 1920s, making full use of the island's arsenal venue (commonly known as Bannerman's Castle). Four nights of performances are planned: September 20, 21, 28, and 29, each starting at 7:30pm; tickets include ferry transportation between the island and Beacon's dock.
"Quarry" at Manitoga
September 21-22
After buying a former granite quarry in Garrison, Midcentury Modern titan Russel Wright spent 15 years studying its topography, creating trails, diverting a stream, and planting native species. The 75-acre property, Manitoga, has been preserved as a museum and performance art center with an artist residency program. On September 21 and 22, 2019 artists-in residence Ivy Baldwin Dance will premier the site-specific piece "Quarry." set in Manitoga's wooded landscape. Like Wright, who sought to blur the boundaries between the natural and artificial through a constant experimentation with form and material, Baldwin's choreography explores our relationship to nature, while toying with perspective and scale in a mind-bending performance that invites viewers to observe the performance from great distances.
Art Walk Kingston
September 21-22
Art Walk Kingston offers you the chance to immerse yourself in Kingston's burgeoning arts scene and increasingly diverse community of makers. Explore the city's wide array of galleries and private studios throughout its three distinct neighborhoods through this self-guided tour of the studios of more than 100 artists specializing in paintings, drawings, sculpture, textiles, and more. This weekend event is presented by Arts Mid-Hudson and takes place September 21-22 from 12-5pm.When you get to the waterfront Rondout district, pop into the Kingston Wine Co. to enjoy a free wine tasting in conjunction with the Art Walk on Saturday from 1-3pm.
Women & Power Conference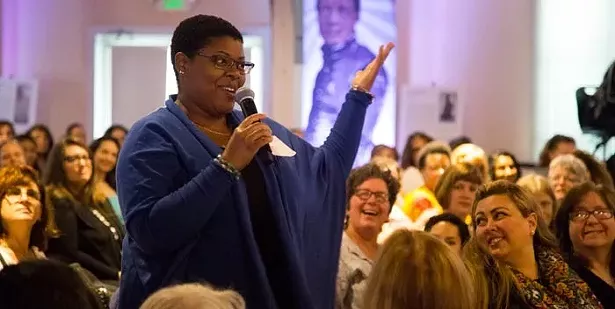 September 27-29
Women from around the world have gathered annually at Omega's three-day Women & Power conference for nearly 20 years, and the 2019 schedule doesn't disappoint. The event brings more than 20 inspirational female speakers and instructors to Rhinebeck to lead morning sessions and breakout workshops in leadership skills, stress-reduction, creativity, and more. This year's keynote speakers, panelists, and entertainers include Tarana Burke, a civil rights activist and founder of the #MeToo movement; Jamia Wilson, executive director and publisher of the Feminist Press at CUNY; and songwriter-activist-philanthropist Natalie Merchant, among others. The schedule also includes wellness classes such as yoga, meditation, and movement; healthy meals; and access to Omega's serene grounds.
Woodsist Festival
September 28
Summer may be coming to an end, but the region's music festival season is far from over. Hear more than 10 indie rock bands perform live at Arrowood Farms' sustainable farm brewery in Accord during the Woodsist Festival, September 28 from 1-10pm. Crowd-pleasing groups Real Estate, Waxahatchee, Bonny Doon, and Little Wings are just a few of the Woodsist Records label-mates performing at this outdoor event, which takes place amidst Arrowood's pastoral setting. Grab a pint and explore the grounds' hops trellises in between sets, visit the taproom for Arrowood merch or to fill a growler to go.
Hudson River Valley Ramble
Every weekend in September
The Hudson River Valley Ramble returns for its 20th year, celebrating the history, culture, communities, and natural splendor of the 10 counties that make up the Hudson Valley. The Ramble consists of concurrent events each weekend in September, centered around themes of the Hudson River Valley National Heritage Area, including the Revolutionary War, Hudson River School artists, designated Greenway trails, and more. Daily activities allow participants to experience the full breadth of the region's recreation opportunities, including scenic sunset kayak paddles, hikes with picturesque vistas, special events at historic sites, corn mazes and farm happenings, fairs and festivals, and bike tours.
Harvest Festival
Every Sunday in September
Bring the whole family for a jovial afternoon of local food and handmade crafts at Bethel Woods' 21st Annual Harvest Festival, taking place every Sunday in September from 11am-4pm. This long-running outdoor fest features more than 100 vendors including farm stands, artisan vendors, and more. Each weekend offers a special event, including the Abandoned Hard Cider Garden on September 8; the Catskills Fiber Festival on September 15; Sullivan 180—which teaches families how to adopt a healthier lifestyle—on September 22; and the Pop-Up Vintage Market, featuring a vintage record shop and exchange, comic books, clothing, antiques, and other unique goods on September 29.
For comprehensive calendar listings visit Chronogram.com/events.