As the Festival of Lights comes to a close, we hope our Jewish readers have had a happy Hannukah. Here are some enjoyable activities to keep the seasonal mood flowing.
Belfast at the Upstate Orpheum | December 8-9
Written and directed by Kenneth Branagh,
Belfast
tells the personal and ultimately uplifting story of nine-year-old Buddy, whose family's serene life is disrupted by sectarian violence in 1969. The poignant feature stars Caitriona Balfe, Judi Dench, Jamie Dornan, Ciaran Hinds, and Jude Hill and is playing at
Upstate Films
' Orpheum location in Saugerties on December 8 and 9 at 4:45pm. Tickets are $10 (senior, student, member, and youth discounts apply).
"Charlie Baum Christmas" at the Falcon | December 9


On December 9 at 7pm, local jazz organist Jeremy Baum and his trio make their traditional yearly return to
the Falcon
for "A Charlie Baum Christmas." The night pays tribute to and reinterprets the music of Vince Guaraldi's beloved and hugely influential 1965 album
A Charlie Brown Christmas
, which contains the magical music heard on the animated TV special of the same name. Joining Baum on stage will be bassist Sue Williams and drummer Peter O'Brien. Reservations and donations are requested.
Wine and Food event at Locust Grove | December 9
Completed in 1851, the historic
Locust Grove
was the Poughkeepsie estate of Samuel F.B. Morse, the inventor of the telegraph. Today, the beautiful Italianate mansion is a national landmark, and its grounds are open year-round for visits and special happenings. Among the latter is the Sunset Sensations Wine and Food event on December 9 at 5:30pm. The occasion promises delicious treats by featured chef Agnes Devereaux, delicious wine pairings, and a tour of the site, which has been decorated for the holidays. Three sampling pairings accompanied by presentations by the chef and a wine expert will fill the evening. Tickets are $35.
Susie Ibarra and Immanuel Wilkins in Beacon | December 10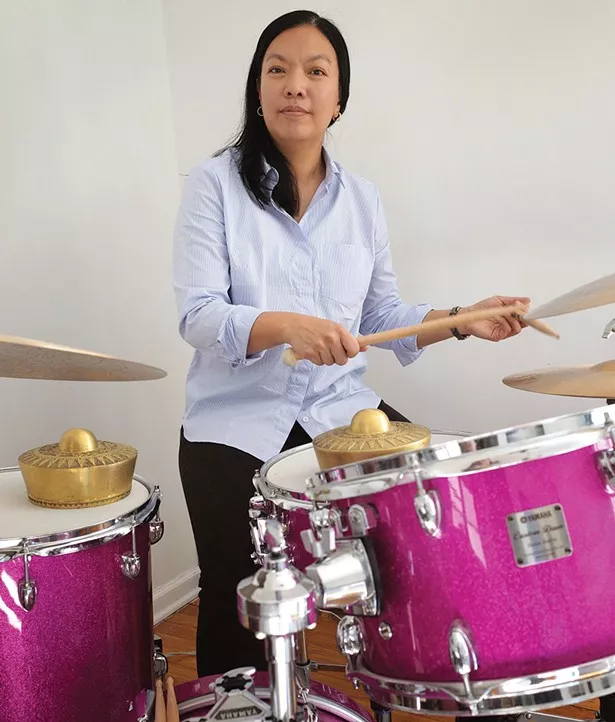 Fionn Reilly
Susie Ibarra
In an evening presented by the Fridman Gallery at the
Howland Cultural Center
in Beacon, drummer Susie Ibarra and saxophonist Immanuel Wilkins will perform on December 10 at 8:30pm. Profiled in the March 2018 issue of
Chronogram
, Ibarra is a Filipinx composer, percussionist, and sound artist working to preserve indigenous music and culture; she lives in Ulster County and teaches at SUNY New Paltz. Williams, who is also an educator, has toured with and/or recorded with Jason Moran, the Count Basie Orchestra, Delfeayo Marsalis, Joel Ross, Aaron Parks, Gerald Clayton, Gretchen Parlato, Lalah Hathaway, Solange Knowles, Bob Dylan, and Wynton Marsalis. Tickets are $20.
Moe. Brings the Jams to Port Chester | December 10-11
Everyone knows that the jam band market is huge in these here parts—and Moe., familiar festival headliners in pre-COVID times, are easily one of the genre's biggest names. "We're a better band now," says the group's long-time drummer Vinnie Amico. "The reality is, you spent 30 years with people doing what you do, you get better. There's no ifs, ands, or buts about it. Your ears get more trained, your playing gets better and better, your ability to communicate with each other better"—all of which certainly contribute to the band's instrumental prowess. The Buffalo-born group had planned to tour more extensively in support of their two 2020 releases, the album
This is Not, We Are
and the EP
Not Normal
, but were, sadly and like so many other acts, sidelined by the pandemic. Back out on the road, they'll make this two-night stand at the
Capitol Theatre
in Port Chester on December 10 and 11 at 7pm each night. Tickets are $35-$172.50.
"Into the Light" Shines in Rosendale | December 11
A scene from the Vanaver Caravan and Arm-of-the-Sea Theater's "Into the Light"
The
Vanaver Caravan
, in collaboration with Arm-of-the-Sea Theater, returns with the holiday pageant "Into the Light," which celebrates the traditions of Hanukkah, Christmas, Kwanzaa, Diwali, Sankta Lucia, Winter Solstice, and Yule through festive dance, live music, and puppetry. "Into the Light" is set in a northern country where a young girl named Lucia loses her inner light as the sun's light diminishes with the coming of winter. "Into the Light" will be performed at the Rosendale Theatre on December 11 at 2pm and 4pm. Tickets are $15.
"Tell It Like It Is" at the Rosendale Theatre |
December 12
Master storytellers Verna Gillis and David Gonzalez will take the stage for a one-time only performance of their show "Tell It Like It Is" on December 12 at 2pm at the
Rosendale Theatre
. In the program, Gillis and Gonzalez will perform excerpts from their repertoires and offer insights into their creative processes. Gillis's "Funny. Not Cheery" will be followed by Gonzalez's "The Four Rivers Model," a storytelling workshop that he developed "to help invigorate personal stories with vitality and communicative power." The event will live streamed from the theater. Tickets are $25 for in-person performance or live stream access.
To find out about more upcoming events in the Hudson Valley, subscribe to our weekly newsletter Eat. Play. Stay.