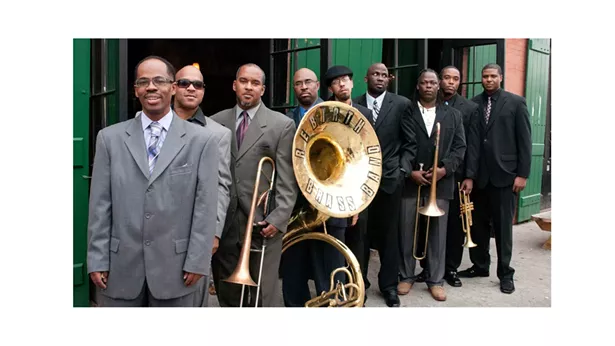 As August wraps up, welcome September with these stellar events.
Rebirth Brass Band at Daryl's House | September 2
Now celebrating its 35th year, the Rebirth Brass Band is a New Orleans institution. The Grammy-winning group's sound pays homage to the authentic New Orleans brass band tradition while combining elements of jazz, funk, soul, R&B, and other styles. The outfit has performed and collaborated with the Grateful Dead, the Red Hot Chili Peppers, Maceo Parker, Green Day, U2, James Brown, 311, G-Love, MuteMath, Juvenile, Train, Big Freedia, Ani Difranco, Galactic, Allen Toussaint, the Neville Brothers, Quincy Jones, and Trombone Shorty. They visit
Daryl's House
in Pawling on September 2 at 8pm. Tickets are $25-$35.
"A Midsummer Night's Dream" in Red Hook | September 2-5
Gryphon Pictures
will present local theatrical troupe the Tivoli Players in performances of William Shakespeare's immortal classic "A Midsummer Night's Dream" at the Greig Farm's O Zone space in Red Hook from September 2 through 5 at 7pm. The performances will be set on an outdoor stage behind the barn under a willow tree. Tickets are $18. (Performances are not recommended for children under 10.) See website for further information.
Kaatsbaan Festival Has Music and Art | September 4-5
On September 4 and 5 from at noon the 153-acre
Kaatsbaan Cultural Park
and sculpture garden in Tivoli will present the second installment of its three-weekend Summer Festival. The free event promises Western swing music with Tamar Korn and A Kornucopia; the premiere screening of a new film by Jeremy Jacob based on American Lyric, the site-specific, music-and-dance commission that premiered at Kaatsbaan's Spring Festival and featured pianist Hunter Noack and dancer/producer Garen Scribner; and curated craft cocktails and beverages available for purchase onsite from Milk and Honey Mobile Taps.
Comedy Series Kicks Off in Stone Ridge |
September 4
The Comedy Orchard
is a new live comedy series that starts up at Stone Ridge Orchard in Stone Ridge on September 4 at 6pm. The inaugural installment at the 115-acre farm will be hosted by Eddie Brill and also features his fellow comedians Tom Cotter and Michele Balan. In addition to a laugh-filled evening show, a full barbeque meal will be available from the Grille Wagon. For 17 years, Brill served as the audience warm-up comic for "The Late Show with David Letterman." He has taped more than 100 TV shows in six countries, including 10 appearances on "The Late Show" and an Emmy-nominated episode of the FX hit series "Louie." A three-time MAC award winner for Outstanding Male Comic in New York City, he has hosted and performed for hundreds of corporate events. Tickets are $25 general admission; $55 for show and dinner; $12.50 kids under 18.
PS21 in Chatham Presents "Ipsa Dixit" | September 4
Since
PS21
is an acronym for Performance Spaces for the 21st Century, it's appropriate that the Chatham arts center will be hosting the opera "Ipsa Dixit" on September 4 at 8pm: After all,
New Yorker
music critic Alex Ross has called the show at "21st-century masterpiece." A finalist for the 2017 Pulitzer Prize in music, "Ipsa Dixit" is a theatrical chamber opera for soprano, flute, violin, and percussion. Exploring the intersection of music, language, and meaning, the piece blends elements of monodrama, Greek theater, and screwball comedy to skewer the treachery of language and the questionable authenticity of artistic expression. Each two-seat pod for the performance is $80.
Woodstock-New Paltz Art and Crafts Fair Returns | September 4-6
The family-friendly, open-air
Woodstock-New Paltz Art and Crafts Fair
will take place at the Ulster County Fairgrounds in New Paltz, on September 4, 5 (10am-5:30pm), and 6 (10am-4pm). Rated the number two contemporary craft show in the nation by Sunshine Artist magazine in 2020, the event, which is celebrating its 40th year, lets visitors experience art, crafts, and specialty items alongside an extensive assortment of demonstrations, live entertainment by musicians and performers, and the Hudson Valley's best wines, craft beer, and locally produced handcrafted foods. Tickets are $9 general admission; $8 seniors (children under 12 are free).
Fred Hersh Trio at Maverick Concerts | September 4
Maverick Concerts
welcomes jazz greats the Fred Hersh Trio for an evening appearance on September 4 at 8pm. One of the most critically acclaimed pianists of the past four decades, Hersh is a brilliant composer, interpreter, and instrumentalist described by the
New York Times
as "singular among the trailblazers of their art, a largely unsung innovator of this borderless, individualistic jazz—a jazz for the 21st century"; "an elegant force of musical invention" by the
L.A. Times
, and "a living legend" by the
New Yorker
. Tickets are $10-$65.
Outdoor Makers Market Opens in Hunter |
September 5
Lovers of unique locally and artisan-made gifts, housewares, and other crafts and art might consider checking out the Scribner's Garden Makers Market at
Scribner's Catskill Lodge
in Hunter on September 5 beginning at 11:30am. Artisans from the Catskills and other parts of the Hudson Valley will dazzle attendees with a day of shopping, community, wine, beer, cider, music, and more, all curated by the Circle Creative Collective's team. Adults, children, and well-behaved pups are all welcome. Admission is free.
To find out about more upcoming events in the Hudson Valley, subscribe to our weekly newsletter Eat. Play. Stay.