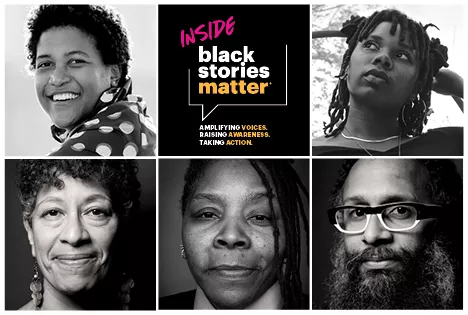 Fall's not here yet, and the weather's still warm enough to safely get out there and do cool and creative stuff.
TMI Project Presents "Inside Black Stories Matter" | September 13
"Inside Black Stories Matter" is a storytelling and roundtable discussion series presented by
TMI Project
"that marries the personal and the political with ideas for direct action for anti-racism that everyone can take to make a positive impact on their community." The fifth installment of the series, which will take place online on September 13 at 7pm as preparation session for September 26's Run FOR the Truth virtual fundraising race. The September 13 event will feature storytellers Zanyell Garmon and Alison Mariella Désir and their fellow Black Stories Matter members, Jessieca McNabb, Dara Lurie, and Micah, who will act as hosts and moderators. All are invited to listen, learn, and leave with concrete anti-racism actions. Suggested donation of $20.
"A Love Supreme" Honors Coltranes' Legacy | September 14
Rescheduled from its original, pre-lockdown booking, the live music series "A Love Supreme," which celebrates the creative legacy of Alice and John Coltrane, kicks off at
Hudson Hall
on September 14 at 6pm with a talk by Grammy Award-winning music historian Ashley Kahn, the author of A Love Supreme: The Story of John Coltrane's Signature Album; admission is free. The rest of the series features the Brandee Younger Trio (September 18), the Orrin Evans Trio (October 16), and the JD Allen Trio (November 20). See website for times and ticket prices.
Rob Garcia 4 Jam at Kingston Waterfront |
September 17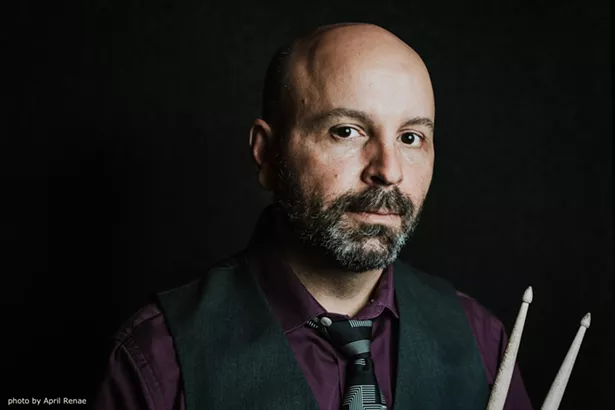 April Renae
Rob Garcia
Brooklyn jazz drummer
Rob Garcia
, who has appeared on over 70 recordings and worked with the likes of Wynton Marsalis and Diana Krall, will perform with his quartet outdoors at T.R. Gallo Waterfront Park in Kingston on September 17 at 7pm. In addition to the leader on drums, the Rob Garcia 4, which has released five critically acclaimed albums, features Noah Preminger on tenor saxophone, Leo Genovese on piano, and Kim Cass on bass. The group has performed at Small's Jazz Club in New York City, Ronnie Scott's in London, the Toronto Jazz Festival, and the Ottawa International Jazz Festival. The concert is free.
"Miss Gulch Returns!" Live in Catskill |
September 16-19
Described as a "hilarious and unexpectedly touching" one-man musical revue by Fred Barton, "Miss Gulch Returns!" is playing through September 19 at Catskill's
Bridge Street Theatre
. The production stars Steven Patterson as actress Almira Gulch, who played the infamous Wicked Witch of the West in the 1939 film The Wizard of Oz, and imagines what her post-Hollywood life may have been like. Accompanying Mr. Patterson on the piano is the irreplaceable Tom Judson. The production is staged and designed by the Bridge Street Theatre's artistic director, John Sowle, with costumes by Michelle Rogers. Times and ticket prices vary; see website.
Live Skull Haunts Tubby's in Kingston | September 17
Live Skull were Sonic Youth's main rivals at the tail end of New York's no wave scene during the early and mid-1980s, trading in a brand of dark art rock that's similarly experimental but rooted less in the spiky dissonance of DNA and more in the sprawling post-psych of Pere Ubu. The newly reactivated band has released two albums on the Bronson Recordings label, 2019's
Saturday Night Massacre
and last year's
Dangerous Visions
; the latter combines new recordings with a 1989 BBC Peel Session. They land at the reopened
Tubby's
this month, where they'll be joined by sometime vocalist Thalia Zedek (Come) and her band. (Honey Radar and Mountain Movers share the bill October 1.) 8pm. $13. Kingston.
Art Walk Kingston Celebrates Area Creativity |
September 18-19
Celebrate the city's art community during this two-day event. Hosted by
Arts Mid-Hudson
, visitors and local residents alike are welcome to weave their way through home studios and galleries from 12 to 5pm. Localized in three different areas in Kingston, the art exhibits boast a variety of media including paintings, photographs, drawings, and sculptures. Participating artists include photographer Andrew Moore, sculptor Susan Burlew, and mixed-media artists whose work will be featured at galleries such as Kingston Ceramics Studio, the Lockwood Gallery, and Cornell Creative Arts Center. September 18-19.
Black Dirt Beer Bash Brings the Brew | September 18
Take in the black dirt's beauty while sipping unlimited, locally brewed beer and cider when the
Black Dirt Beer Bash
comes to Sugar Loaf. The one day event will be held outside at the Sugarloaf Performing Arts Center from noon to 4pm on September 18. The daylong event includes local brews from Tin Barn Brewing, Apex Brewery, Clemson Brothers Brewing, Equilibrium, Rushing Duck Brewing Co., and more. Also on offer will be homegrown hard cider from Doc's and Naked Flock, as well as live music, a food truck on site, and more. Tickets are $65 (or $7 for designated drivers). Kids 12 and under are free, according to the website.
VERBATIM Expo Has Books, Performances | September 18-19
VERBATIM // Text Sound Expo
, which will take place at Station Bar & Curio in Woodstock on September 18 and 19, is being touted by its organizers as "a Hudson Valley small-press fair inhabiting the space between text and noise." At the event, participating vendors will have tables offering poetry books, chapbooks, artist's books, ephemera, art-edition tapes, and other rarities. Curated performances include those by Sal Randolph and David Richardson; a group reading in honor of Mark Bauman; Matt Thurber, G Lucas Crane, and Ric Royer; Sarah Reiter; Zoots Houston; Daniel Carter, Admiral Grey, and Aron Namenwirth; Shiv Mirabito; Youssef Alaoui; and others. Admission is free.
To find out about more upcoming events in the Hudson Valley, subscribe to our weekly newsletter Eat. Play. Stay.