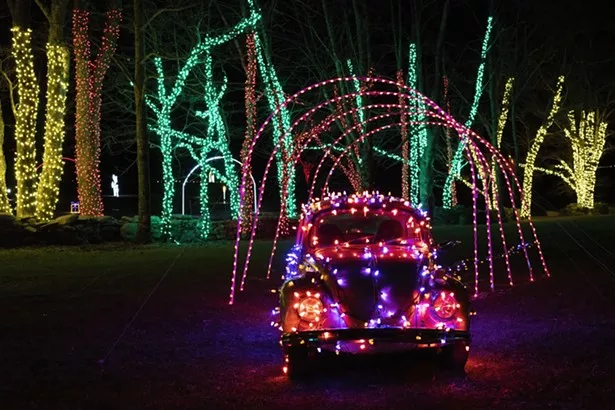 Peace, Love & Lights" at Bethel Woods
There's always an enticing assortment of activities to partake of here in the Hudson Valley. Try these on for size.
"Peace, Love & Lights" at Bethel Woods |
through January 2
Let's face it: The December holiday season is already upon us. And what better place in the region at which to celebrate the seasonal themes of peace and goodwill to others than the crucible of "Three Days of Love, Peace, and Music," the site of the 1969 Woodstock Music Festival AKA the
Bethel Woods Center for the Arts
? Now viewable at the historic spot is "Peace, Love & Lights," a family-friendly drive-through exhibit of dazzling holiday light displays. It runs through January 2 and is open Sundays through Thursdays from 5 to 9pm and Fridays and Saturdays from 5 to 10pm. Tickets for standard vehicles are $33.75.
David Amram Birthday Bash in Tarrytown |
November 19-20
One of our true local—and America's—cultural treasures, composer, musician, author, and conductor David Amram, turns 91 this month. And, as he does every year, he'll be joined by a an all-star band of top-flight musicians to celebrate the milestone with some area concerts. On November 19 and 20 at 7pm, the musical renaissance man will perform at the
Jazz Forum
in Tarrytown with special guest players Erik Lawrence, Rene Hart, Jerome Harris, Kevin Twigg, and his son Adam Amram. Tickets are $25-$30.
Margaret Cho in West Nyack | November 19-20
Cutting-edge comedian Margaret Cho is renowned for her stand-up routines, which often take on issues of race, sexuality, and other social topics. The San Francisco-born performer—who is also an actor, author, fashion designer, and musician—had her big break as the creator and star of the 1990s ABC-TV comedy "All-American Girl." She'll make a two-night stand-up stand at
Nyack Levity Live
in West Nyack on November 19 at 7:30pm and 9:45pm and November 20 at 7pm and 9:30pm. Tickets are $30-$80.
Del McCoury Band at the Egg in Albany |
November 20
On top of the pandemic's losses of life and tragic effects in 2020 came the scuttling of the regional bluegrass and folk festivals that so many of us look forward to every summer. The great Del McCoury Band, led by the legendary North Carolina singer and guitarist himself, are, without doubt, beloved staples on the festival circuit. So it's wonderful to see that the group is returning to the Hudson Valley ahead of next summer with an appearance at
the Egg
in Albany on November 20 at 7:30pm. They'll be joined by special guests Tony Trischka, Jacob Joliff, and Michael Daves. Tickets are $34.50-$49.50.
Dear Young Artist Installation in Newburgh |
November 20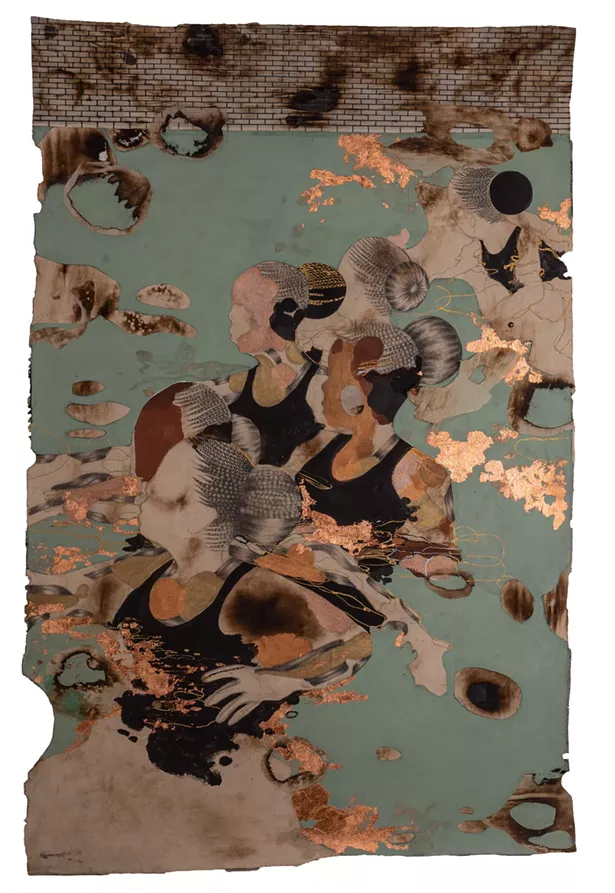 6 Blue Swimmers by Modupeola Fadugba
Dear Young Artist, a performance art collaboration between artist Modupeola Fadugba and the Newburgh Performing Arts Academy, will open at the Newburgh Boys and Girls Club on November 20 with performances at 2pm, 3pm, and 4pm. The installation dovetails with the theme of swimming that has been central to Fadugba's recent paintings and other projects, and will be performed by local 14-to-16-year-old dancers (led by choreographer Kim Turner) in the club's empty swimming pool. Copresented by
Strongroom
gallery, the exhibition portion of Dear Young Artist will be on view through December 18. Reservations of the timed entries for the November 20 dance performances must be made in advance by emailing info@strongroom.us.
Vapors of Morphine in Woodstock | November 20

Vapors of Morphine arose in 1999 from the mists of the highly influential Boston indie rock trio Morphine, a decade after the death of the latter's front man, Mark Sandman. Led by original Morphine saxophonist Dana Colley, Vapors of Morphine recently released their third album, Fear & Fantasy, which continues the noirish "low rock" sound the former group is revered for. The band will play at
Colony
in Woodstock on November 20 at 8pm (doors open at 6pm). Tickets are $15-$20.
"American Impressions" at Vassar College |
through February 6
Jackie II, Trial Proof by Andy Warhol
On view now through February 6 at Vassar College's
Frances Lehman Loeb Art Center
in Poughkeepsie is "American Impressions: A Nation in Prints," am exhibition of 50 prints, rare books, and photographs selected from the collections of the center and the Vassar library's Department of Special Collections. The display has been guest curated by Calvin Brown, the recently retired associate curator of Prints and Drawings at the Princeton University Art Museum and traces the evolution of symbolic representations of American printmaking from the colonial era to the present day. Featured are works by Andy Warhol, Louis Lozowick, and others. See website for gallery hours and information.
Fire Truck Pinewood Derby in Hudson | November 20
The
FASNY Museum of Firefighting
in Hudson is a local jewel that doesn't seem to get enough love; a perfect attraction for family members and history buffs of all ages. And on November 20 at 10:30am, the museum will host a time-honored bit of Americana that's perfect for kids and their folks: a fire truck pinewood derby, in which kids get to make and race their own miniature fire trucks. Reservations are required to ensure your child has a racer to build, as supplies are limited. Call to reserve your child's racer (518) 822-1875, ext. 17.
To find out about more upcoming events in the Hudson Valley, subscribe to our weekly newsletter Eat. Play. Stay.