As these April showers continue to prep us for those May flowers, a transitional spring mix of virtual and in-real-life events continues to bloom all around us.
Unison Arts Reopens for New Season | April 16
Let's hear it for first—and safe—steps. New Paltz's integral
Unison Arts center
recently announced its return to in-person events programming this month. The 2021 season kicks off with a limited-attendance (30 guests), Unison members-only indoor concert by local blues kings Big Joe Fitz and the Lo-Fi's on April 16 at 7pm; a members-only Chilean wines tasting takes place on April 17. From there, Unison's outdoor stage begins welcoming public audiences (60 persons maximum; advance ticket purchase required), commencing with a swing dance featuring the Bernstein Bard Trio on April 24 at 5pm. Tickets are $15.
Charlotte Posenenske Exhibit at Dia Beacon | ongoing
Currently at
Dia Beacon
contemporary art museum is a display of works by German sculptor Charlotte Posenenske. The untitled exhibit follows 2019's Charlotte Posenenske: Work in Progress, a major exhibition of Posenenske's art at the museum, and consists of a number of works that have been subsequently acquired by Dia. The show fills one of Dia Beacon's largest galleries and can be seen in close proximity to collection-based displays of Posenenske's contemporaneous German artists Imi Knoebel and Franz Erhard Walther. Timed, advanced tickets and COVID safety guidelines are available on the museum's website.
Play Readings at Saugerties Library | April 17-18
Arts organization
ShoutOut Saugerties
is presenting a weekend of free outdoor play readings at the Saugerties Public Library. The events will take place on the green behind the library and include "A Catchy Song & Shiny Light" by John T. Lewis (April 17 at 1pm), "Un Hombre" by Stephen Kaplan (April 17 at 3pm), "trigger (happy) whisper (hush)" by Alanna Coby (April 18 at 1pm), and "Whispering of the Gods" by Paul Coleman (April 18 at 3pm). Reservations must be made in advance and attendees must wear a mask and should bring their own seating.
The Crisis at Storm King | through November 8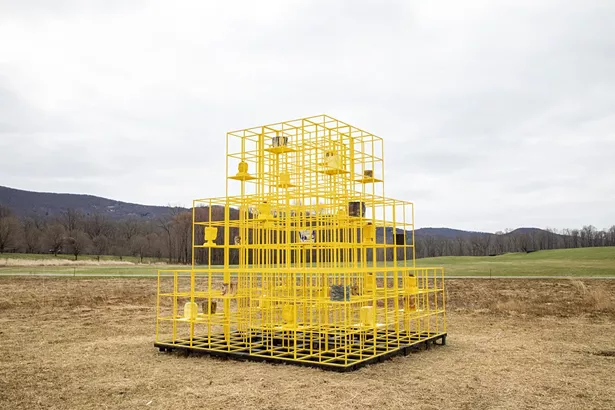 The Crisis by Rashid Johnson
The Crisis
, a new site-specific installation by Rashid Johnson, is now on view for the first time in the US at the outdoor
Storm King Art Center
in New Windsor. The work combines architectural and organic elements, with the intent of capturing the tension of the moment in which nature has just begun to reclaim a human-made structure. Originally planned to be shown at Storm King in 2020, a year marked by an unprecedented global pandemic and sociopolitical unrest,
The Crisis
has taken on a striking new relevance in this time of reflection. For advance ticketing, museum hours, and safety guidelines, visit Storm King's website.
David Kraii and Larry Packer at Grand Cru | April 16
With the warming weather and increasing outdoor opportunities for live music,
Grand Cru Beer and Cheese Market
in Rhinebeck has returned to hosting live entertainment in its beer garden/lawn area. On April 16 at 5pm, hardworking local country/folk rock singer-songwriter David Kraii comes to croon for the eatery's safely spaced drinkers and diners, and he's being accompanied by ace violinist Larry Packer. A founding member of the Jimi Hendrix-produced New York group Cat Mother and the All-Night Newsboys, Packer is also known for his performance with the Band in the 1978 concert film
The Last Waltz
.
Butterfield Library Screens The Blue Bird | April 16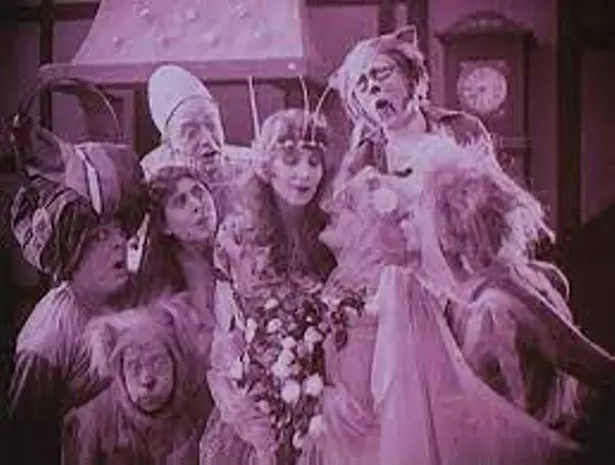 A scene from The Blue Bird (1918)
The Butterfield Library in Cold Spring has been hosting its silent film series with live musical accompaniment by Cary Brown for 12 years, screening over 100 silent films along with the way. Brown creates an original score for each film screened in the series. Due to the current circumstances, the series has migrated online, where it continues to show long-lost genre classics. On April 16 at 7pm, the library will present the family-friendly fantasy
The Blue Bird
(1918), directed by Maurice Tourneur. Viewers must
register
.
"Bless the Esopus" Reading in Saugerties | April 24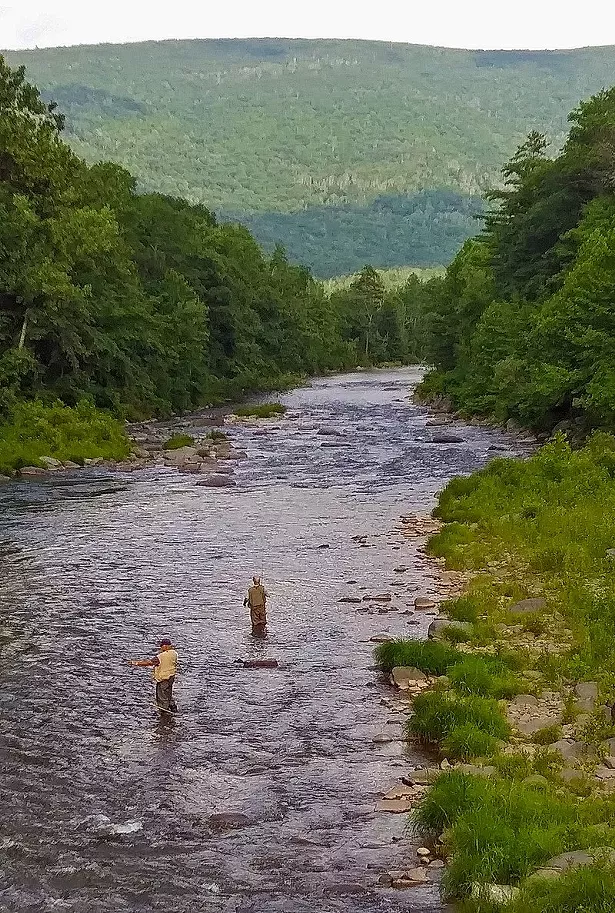 Another attractive April affair being presented by
ShoutOut Saugerties
this month is "Bless the Esopus, May Its Waters Run Clear," which transpires at Esopus Beach Park in Saugerties on April 3 at 3pm. The event celebrates the historic and vital tributary and promises music, video, speakers, art, and ceremony. Thematic readings include turns by local writers Jan Alexander, Cheri Magid, Guy Reed, Leslie T. Sharpe, Elinor Tatum, David Smilow, and former
Chronogram
Books editor Nina Shengold holding forth from her 2020 collection
Reservoir Year.
Drone at Home Festival Returns | April 24-25
When the lockdown was in its early stages,
Basilica Hudson
flexed well, taking its always-awaited 24-Hour Drone festival online and rechristening it Drone at Home for the occasion. With the Hudson arts facility not yet able to safely reopen for large-scale gatherings of the type that the Drone festival has traditionally seen, it's this year once again sponsoring the epic event as a virtual festival. From April 24 at noon through April 25 noon, Drone at Home will be video livestreamed at Basilica Hudson's website and aurally broadcast via Wave Farm's Standing Wave Radio and WGXC. Artists from around the region and around the world will take part. For a complete list of performers and more information, see the Basilica website.
To find out about more upcoming events in the Hudson Valley, subscribe to our weekly newsletter Eat. Play. Stay.