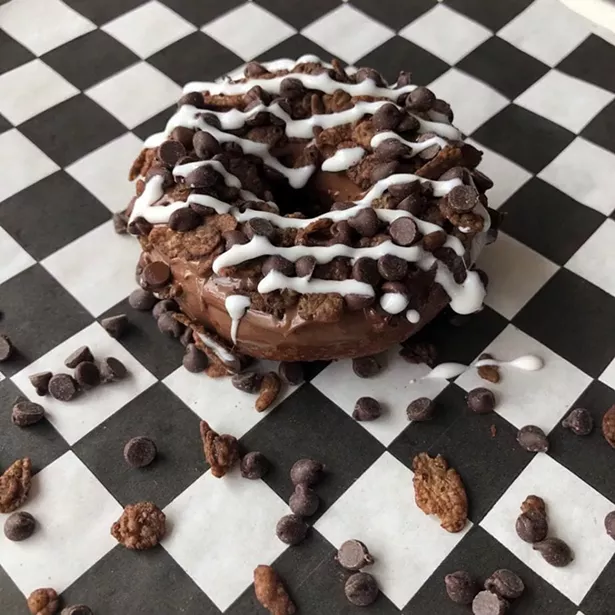 A hazelnut chocolate donut topped with Cocoa Pebbles, chocolate chips & a marshmallow drizzle from Glazed Over in Beacon.
Sure, every once in a while a rest-stop French cruller from Dunkin' Donuts really hits the spot, but most of the time, the neon-lit trays of commercially produced doughnuts from this national chain are a bit of a let down. Especially when you've tried a freshly baked or fried artisanal doughnut. Whether you lean glazed or powdered or you're all in for the experimental flavors and the build-your-own bars, the Hudson Valley has every kind of donut shop you could wish for. From brioche-style to vegan sourdough to sour cream-based, big honkers to little mini guys, Hudson Valley doughnut shop owners are turning out the full gamut of tasty treat. And most of them are served up alongside coffee and hot chocolate. Here's our list of destination doughnut shops in the Hudson Valley.

Gunkin' Doughnuts | New Paltz
Rachel Wyman, 2014 winner of the "Donut Showdown'' on the Cooking Channel, hones her craft at this New Paltz spot. Located right on Main Street, Gunkin' Doughnuts serves up brioche as well as vegan sourdough doughnuts. The menu rotates on a monthly basis with flavors ranging from tropical to traditional to seasonal, like passion fruit, lemon poppy, and hot chocolate. One option this month is the spiced golden milk glazed doughnut, made with a blend from The Ridge Tea and Spice. January's menu also includes a savory bite: The breakfast bomb is a marriage between a bacon, egg, and cheese sandwich and a brioche doughnut. Get there early, though, because once Gunkin' is sold out (usually around noon), they close for the day.
Half Moon Rondout Cafe | Kingston
Instead of making big batches of doughnuts and displaying them in a case, which looks a lot better than it tastes, Half Moon founders Kaira Tiegen and J. T. Pinna discovered a better way. Each doughnut is made to order and served up hot. The bestseller is the cinnamon sugar dusted variety, offering a touch of autumn coziness all year round. Another favorite is the cannoli doughnut, filled with cream and often topped with sprinkles. The vintage vibe, with a wall of framed art, beadboard molding, and old-school letter board menu, adds charm and makes Half Moon a perfect addition to Kingston's historic downtown. Half Moon also serves coffee and hot chocolate, making it an excellent pit stop on your way to work or for a tasty treat after lunch.
Hole in the Wall by the Anchor | Kingston
Brandy Walter previously stuck to burgers and beer as co-owner of the Anchor next door, but she branched out to doughnuts during the pandemic and the community is thanking her for it. Hole in the Wall serves up sour cream doughnuts in both inventive and classic flavors with offerings like pistachio cardamom, earl gray blueberry, and Almond Joy. Though these selections are not for the lactose-intolerant among us, one of Walters's most intriguing creations is a vegan and gluten-free mochi doughnut, which is crunchy on the outside and chewy on the inside. Hole in the Wall also offers fair trade coffee from Monkey Joe's Roasting Company just down the street.
Peaceful Provisions | Beacon
Peaceful Provisions is the definition of a small business, with a kitchen staff of only three. This dedicated crew cranks out wholesome, handmade vegan doughnuts daily in classic flavors like strawberry and maple using plenty of organic ingredients. Most of the doughnuts are made with a brioche-style dough, with the occasional cake-style doughnuts making an appearance. And while the business is small, the doughnuts certainly aren't. These substantial treats are always bursting with filling. Since staff is dedicated but minimal, calling ahead to reserve your order is encouraged. Typically, Peaceful Provisions sells out by noon. If you miss the doughnuts, fret not, tasty vegan breakfast sandwiches are also on offer.
Glazed Over | Beacon
Whether you are ordering a single treat or a dozen, Glazed Over lets you customize each made-to-order doughnut with your choice of one glaze, one topping, and one drizzle. Then you can watch (and drool) as the doughnuts are made. Glazed Over offers a doughnut of the day, or you can experiment with endless combinations with offerings ranging from nutella glaze to bacon bits to coconut fruity pebbles and oreo crumbs. While doughnuts are usually considered a more of a cold-weather confection, Glazed Over has options for when the weather gets hot as well with doughnut ice cream sandwiches and doughnut sundaes, a decadent mix of ice cream, glaze, toppings, drizzle, and a doughnut.
Dream Donuts | Warwick
At Dream Donuts, you can pick up a single doughnut or order a pre-made box. These boxes come in themes like breakfast, featuring chocolate chip pancake doughnuts, and snack time, featuring a chocolate pretzel doughnut. Or you can build your own box with flavors like cinnamon roll, caramel, and Oreo. Where Peaceful Provisions's doughnuts are a hefty handful, Dream Donuts exclusively offers minis. There's also a build-your-own hot chocolate bar, with plenty of toppings ranging from mar. And for those warmer days, you can order a milkshake that come with three mini donuts stacked neatly on the straw. Stop in for a truly personalized experience.
Shire Donuts | Adams, MA and Dalton, MA
The family-owned-and-operated Shire Donuts is a favorite of locals in Adams, Massachusetts. Leaving behind their backgrounds in finance and nursing, Jeff and Heather King were inspired to open Shire by their children's love of doughnuts. Shire's classic cake doughnuts come in fun varieties such as the red, white, and blue—a strawberry iced with powdered sugar and blueberry drizzle; and the tropical breeze, a lemon iced doughnut with shredded coconut and blueberry drizzle. Customers can also make customized doughnuts by mixing and matching flavors. Noting that the majority of their orders were coming from Dalton, 25 minutes down the road, the Kings decided to spring for a second location, slated to open in March.
Twin Peaks Coffee & Donuts | Tannersville [Temporarily Closed]
While the Twin Peaks storefront in Tannersville is temporarily closed to the public, their online shop is still open for business. There you can purchase merchandise and a bag of their house-roasted coffee beans. Catering is also available. When open, Twin Peaks features fun, seasonal doughnuts, like peeps resting on edible grass for Easter and glazed doughnuts with plastic fangs for Halloween. Twin Peaks also serves up specialty coffee, including the seasonal crowd favorite: pumpkin spice lattes. Savory fare on the menu includes breakfast sandwiches, salads, and quiche. The Tannersville location is connected to an antique shop, so when the storefront is open you can do some browsing while you wait for your doughnut to be freshly fried. Fingers crossed this beloved spot reopens soon.