It's Thanksgiving week. Gobble up these local events—but save room for dessert!
"Shells" Art Exhibit in Cold Spring |
through November 28
On view through November 28 at
Buster Levi Gallery
in Cold Spring is "Shells," a showing of new paintings and works on paper by Bill Kooistra. For the past seven years, Kooistra has been making abstract work that originates from the surfaces of shells or shell fragments. This series began with small watercolor studies that focused on combinations of different surfaces or textures. The paintings, made from 2016 through 2018, examine those concerns in greater or lesser degrees, using geometry as the structural organization. See website for gallery hours.
"Elation" EDM Dance Party in Bearsville |
November 24
You know you're going to have to negotiate the finer, and sometimes challenging, points of intra-family dynamics on Thanksgiving Day. So how about sweating out a bit of that trepidation on the dance floor? On November 24 at 8pm, the
Bearsville Theater
will host "Elation," an indie-electronic dance party featuring DJs Nick Marc and Posie Strenz. VJ Krunch will provide the projection-art light show, and Kristopher Johnson will man the pop-up photo studio. Tickets are $10 in advance and $15 day of event.
The French Dispatch at Upstate Films in Rhinebeck | November 24, 25
Director Wes Anderson's latest film,
The French Dispatch
, will screen at the Rhinebeck branch of
Upstate Films
on November 24 at 2pm and 5:30pm and November 25 at 5:30pm. The dark, surreal comedy brings to life a collection of stories from the final issue of an American magazine published in a fictional 20th-century French city and stars Benicio del Toro, Adrien Brody, Tilda Swinton, Léa Seydoux, Frances McDormand, Timothée Chalamet, Lyna Khoudri, Jeffrey Wright, Mathieu Amalric, Stephen Park, Bill Murray and Owen Wilson. Tickets are $10 (discounts for seniors, students, members, and viewers under 16). See website for COVID protocols.
Mini Farm & Flea Holiday Market in Hudson |
November 26-27
Basilica Hudson
's popular Farm & Flea Market returns—in open-air, socially distanced "mini" form—to the historic Columbia County venue on November 26 and 27 from 10am to 5pm. Boasting the wide array of locally produced and sourced handmade and vintage items for which the event has become famous, the market will feature nearly 50 handpicked vendors, makers, collectors, and farmers spread throughout Basilica Hudson and its campus. Visitors to the market find it the perfect place to pick up unique holiday gift items. Weekend admission is $5 (discount with advance online ticket purchase), and kids under 12 are free.
Winter Holiday Music Series in Phoenicia |
November 27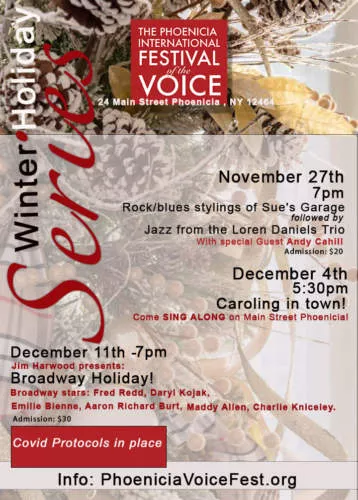 The
Phoenicia International Festival of the Voice
is a summer highlight. But what's a fest to do in the off season? Well, the organizers are keeping busy with a special winter holiday music series that kicks off at on November 27 at 7pm at the group's headquarters at 24 Main Street in Phoenicia. Set to perform are blues/rock band Sue's Garage and jazz outfit the Loren Daniels Trio. Seating is limited and tickets are $20 at the door. COVID protocols will be in place; parking is on Main Street; there are no bathrooms on site.
Sheila Jordan Birthday Show in Kingston |
November 27
Legendary jazz singer Sheila Jordan turned 93 this month. To celebrate the milestone, she'll be bopping and scatting it up at the Senate Garage in Kingston on November 27 at 7:30pm in an evening assembled by the vital local promotions group
Jazzstock
. Born in rural Pennsylvania in 1928, the masterful Jordan was a close friend of Charlie Parker; studied with Lennie Tristano and Charles Mingus; was married to Parker's pianist Duke Jordan; and worked with George Russell, Lee Konitz, Roswell Rudd, and other greats. Joining Jordan for the show will be the revered Alan Broadbent on piano and Harvey S on bass. Tickets are $30 from Rhino Records in Kingston or $31.58 from Jazzstock's website.
Holiday Arts Walk Steps Off in Rhinebeck |
November 27
Cosponsored by the Dutchess County town's Albert Shahinian Fine Art gallery, Art Gallery 71, and Betsy Jacaruso Gallery, the
Rhinebeck Holiday Arts Walk
will take place on November 27 from noon to 7pm. For the walk the three Rhinebeck galleries will exhibit works in a range of styles and mediums, including painting, drawing, photography, and sculpture. Visitors and viewers can register for a chance to win a work of art by one of the exhibiting artists. The event is free and open to the public.
"HUNG with Care" Burlesque Show in Rosendale | November 27
Make your yuletide just a bit gayer with the beloved holiday tradition of "
HUNG with Care
," a queer holiday burlesque spectacular, now in its eighth season. The original, fully scripted show, which will kick off at the
Rosendale Theatre
on November 27 at 8:30pm, is a scintillating sleigh ride of yuletide classics featuring performances from New York City's premier cabaret artists with specialties ranging from burlesque to dance, circus acts, drag, live singing, and much more. Tickets are $35-$40.
To find out about more upcoming events in the Hudson Valley, subscribe to our weekly newsletter Eat. Play. Stay.