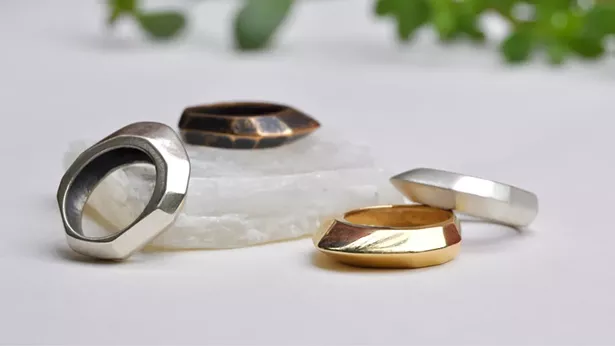 Facet Ring, Marisa Lomonaco
Like most trades, goldsmithing and stonesetting—indeed fashion at large—were historically male-dominated. In the 20th Century, relentless innovators like Coco Chanel, Suzanne Belperron, and Jeanne Toussaint infiltrated the world of fashion and jewelry, paving the way for the influx of female designers, jewelers, and goldsmiths we see today.

The Hudson Valley has no shortage of talented craftsmen and women in every medium from woodworking to ceramics, and jewelry is no exception. From cheeky deconstructed Barbie broaches to elegant semi-precious stone necklaces and punky cuffs, these seven Hudson Valley women jewelry makers are putting the Hudson Valley on the map.
Beacon
Originally from the Albany area, Lomonaco studied sculpture at Ithaca College. "The most exciting thing I did there was metal casting," she says. A few weeks after graduation, she was offered a job at
Tallix
, an art foundry then in Beacon, where she received a highly technical education in methods of casting, processing, and finishing metal. "An artist brings in a design and we figure out how to make, it," she says. "While working there, I started building my own line of jewelry. When you see how sculpture is created on that scale, it's literally impossible to do without a group of people; you need a lot of hands."
45 North Front Street, Kingston
Pine Needle Ring, Rebecca Peacock
Peacock, who grew up in Woodstock, spent a decade in California before making her way back to her home ground. In a sense, things have come full circle. "My mother had a fine fragrance shop in Woodstock," she says, "and now I have a store in Kingston." That is where she sells her handmade work, which she describes as "minimal, simple, and straightforward"—fine metal and gemstone pieces such as a delicate pine-needle ring, ethereal wire hoops, and tiny bar studs with a line of micro-pave black diamonds (she sells a few other designers here, too).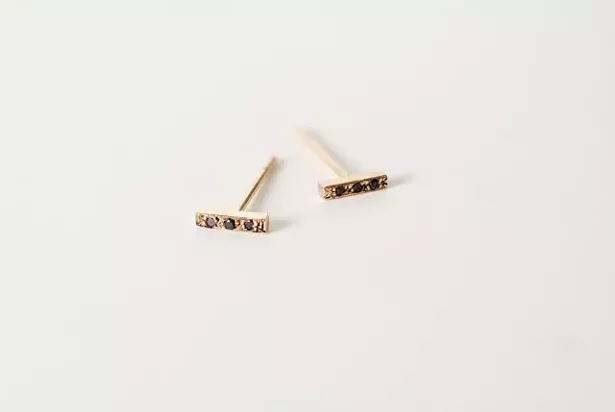 Micro-pave black diamond earrings, Rebecca Peacock
Her work studio is in a 19th-Century farmhouse overlooking a babbling creek, with chickens, her namesake peacocks (of course), and angora rabbits hopping about the premises. "I feel lucky that I grew up here and these are the types of things I come back to," she says. These days, with the multitude of wedding venues locally, she finds herself making lots of wedding bands and engagement rings. "My favorite part of doing this is the connections with people and the stories about love," she says. "In my work I get to talk about love, which is rare. I get to hear about how everyone met and what brought them together." Buy her work online or visit the storefront 45 North Front Street, Kingston.
Callicoon
Easton is an industrial designer (home goods, flatware, tableware, mostly) who used this professional know-how when starting to make jewelry. She carves the wax models at home in Callicoon, sends them to NYC to be cast, and then finishes them in her Sullivan County abode.
"I was driven to create something to fill the void," she says. "That was the beginning of it." Her signet-style rings (which she prefers to leave blank; though she works with an engraver), delicate bands, and tiny-flower post earrings aren't "so flashy," she says. "People don't buy my jewelry impulsively. It doesn't scream at you; it eats at you. People will come back again and again before finally deciding." That's okay with this minimalist.
"I really don't want people to keep buying jewelry and swapping out jewelry. I love seeing someone 90-years-old wearing a ring they clearly haven't taken off. it's like part of their hand." Buy her work on her site, at MayerWasner boutique in Narrowsburg, and at Sawkill in Rhinebeck.
Ellenville
A fine arts major in college who studied graphic design and sculpture, Hulbert came from a long line of artists, including her grandfather, the illustrator behind the beloved original Charlotte's Web and Stuart Little drawings. After graduation, she apprenticed with her respected jewelry-designer aunt, Jessica Rose, in NYC (Rose created collections for Issey Miyake and Yves St. Laurent).
Hulbert makes her own designs, as well as those of her aunt's, and sells them in shops around the U.S. and in England and France. Her designs specialize in pearls and colorful gemstones; there are earrings with curtains of gold chains in descending arrows and cuffs with gold "bullets" that move when touched. Hulbert loves the profusion of artists around her in Ulster County, and has a regular artists' group (they work in fiber, paper, yarn) . "They're kind of hidden in the woods making things," she says, "so it can take us a little while to find each other."



Germantown
MacGill grew up in and around New York City, where her father's art gallery represented luminaries in the photography world such as Robert Frank, Richard Avedon, and Irving Penn. When young Mary decided she was interested in making jewelry, her well-connected parents sent her to Robert Frank's muse Kazuko Oshima, a ground-breaking jeweler who sold her crystal, stone, and wire wares exclusively at Barneys.

i
Like her mentor, MacGill favors smooth-cut or cabochon stones or all kinds of pearls (example: a Tahitian black pearl wrapped in gold wire). MacGill was also inspired by the work of Alexander Calder. "The concept behind my jewelry has always been how to figure out how to suspend pearls and stones with wire to give the viewer the impression of floating in space, that lightness and simplicity," MacGill says.
She showed at the original Field + Supply and met local artists. Convinced to move to Tivoli, she discovered Germantown, where her studio sits on Main Street (half of an old dry goods store she shares with furniture maker Michael Robbins). Her pieces are sold there (along with the work of other artists and artisans—jewelry, home goods, and clothing), online, and in a long list of shops around the world.
In a best-of-both-worlds outcome, she also has a pop-up shop on Block Island, where she has spent summers since she was a girl. "I am very much inspired by the ocean," she says. "I grew up going there and that's where I started the business."

Beacon
"I moved from Brooklyn in 2010," says Lange. "I was looking for a place between the city and upstate, where I'm from, and we landed on Beacon just randomly," she says. As a Fine Arts major, she had already found her muse—Barbie. "The artists I was really attracted to were using found materials in their work. I was looking for something that had more relevance to me," she says.

Lange's unusual art jewelry, called the Plastic Body Series, is made from Barbie doll elements (think eyes, feet, hands) along with swirling and somewhat psychedelic shapes in sterling silver and resin. "It's an examination and celebration of our culture and my own obsession with Barbie," she says.
In fact, she credits her years playing with the buxom, iconic doll for the attention to detail and dexterity required by her work. Now she combs through the yard sales of the Hudson Valley for more material. Her young daughter helps find gems (and doesn't mind if they end up missing a piece or two).

Phoenicia
Golden, who grew up in sleepy Central Connecticut, was living in NYC when frequent visits to a cousin's weekend house in the Catskills charmed her into considering a full time move. With a background in studio art, she apprenticed with a centuries-old jewelry-making studio in Florence, Italy. Next she went to work designing jewelry for trendy brands such as J. Crew, Kate Spade, and Club Monaco.

That combination of training—the close-up bench work as well as the bigger-picture design work—combined to inspire her to start her own line of handmade, one-of-a-kind pieces. "I really do feel so much more connected to the pieces knowing I was there from the start," she says. "All the pieces are hand carved, and I love that you can see file marks. It makes it a lot more meaningful when it's a person spending time making it, rather than being just punched out of metal."
Golden's Starscape collection features biomorphic shapes mimicking meteors and galaxies. Crystal Lace pairs unusual stones in patterns inspired by English lace. "I'm a total magpie," she says. "I love precious and semi-precious stones and sparkly things. I will always gravitate toward things that have a bit of sparkle to them."
Clove & Creek
.