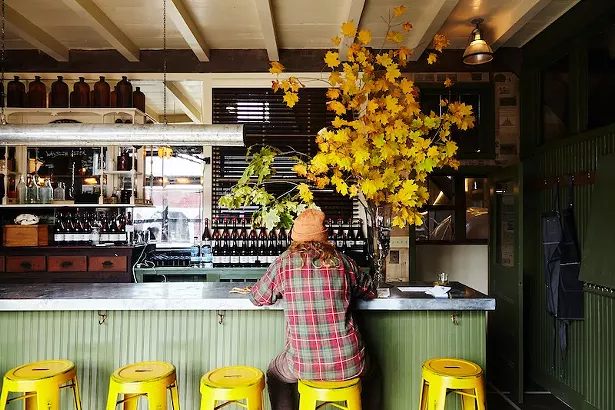 Photo by Natalie Chitwood
Wayside Cider in Andes
Like many other parts of New York State, Delaware County in the western Catskill Mountain region is enjoying boom times for craft beverage makers. Everything from classic hard cider to beer, spirits, and even wine is being made inside the county with regionally sourced ingredients.
With peak leaf peeping season upon us, now is the perfect time to pay the county's plentiful tap and tasting rooms a visit, where you can experience the flavor of the region in every pint of crisp cider or carefully crafted cocktail for yourself.
Here are eight spots on the Delaware County Beverage Trail where you can post up for drinks (and in many cases a curated menu of nibbles too) after a gorgeous autumn hike or drive through the mountains.
Wayside Cider
Photo by Natalie Chitwood
Wayside Cider
Located right off of Main Street in the historic Catskill town of Andes, Wayside Cider has been sourcing wild and abandoned homestead apple trees to make its cider since 2014. Stop by the taproom in its sumptuously decorated restored barn to try its ciders by the glass, as well as a full bar of other local beverages and spirits alongside a rotating menu of small bites. The taproom and bottle shop are open Thursday through Sunday.
Awestruck Ciders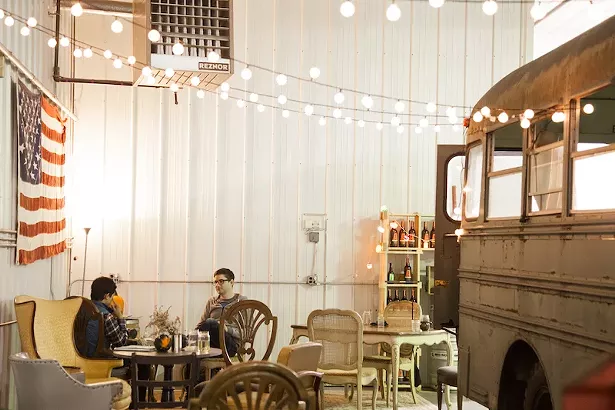 Photo by Hidden Gears
Awestruck Ciders
Awestruck Ciders co-founders and Delaware County natives Casey Vitti and Patti Wilcox are devoted to crafting complex, delicious hard ciders that use fresh-pressed New York State apples. After setting up in their hometown of Walton, they moved operations to Sidney. You can sample their ciders, including new spins on the genre like a hibiscus and ginger rosé cider and an apples and pears blend, at both the Sidney production facility as well as their new dedicated taproom, Awestruck Mill, in Walton, which is open Thursday through Sunday.
Strickland Hollow Farm
Meridale-based Strickland Hollow is a working cider apple farm, artisan distillery, and event space whose history dates back to 1841. Owners Erica and Jerry Pellegrino recently opened a bottle shop and tasting room on Main Street just 10 minutes down the road in Delhi that showcases their own apple brandies made with traditional methods used in the historic brandy-making region of Calvados, France, as well as ciders, beers, and wines made throughout New York State. The tasting room and bottle shop is open Wednesday through Sunday.
Union Grove Distillery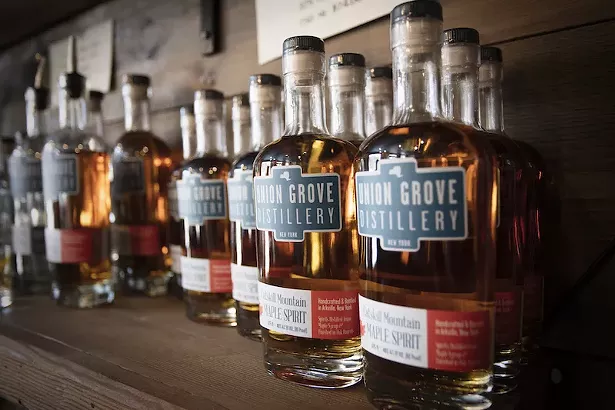 Photo by Torkil Stavdal
Union Grove Distillery in Arkville
Owned by husband-and-wife team Brian and Penny Mulder, Union Grove Distillery in Arkville is home to award-winning Vly Creek Vodka which is made from a simple combo of New York State apples and wheat. The success of the vodka led to a host of varieties that draw from the region's bounty, from Catskill Mountain Maple Spirit made from locally produced Tree Juice Maple Syrup to Drie Brook Rye Whiskey and Fir Gin. Visit the distillery for a tour of the production facility and cap off the experience in the tasting room where you can enjoy a variety of house cocktails. The tasting room is open Thursday through Sunday.
Muddy River Farm Brewery
Photo by Lisa Wisely
Muddy River Farm Brewery in Unadilla
Muddy River Farm Brewery is an eight-tap farm brewery located on the banks of the mighty Susquehanna River in Unadilla with a one-acre hop yard. Stay a while at their picturesque riverfront outdoor space for brews made with their own hops as well as other local beers and ciders, outdoor activities, live music, and food trucks. The brewery is open Friday through Sunday.
Faith American Brewing Company
Faith American Brewing Company was founded in 2015 by everyone's favorite television psychiatrist, Kelsey Grammar, who used to visit the Catskills as a boy. The brewery is tucked away in the beautiful rolling hills outside of Margaretville on a former cauliflower and dairy farm that Grammar purchased nearly three decades ago. The taproom on the farm only opens for special events, but you can find its beers such as Faith American Ale and Calico Man IPA on tap all over the county and throughout the state. Check the website for updates on new beer releases and gatherings at the brewery.
Weaver Hollow Brewery
Courtesy of Weaver Hollow Brewery
Weaver Hollow Brewery in Andes
Housed in an old creamery in Andes, Weaver Hollow Brewery makes slow and naturally fermented ales that reflect the area's terroir. Inspired by old-world Wallonian farm ales, the beers are aged in French oak barrels and often feature a restrained tartness, but are ultimately dry, drinkable, and refreshing. Catch one of the monthly bottle releases at their new tap room and retail shop, located at the start of the Andes Rail Trail. The tap room is open Fridays and Saturdays.
Eminence Road Farm Winery
A favorite of the regional natural wine scene, Eminence Road Farm Winery makes small lots of dry table wine in a barn located in Long Eddy using grapes from sustainably managed Finger Lakes vineyards. All their wine is bottled by hand, unfined, and unfiltered with nothing added but a minimal amount of sulfite for stability and occasionally neutral yeast. While there's no tasting room at the farm, you can buy bottles online and arrange a pick-up at the winery, or scout out their bottles at fine dining restaurants and wine shops across the Catskills, Hudson Valley, and New York City.
Looking to hit as many of the destinations on the Delaware County Beverage Trail as you can? Grab your favorite designated driver and find a full list of craft beverage makers to fill your daylong or weekend route here. For more ideas about what to enjoy during a visit to Delaware County, visit greatwesterncatskills.com.