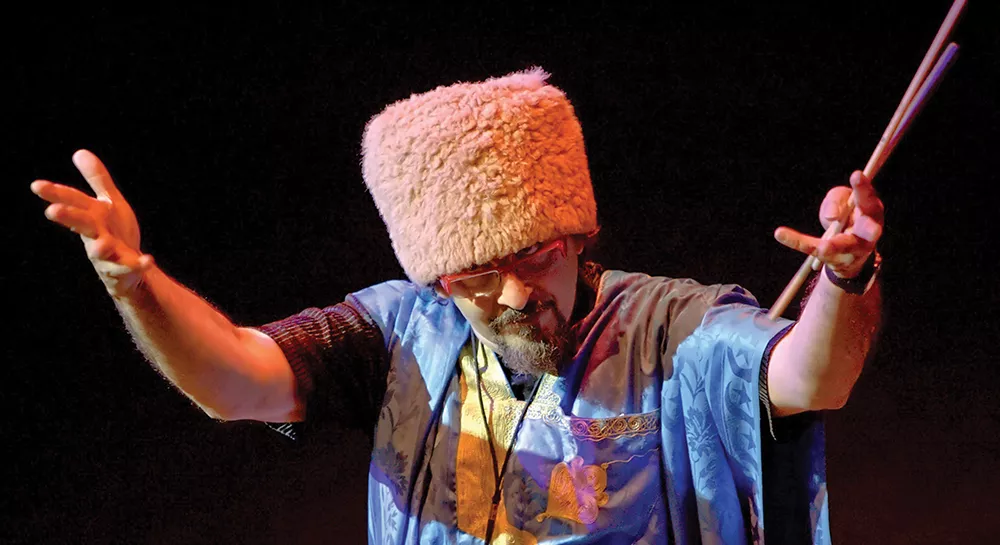 "American Son" | September 4, 6, 12, 18, 20, 26
The Center for Performing Arts at Rhinebeck's recently erected outdoor stage has become quite a hit with local theater lovers. Written by Christopher Demos-Brown and set in a police station, the 2016 original play "American Son" addresses the intertwined issues of systemic racism and police brutality as it chronicles a mixed-race couple's efforts to find their son after a traffic incident. Audience members should arrive with masks and bring a blanket or lawn chairs. There will be no refreshments available to purchase, but patrons should feel encouraged to bring their own. (The musical "Songs for a New World" runs September 5, 11, 13, 19, 25, and 27.) 7pm. $20. Rhinebeck.
Centerforperformingarts.org
Art Studio Views | September 5-6

The 13th annual
Art Studio Views Tour
brings art aficionados into the private studios of 27 artists in Germantown, Tivoli, Red Hook, Rhinebeck, and Hyde Park on a free, self-guided tour over Labor Day Weekend. Artists include printmaker Melissa Katzman Braggins, photographer Dan Goldman, painter Tarryl Gabel, and many others, practicing a diversity of disciplines from ceramics to glass blowing. The artists will also have work in the "Sampler Exhibit," hosted at the Harvest Gallery at Grieg Farm throughout the weekend. Tours 11am to 5pm each day. Brochures are available on the ASV website. Current health protocols will be followed at all studios, and visitors must adhere to wearing masks and social distancing requirements.
Cyro Baptista and Glossolalia | September 12
Innovative and adventurous percussion polymath Cyro Baptista has worked with a wildly diverse range of artists: everyone from Trey Anastasio to Sting, John Zorn, Herbie Mann, Laurie Anderson, and his fellow Brazilians Tom Zé, Caetano Veloso, and Marisa Monte. For
this night during the Falcon's outdoor Waterfall Series
, he brings his own exciting Glossolalia band. (David Amram returns September 13; Jim Campilongo jams September 19.) 7:30pm. Donation requested. Limited seating, reservations recommended. Patrons must order a meal.
Modern English | September 19
Few who were alive in the shameless '80s can forget Modern English's mega-hit "I Melt with You." Formed in 1977 as punk band the Lepers, the British outfit, who visit Daryl's House this month, altered their style to Joy Division-esque postpunk before signing to the seminal 4AD label. The aberrantly poppy, anthemic "Melt," a single from their 1982 sophomore album
After the Snow
, became an MTV blockbuster via its inclusion on the soundtrack of the hit teen comedy
Valley Girl
.
They play at Daryl's House with Bootblacks
. (Brand X brings the prog September 13; the Dan Tyminski Band tears it up October 2.) 7pm. $40, $55. Pawling.
Joan Osborne | September 19
Singer-songwriter Joan Osborne struck Top 10 gold with her 1995 smash hit "One of Us" before going on to perform with the Dead and Phil Lesh and as a member of Black Crowes drummer Steve Gorman's super group, Trigger Hippy. Here, the Lilith Fair songbird lands at
City Winery Hudson Valley
as part of its Outdoor Concert Series for a special performance at the site's lawn, which is partitioned off into socially distanced "pod" sections, each with space enough for two to ten people. As of this writing, Rear Lawn area pod tickets are available. (Amy Helm appears September 5; Chris Thile holds forth September 12.) 3pm. $240 per pod. Montgomery.
Art Walk Kingston | September 26-27
Sponsored by
Arts Mid-Hudson
, Art Walk Kingston celebrates the vibrant arts community of the thriving Ulster County city each year. And while 2020 has, of course, transformed into an
annus horribilis
like no other, the festival has transformed itself along with it; instead of the freewheeling gallery crawl and performance panoply of previous installments, this year's return will be limited to showings at selected galleries and private spaces, as well as a special virtual gallery. Events will be held from noon to 5pm each day, and participating artists include painter Cyndy DiBenneditto; sculptors Diane Tenerlli, Hans Van Meeuwen, and Pamela Blum; jeweler Marysa Sacerdote; and mixed-media artists Rosalie Frankel. See website for locations and information.
Robin Trower | October 3
UK guitar god Robin Trower got his big break as a member of Procol Harum, joining the group immediately after they scored a worldwide hit with 1967's "A Whiter Shade of Pale" and appearing on their self-titled debut album. By 1973 he was leading his own band, whose molten brand of Hendrix-y heavy psych/hard-rock blues hit its white-hot apex with the following year's stoner classic, Bridge of Sighs. The titanic Trower taps into our region for this episode of the Egg's ongoing Guest Music Presentations Series. (The Mutts Gone Nuts comedy dog spectacular is off the leash October 4.) 8pm. $39.50, $49.50, $59.50. Albany.