Clove & Creek Runner Up: Bathing Culture Body Wash. Peppery with a rich lather.
When winter settles over the Hudson Valley, some people strap on their snowshoes and stride fearlessly out into the cold, while others prefer to cozy up at home by the fire, reading a book or listening to a record.

We asked local Hudson Valley shopkeepers to share their top gift picks for the nesters of the world. Here are eight holiday gift ideas for your favorite homebody. And no, they are not all throws (just 2 of them :).
1. Bluecashew Kitchen Homestead, Kingston
Stagg EKG in Copper, $179.99
The Stagg EKG electric pour-over kettle checks all the boxes. It looks amazing, is excellently styled, AND performs like a champ—heating to and holding at your preferred temperature for an hour. The digital variable temperature control is on point. and the new copper finish is so swank. It's a great gift for coffee perfectionists and fans of the tea leaf.
2. Bosco's, Saugerties
Gift Pick: Cirrus Throw, $148

My favorite piece of the season is a gorgeous brushed cotton Cirrus throw from Coyuchi. Named for its cloudlike softness, this throw is woven in Germany using thick, 100% organic Turkish cotton yarn, and brushed for softness. It is the perfect wrap on a cold winter's night.
3. Reservoir, Beacon

Gift Pick: Reservoir Signature Mug, $28

Keep warm this season! Snuggle up with Reservoir's best-selling Signature Mug. Beautifully handcrafted in upstate New York, and Scandinavian in style, this mug has a tapered neck to keep your morning coffee hot longer. Purchase alone or for a limited time this season, we're offering a gift set with More Good's delicious Chai Tea Set.
4. Wares, Beacon
Gift Pick: Siri Siri Table Runner, $85
I'm not really one for fancy tablescapes, but this table runner by Five | Six Textiles really pulls a table together without being too formal. It's made from indigo and natural cotton ikat textiles, woven into small strips and then sewn together. The cotton is dyed, spun and woven by hand in Cote D'Ivoire. We have multiples of the same style at the shop, but each one has its own weave pattern with slight variations, so each runner is really one-of-kind. Plus, since it's 100% raw cotton it's also super durable, and you easily can clean it if there's any wine spills.
5. Exit Nineteen, Kingston
Millennial Pink Globe Lamp, $175
This is one of our top picks for this holiday season because not only is it a beautiful object to display but also emits an ambient light and is fun to study! This bold and elegant 12" globe lamp comes in over 10 different colors, all available here at Exit Nineteen. Illuminated with an energy efficient LED bulb that uses up to 90% less energy than traditional bulbs, the globe lights can be powered using a USB connection or via a standard plug socket.

6. Clove & Creek, Kingston
Scrimshaw Knife Kit, $50
Scrimshaw is an early American art form originating from the whaling industry in the late 1700s. While out to sea, the whalers would etch drawings into bone and afterward would rub tobacco juice into the carvings reveal the drawings. Our kit is a nod to the maritime history of the Hudson River and the Rondout neighborhood. It comes complete with a bone knife, India ink, etching supplies and drawings, and is made in the USA. (Closer runner up: Bathing Culture Body wash, pictured at the top of the page, is our new obsession, peppery with a rich lather.)
7. Minna, Hudson
The Dash Towel, $28
Handwoven in Oaxaca, Mexico, this tea towel is a classic yet modern addition to any kitchen or bathroom. Soft enough to function as a hand towel, and durable enough to soak up spills around the kitchen this is the ultimate blend of form and function. Finished with a rustic edge and fringe.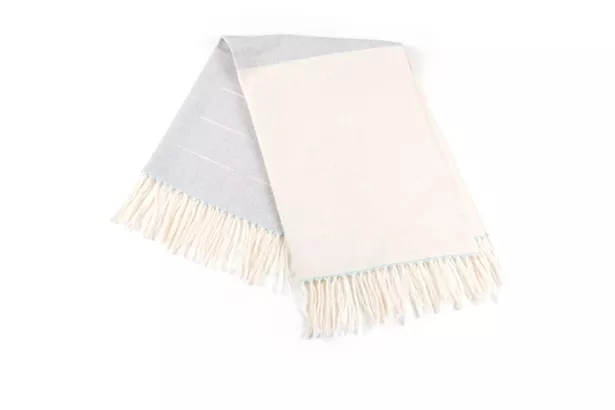 8. Fred, High Falls
Brushed Mohair Throw, $298
Woven in New Zealand from 100% pure fine Mohair fiber, this beautiful throw features a luxurious high pile and soft hand. These throws make an exceptional gift. Available in a rainbow of sumptuous colors, they are perfect for adding warmth to a favorite living space or at the end of the bed. Currently in stock at Fred, are the navy blue, pesto and cream colors.