From the Hudson River School of Painters to a legacy of art colonies and urban artist expats, the Hudson Valley has a rich and idiosyncratic art history. Here are the key milestones in the region's artistic evolution.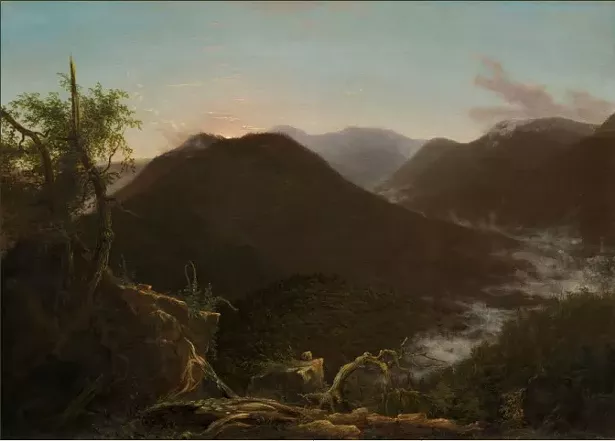 Thomas Cole, Sunrise in the Catskills, 1826. Oil on canvas. 25.5 x 35.5 in. National Gallery of Art.
1825: Hudson River School Founded
British painter Thomas Cole arrives in the region, falls in love its natural beauty, and creates a series of landscape paintings that inspire other painters to come to the area and do the same, thereby ushering in the Hudson River School, America's first arts movement. Cole's Catskill home and studio, now the Thomas Cole National Historic Site, sits directly across the Hudson from his student Frederic Church's home, now the Olana State Historic Site.
1905: Maverick Art Colony Founded
English-born arts patron Ralph Radcliffe Whitehead and American painter Bolton Brown and writer and social reformer Hervey White had established Byrdcliffe Arts Colony in Woodstock in 1902 when, three years later, White, after falling out with Whitehead, opens his own Maverick Colony on the other side of town. In 1915 he began the Maverick chamber music concert series, which since 1916 has been held in the wooden hall he built on the property

1960: Storm King Art Center Founded
On land donated by industrialists Ralph Ogden and Peter Stern, the
Storm King Art Center
opens as a museum dedicated to Hudson River School painters. By 1961 it changed its focus to modern sculpture and began expanding its footprint. Today, the 500-acre Mountainville museum has one of the world's largest collections of contemporary outdoor sculpture, with works by Alexander Calder, Richard Serra, Isamu Noguchi, and others.
1976: Opus 40 Creator Harvey Fite Dies
Sadly, seven years after retiring from 40 years of teaching at nearby Bard College and without completing Opus 40, the sprawling sculpture garden in Saugerties he began building in 1939, artist Harvey Fite is killed after accidentally driving his ride-on lawnmower over one of the artwork's 12-foot ledges. Having named the sculpture for the number of years he expected he'd need to finish it, Fite was a mere three years from its completion when he died. Opus 40 remains a popular local destination today.
2003: Dia:Beacon Opens
In a 160,000-square-foot former Nabisco box-printing facility, the nonprofit Dia Art Foundation opens Dia:Beacon, one of the biggest indoor modern and contemporary art exhibition spaces in the world. Easily reachable from New York via the Metro North Railway, the museum quickly becomes a popular tourist destination and fuels Beacon's artistic and economic renaissance.
2010: O+ Festival Founded
With the mission of bringing "complete physical, mental, and social well-being by connecting artists directly with a coalition of health care providers and health resources, in a shared vision to nurture the individual and the community," the inaugural O+ Festival of music and art is held in Kingston. The splashy event takes over Kingston every October, attracting attendees from all parts of the globe while providing free health and wellness clinics to the participating musicians and artists whose sounds and creations light up the town, and has inspired the launch of O+ festivals in other cities.
2019: The Gallery Scene Flourishes
With its long, rich tradition of art making and the environment that nurtures and inspires it—not to mention its easy accessibility to New York City—the region is in the midst of an artistic explosion. Its thriving network of galleries in population centers like Hudson, Kingston, Beacon, Newburgh, Albany, New Paltz, and Poughkeepsie; those tucked away in smaller towns like Woodstock, Catskill, Saugerties, Phoenicia, and Sugar Loaf; and the proximity of the cutting-edge Mass MoCA in North Adams, Massachusetts, all add up to say one thing, loudly: The next moment for the Hudson Valley's art scene is now.