It's the holiday season—your grandma is probably knitting the whole fam ugly sweaters while you stumble through your shopping list and Mariah Carey croons and swoons on repeat. Some people just don't want more stuff. Why fight it? Rather than clutter up their lives with tchotchkes, how about giving them a gift that is tasty, elegant, and ephemeral—like a bottle of craft spirits. For the gourmand booze lovers in your life, we've rounded up a list of some of our favorite seasonal Hudson Valley craft spirits, many limited-edition, small batches that will go fast.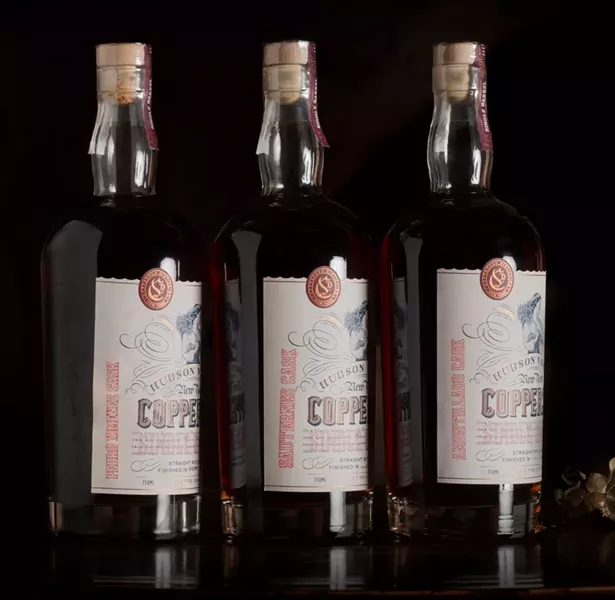 Hudson Whiskey | Cider Cask Rye
$55, 750mL
Formerly made under the name Tuthilltown Distillery, Hudson Whiskey's portly little bottles of rye and bourbon are a fixture behind bars throughout the Hudson Valley and the city. The Gardiner-based distillery's new xSeries is a line of small-batch experiments. Cider Cask Rye, the first release in this series, is a New York State rye whiskey aged in new American oak and then finished in cured cider barrels. The finishing process lends the rye a hint of apple, with inflections of cinnamon and caramel for a rich, full-bodied taste of fall in a bottle.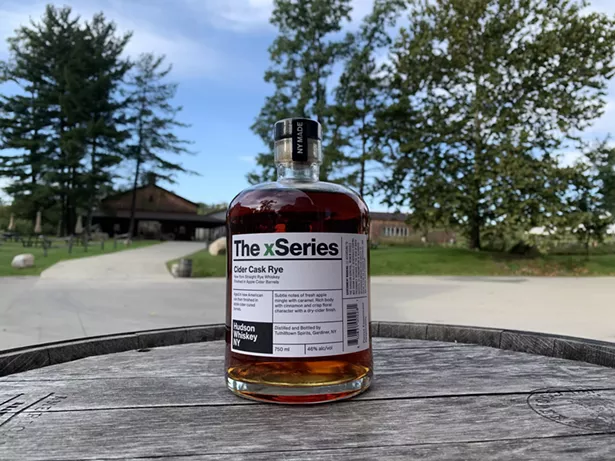 Taconic Distillery | Bourbon Cream
$28-36, 750mL
Winter, and especially the holidays, is a time for loading up on rich foods to stave off the season's chill. What better indulgence than Taconic Distillery's famous Bourbon Cream, which is crafted at their Stanfordville facility using Taconic bourbon, New York State cream, and organic maple syrup. Pour it over ice and enjoy it solo in place of, say, eggnog, or sub it for Bailey's in anything from a White Russian to Irish Coffee and spread the holiday cheer.
Berkshire Mountain Distillers | Craft Brewers Whiskeys
$65, 750mL
As part of a six-year regional collaboration, Sheffield mainstay Berkshire Mountain Distillers has teamed up with a dozen Northeast's craft breweries to create their line of 12 Craft Brewers Whiskeys distilled from beer. So far BMD has released six spirits through this project using Smuttynose's Really Old Brown Dog strong ale (ROBD); Captain Lawrence's Liquid Gold pale ale; Brewery Ommegang's Three Philosophers (a cross between a Belgian-style quadrupel and a Belgian kriek); UFO's white ale; Spencer Brewery's Trappist Ale; and Big Elm Brewing's 413 Farmhouse Ale. From the notes of wildflower honey, cedar, and spicy ginger in Smuttynose's strong ale to the clove and citrus inflections from Captain Lawrence's pale ale, these American whiskeys jam a lot of flavor into one package that will be a novel and intriguing treat for any beer or whiskey lover on your list.
Black Creek | Bourbon & Rye
$49-$95, 375-750mL
Located in an 19th-century Italianate villa with sweeping views of the Hudson River and the Vanderbilt Mansion beyond, the Hudson House is a new craft distillery, event venue, and future boutique hotel in Esopus. The recently opened establishment hasn't started distilling onsite yet, but anticipating their grand opening, entrepreneurs Charles Ferri and Paul Seres created their first mash bills for rye and bourbon six years ago with Brian McKenzie, founder of Finger Lakes Distilling. The whiskeys, produced under the name Black Creek, are small-batch, hand-blended, and limited-edition with numbered bottles.
Hetta Glogg
$14.99-$22.99; 375-750mL
'Tis the season for wood stoves and mulled wine. You can toss that Fred in a pot with a fistful of cloves and some cinnamon sticks, orrrrr you can scoot down to your local liquor store and pick up a bottle of Hetta Glogg. This local take on traditional Norwegian glogg is made using port wine gently mulled with oranges, raisins, cinnamon, and cardamom. Brandy is added at the end to fortify the wine, a centuries-old technique to increase the wine's shelf life. When heated, the result is a rich, velvety beverage with the complex sweetness of raisins and the warming spice of cardamom.
Current Cassis
$30, 375mL
Make like the French and ring in the New Year with a kir royale, only this time sub creme de cassis with Current Cassis—a modern Hudson Valley take on that sweet, blood-red blackcurrant liqueur that is a bar cart staple in Burgundy. This locally made herbal infusion is fermented with Hudson Valley blackcurrants and blended with New York rosé and distillate, wild honey, and botanical infusions including whole green cardamom, bay leaf, citrus rind, and lemon verbena. Flavor-wise, it straddles the line between classic cassis and an Italian bitter, with a deeper, more complex palate.
Coppersea | Cask Finished Whiskeys
$120, 750mL
Locally, Coppersea is the gold standard for New York State farm-to-glass spirits. Located on a 75-acre farm at the base of the Shawangunk Ridge, their entire line of spirits is made using heirloom grains grown onsite and by neighboring farms and floor-malted using heritage techniques. While the whole line is top-notch, this holiday season consider gifting one of Coppersea's limited edition cask-finished ryes. The Amontillado single barrel rye is aged for three years then finished in a sherry cask from Spain, lending it bold notes of tobacco and walnut, which resolve into brown sugar, almonds, coffee, and finish with creme brulee. There is also Sauternes single barrel rye, which gives the Empire Rye notes of wildflower and candied orange peel from the sweet white wine, followed by honey and apricot with a peppery finish. The Pedro Ximénez is another sherry cask-finished rye, but this one wears its backstory on its sleeve—or rather its nose, with aromas of raisins, brown sugar, and honey that give way to flavors like date, fig, and vanilla, resolving into molasses.