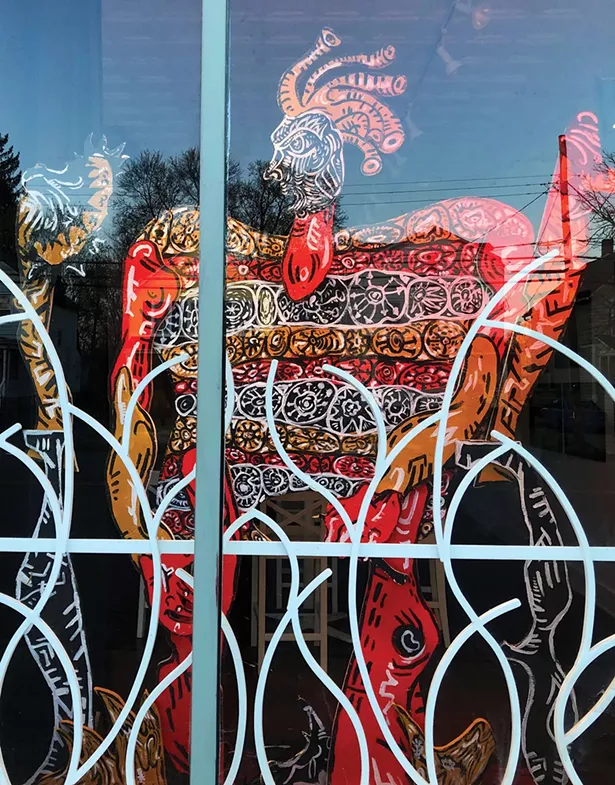 Green Kill Gallery
Sunflower Guardian, Gary Mayer
This month, Green Kill Gallery in Kingston is featuring large paintings by David Fox and paintings and sculpture by Gary Mayer in its front windows to accord with social distancing protocols. Drive on up and see an show, virus-safe! The show runs May 2-30.
LABspace
Stress Eating, Allyson Melberg-Taylor
Mellberg-Taylor's figurative paintings are part of the group exhibition "Space Case" at LABspace in Hillsdale. The exhibition is open for individual, no-contact visits. Email julielabspace@gmail.com to make arrangements.
Woodstock Artists Association & Museum (WAAM)
Healing Energy
, Carl Van Brunt
Joy Taylor juried this show of posters at WAAM, featuring work by Natalie Wargin, Angela Gaffney-Smith, Susan Spencer Crowe, Carl Van Brunt—all posted on the building's exterior.
Wassaic Project
Virtual Studio Visit with Kristen Schiele on May 13 at 6pm on Instagram Live.
Wassaic Project residency alumna Kristen Schiele will be taking viewers on a virtual tour of her Brooklyn studio this month. Schiele creates bold, immersive and semi-abstract paintings, collages and installations. She is inspired by stage sets, cinema, allegory and storytelling that is theatrical and playful. Most comfortable at large-scale, she uses a range of materials which are anchored by architecture or pattern.
Art Omi
Omi Pond House, Rob Fischer
The grounds of Art Omi's 120-acre sculpture park in Ghent remain open. Filled with massive works from internationally acclaimed artists, the fields and woods at Art Omi offer plenty to contemplate and appreciate. (Dogs are also welcome, which is a treat.) Omi is home to the ReActor seesaw apartment, which created an international buzz when it was completed in 2016.
Dorsky Museum
Circle 52, Harvey Weiss
The Dorsky Museum at SUNY New Paltz is partnering with regional artists for its upcoming "Stay Home, Make Art" exhibit. Artists are encouraged to submit work created during the pandemic to Anna Conlan at conlana@newpaltz.edu. Artwork will be featured on the museum's Instagram and Facebook pages, as well as the museum's website.