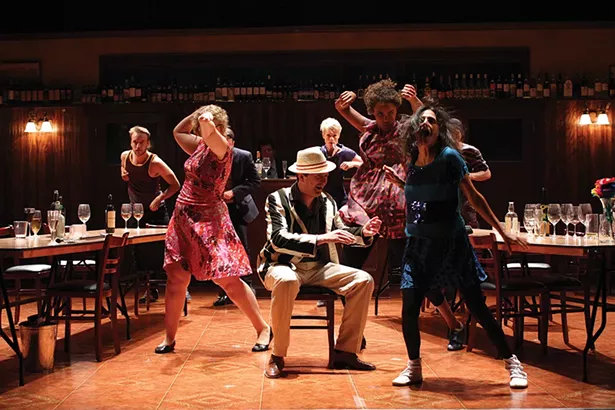 Photo: Rob Strong
Elevator Repair Service performs "The Select"; appearing August 10-11 at Lumberyard.
Lumberyard (July 6-September 1)
This second summer season at
Lumberyard Center for Film and Performing Arts
in Catskill offers "Quiet No More: A Choral Celebration of Stonewall" by the New York Gay Men's Chorus (July 6), "UnderScored" by Ephrat Asherie Dance (July 13), "Manmade Earth" by theatrical troupe 600 Highwaymen (July 20-21), "Treasure" by performance artist (and Taylor Mac costumer) Machine Dazzle (July 27-28), a new work by the ensemble Elevator Repair Service (August 10-11), "Reconstruction: Still Working But the Devil Might Be Inside" by the Team (August 17-18), and "On the Water" performed by the Bill T. Jones/Arnie Zane Company (August 31-September 1).
Jacob's Pillow (June 19-August 25)
The oldest internationally acclaimed dance festival in the US,
Jacob's Pillow Dance Festival
is traceable to the 1930s, when pioneering choreographer Ted Shawn purchased this former farm in Beckett, Massachusetts, and rebuilt it as a center for modern dance. Ticketed performances this summer include Ballet BC (June 19-23), Circa (June 19-23), Compania Irene Rodriguez (June 26-30), Abby Z and the New Utility (June 26-30), Compagnie CNDC-Angiers/Robert Swinston (July 3-7), Dance Theater of Harlem (July 10-14), Mark Morris Dance Group (July 17-21), Paul Taylor Dance Company (July 24-28), Martha Graham Dance Company (August 14-17), and more. The Inside/Out series offers free outdoor dance performances.
PS21 (June 29-August 24)
Dance reigns at this performing arts center located in an apple orchard in Chatham. The Jamal Jackson Dance Company, Dance Heinbotham, and Parsons Dance are among the acts at its summer season's Opening Night Revue (June 29). Among the music and theatrical events PS21 promises in the weeks to follow are "Odeon" by Ephrat Asherie Dance (August 2-3), the documentary Black Ballerina (August 6), Philandco Dance Company (August 9-10), Bridgman/Packer Dance (August 16-17), and Parsons Dance (August 23-24). The free "Just for Fun" family series features a West African dance and drum performance (July 26), Ephrat Asherie (August 2), Philandco Dance (August 9), and Bridgman/Packer Dance (August 16).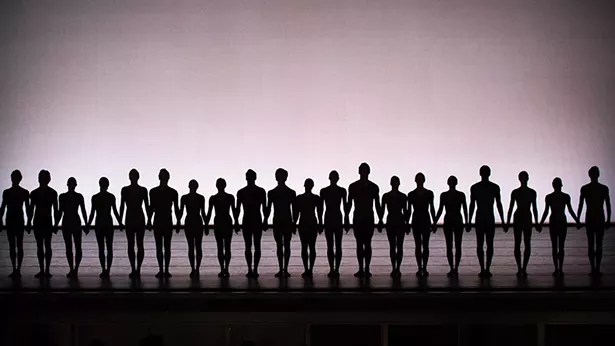 Photo: Erin Baiano
New York City Ballet performs Justin Peck's "Principia"; appearing at SPAC July 16-20.
New York City Ballet at SPAC (July 16-20)
Cofounded in 1948 by choreographer George Balanchine, the New York City Ballet has made its summer home at the
Saratoga Performing Arts Center
since the 1960s. The company's 2019 SPAC residency leaps off with a tribute to Balanchine and Tchaikovsky (July 16, 18) and follows with an evening of premieres of works by 21st-century choreographers that includes a new creation by Justin Peck with a score by singer-songwriter Sufjan Stevens (July 17). Revisited this year is the comedic ballet "Coppelia," which debuted at SPAC in 1974 (July 18-20). The NYCB's SPAC season closes with a gala and performance of Balanchine's "Apollo" (July 20).
Ronald K. Brown/Evidence at Bard SummerScape (July 5-7)
For three dates only during Bard College's annual SummerScape spectacular, this collaboration at the Fisher Center for the Performing Arts' Sosnoff Theater between the acclaimed choreographer Richard K. Brown and the dance company Evidence will present two arresting works. Making its world premiere is the SummerScape-commissioned "Mercy," which features music composed by rock and soul great Meshell Ndegeocello, who will accompany the performance live. Up first each night is a newly interpreted version of Brown's 1999 masterwork "Grace" that encompasses live music by celebrated R&B artist Peven Everett.
Photo: Brigid Pierce
Pilobolus at the Five Senses Festival.
Pilobolus Five Senses Festival (July 21-August 4)
The venerated Pilobolus dance company's name, in case you've ever wondered, comes from that of a phototropic fungus that cofounder Jonathan Wolken's father was studying at the time of the organization's 1971 inception. For three weekends every summer, the ever-mushrooming company sponsors its
Five Senses Festival
near its Washington Depot, Connecticut, headquarters. In response to the growing need for sensory and community connection, the fete features world-class performances, interactive art, local food, and activities for all ages and offers attendees the opportunity to engage with artists, speakers, writers, musicians, foodies, performers, scientists, and more.