The Hudson Valley is home to nearly 150 craft beverage producers. (There are over 1,000 statewide.) From wineries to breweries to distilleries to cideries and even meaderies, there's a vast bounty of locally made tipples to sample in tasting rooms and onsite restaurants across the region. Since you can't sample it all in one trip, we've selected some new outposts and old favorites for you to visit.
Whitecliff Tasting Room | Hudson
In June, Whitecliff Vineyard & Winery hosted the grand opening of its new tasting room in Hudson on the 10-acre plot they've been cultivating for the past seven years. Set on a beautiful property that slopes down to the Hudson River, the new tasting room sits in the shadow of Frederic Church's historic home, Olana, and overlooks the Rip Van Winkle Bridge. Open Friday through Monday, the modern-industrial bar serves flights and glasses of wine, along with local cheese from McGrath Cheese Company and the occasional food pop-up, plus live music and views of the Catskills. Sit and watch the sunset before grabbing a case of wine on your way home. Tasting room is open Thursday 3-9pm; Friday 3-10pm; Saturday 12-10pm; Sunday 12-7pm.
Drowned Lands | Warwick
The brewery, founded and run by brewmaster Mike Kraai in 2020, occupies a corner of the former campus of the Mid-Orange Correctional Facility in the Black Dirt Region. The Drowned Lands' $2.7 million renovation created a beautiful, modern 15,000-square foot brewery with a 3,000-square-foot patio, a 1,000-square-foot deck, and another event space. Between indoor and outdoor seating the brewery can seat over 500. Inside the whitewashed tasting room, seven massive foeders (oversized barrels) are on view behind a wall of glass. Aged in oak rather than sterile stainless steel vats for anywhere from six months to two years, the beer at Drowned Lands is a collaboration with the environment around it. The small-batch brewery has a 15-barrel system, with 16 brews on tap at any one time. Brewery is open Thursday 3-9pm; Friday 3-10pm; Saturday 12-10pm; Sunday 12-7pm.
Tenmile Distillery | Wassaic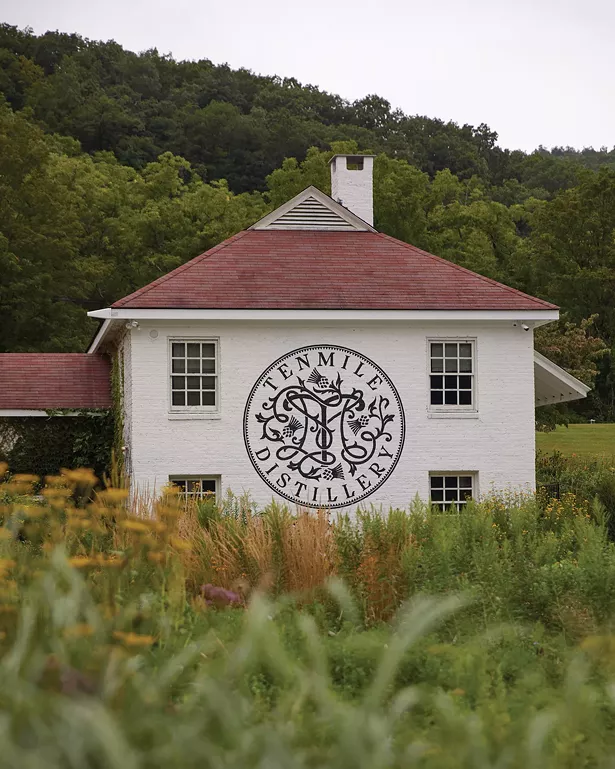 Teaming up with his son-in-law and fellow whisky enthusiast Joel LeVangia, John Dyson set out to honor his Scottish grandfather by creating the closest possible thing to a Scotch this side of the pond. The pair imported all the equipment from Scotland and even managed to hire a Scottish distiller (a rare feat). Now Tenmile Distillery's first batch is dutifully aging in oak barrels. And in the meantime, the Wassaic facility, located in a beautifully renovated old dairy barn, has opened to the public for tours and tastings of their other award-winning spirits—Sinpatch Vodka and Listening Rock Gin. Tasting room is open Wednesday-Sunday, 12-5pm.
Branchwater Farms | Red Hook
Branchwater Farms is one of the latest small, family-run distilleries to enter the increasingly crowded local wine and spirits market, launching its first batch of gin last June. While it can be hard to stand out, Branchwater's husband-and-wife team, Kevin Pike and Robin Touchet, have a secret weapon: years of experience in the industry's sales and distribution game. That first batch of Branchwater Gin is already being poured in restaurants and bars across the country. Crisp and clean with a beautifully balanced blend of all-organic botanicals, flavors unfold on the palate in a gently and clearly identifiable way. Pike worked on the recipe with friend and renowned Austrian distiller Hans Reisetbauer and he uses a triple distillation process and lets the mash of botanicals steep in the third distillation for 24 hours. It's this process, he says, that lets the individual flavors express themselves so vividly. "Each botanical releases its oils at different times. You can actually see them float up in the still," Pike said. "If you rush it, you don't get that." Tasting room is open Saturdays and Sundays, 12-5pm.
Shady Knoll Orchards & Distillery | Millbrook
This family-run distillery—run by founder and CEO Rick Kneipper and his son-in-law and head distiller and farm manager Andrew Richards—is a hyperlocal business, growing 120 varieties of dwarf apple trees and grains onsite to make its award-winning apple brandy, pommeau and rye whiskey. In addition, 100 percent of all processing, fermenting, distilling, barrel-aging, bottling, and labeling is done on the farm. Apples are picked by hand and then ground and pressed before fermenting for nine months. Then the liquid is double-distilled before diverging in two directions. The apple brandy is aged in oak barrels for 16 months before being finished for four months in Madeira barrels. The pommeau is made by combining brandy with fresh apple juice that rested in brandy barrels for four months. Tasting room and tours by appointment.
Angry Orchard | Walden
Despite Angry Orchard's national profile and mass production of flagship product, its facility in Walden serves as a research and development facility to innovate its products and produce limited release specialty ciders on draft. Since 2015, the Walden orchard has been the site of Angry Orchard's work to revive bittersweet heritage apple varieties that long ago made the Hudson Valley a famous cider-making region. With over 15,000 cider trees currently growing onsite, there's always a rotating tap selection of a dozen or more ciders. Lunch is available from the in-house kitchen, and tours of the orchard are available by reservation. The cider house is open Thursday 2pm-8pm; Friday 12pm-8pm; Saturday 11am-8pm; Sunday 11am-6pm.
Industrial Arts Brewing | Beacon
Industrial Arts' Beacon taproom
Located a bit outside downtown Beacon, Industrial Arts Brewing is housed in a large, once-abandoned factory building. It's worth the trek, though, for the views alone. Outside the taproom, a deck offers panoramas of the Hudson Highlands. Industrial Arts specializes in all things hoppy. In addition to their selection of limited releases and seasonal options, the brewing company has seven core beers that are always available in creatively designed and colorful cans: the Wrench Northeast IPA, Pocket Wrench Northeast pale ale, Metric Pilsner, Tools of the Trade extra pale ale, Torque Wrench double IPA, Power Tools IPA, and the Impact Wrench triple IPA. Open Thursday-Friday 2-8pm; Saturday 12-8pm; Sunday 12-7pm.