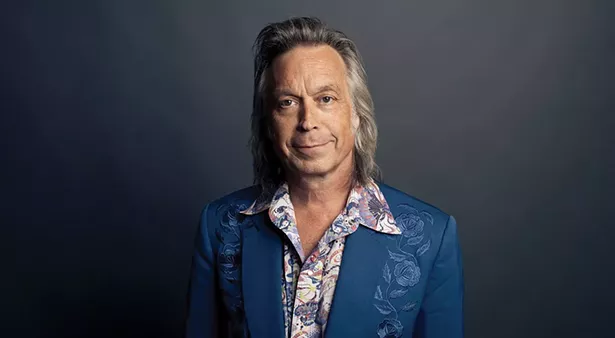 Photo: Scott Simontacchi
Jim Lauderdale plays Towne Crier in Beacon June 21.
Sleep/Big Business
June 7. The Capital Region's newest venue, Skyloft Restaurant, is housed within an unexpected site for a live music outlet: Crossgates Mall. Last month's shows included X, the Wailers, and the New Mastersounds. And now here's this heavy hit by the gods of thundering, lumbering stoner rock, Sleep. Praised for their evocation of the early Black Sabbath sound by no less than Ozzy Osbourne himself, the Chicago trio has caused many a head to bang via landmark LPs like 1999's Jerusalem and 2003's Dopesmoker, each of which is comprised of a single hour-long, slow-nodding track. Big Business features erstwhile Melvins members Jared Warren and Coady Willis. (The English Beat brings it June 1; Robby Krieger plays June 9.) 7pm. $30, $35. Albany. (518) 869-5638; Skyloftny.com.
Todd Rundgren
June 9. Rock legend Todd Rundgren stops in at the Mahawie Performing Arts Center while on a book tour for his recently published autobiography, The Individualist: Digressions, Dreams and Dissertations. For this intimate evening, Rundgren—one of rock's true renaissance men: a chameleonic, hitmaking singer-songwriter and recording artist, producer, video pioneer, software developer, and interactive artist, among other titles—will hold forth with selected songs and reminiscences about his storied career. (The Boston Early Music Festival presents "Versailles: Portrait of a Royal Domain" June 21 and 22; Southside Johnny and the Asbury Jukes jam June 29.) 7pm. $45-$85. Great Barrington, Massachusetts. (413) 528-0100; Mahaiwe.org.
Jim Lauderdale
June 21. Two-time Grammy-winning North Carolina native Jim Lauderdale is a classic example of a "songwriter's songwriter." His durably crafted tunes speak loudest for him and have been sung by the Dixie Chicks, Elvis Costello, Vince Gill, George Strait, Patty Loveless, and many others. But the honey-voiced Lauderdale, who visits the Towne Crier with his band this month, nonetheless remains a cult favorite among Americana fans. He's a reliable festival fave and club headliner thanks to his winning blend of country, bluegrass, pop, rock, folk, and blues. In April, the troubadour—a collaborator of Dr. Ralph Stanley, Nick Lowe, Ralph Hunter, and Buddy Miller—released his newest album, From Another World. (Mulebone stomps June 22; Buffalo Stack stampedes June 28.) 8:30pm. $30. Beacon. (845) 855-1300; Townecrier.com.
Richard Barone and Glenn Mercer
June 22. This plum pairing at Colony brings together the vocalists of the two top bands of the small-but-influential early 1980s Hoboken, New Jersey, underground rock scene: Richard Barone, the leader of the Bongos, and Glenn Mercer, the frontman of the Feelies. For this specially curated night, Barone and Mercer will revisit tunes culled from the songbooks of their own bands, as well as glam rock classics by David Bowie, T. Rex, Roxy Music, Lou Reed, Iggy Pop, and more. Backing them will be Feelies percussionist Dave Weckerman, Shrubs bassist Bob Torsello, and others. Tulula! opens. (John Gullo presents "British Punk at the Colony" June 8; the Bobby Lees, Top Nachos, Stuyedeyed, and Hairbag punk out June 14.) 7pm. $20. Woodstock. (845) 679-7625; Colonywoodstock.com.
Plastic Crimewave Syndicate
June 25. Chicago musician, DJ, illustrator, writer, music historian, and all-around guru Plastic Crimewave aka Steve Krakow, leads Plastic Crimewave Syndicate (nee Plastic Crimewave Sound), which combines psychedelia, punk, and garage rock. This month, the trio takes over Tubby's to crush tunes from their 2017 album Thunderbolt of Flaming Wisdom. "The effect is never ironic but always heartfelt," says the Chicago Reader. "And it provides a wild time-and-dimension-warping ride through decades of psych- and space-rock styles, bringing the classic Blue Cheer/Hawkwind sound through the tones of Japanese high-wire artists and chill Teutonic rhythm drivers." (Andy Human and the Reptoids rock June 7; Knock Yourself Out and the Fatalitees rage June 22.) 8pm. Donation requested. Kingston. (845) 943-4446; Tubbyskingston.com.
Mdou Moctar/Geezer
June 27. Now right here's an amazing double-dream bill. Nigerian Tuareg guitarist Mdou Moctar and his band have blown the minds of Hudson Valley locals during their previous visits to the area. Moctar's incredible sound stirs the deeply mesmerizing "desert blues" of his birthright traditions together with fuzzy Hendrixisms into epic, undulating, please-don't-ever-stop jams. Geezer, of course, are Kingston's kings of outward-bound heavy psych, and their own brand of expansive, interplanetary exploration makes them the perfect, if unexpected, complement to their cosmic cousins from across the ocean. Bravo to BSP for this inspired booking. (Cate Le Bon croons June 25; Wand waves July 2.) 7:30pm. $12, $15. Kingston (845) 481-5158; Bspkingston.com.