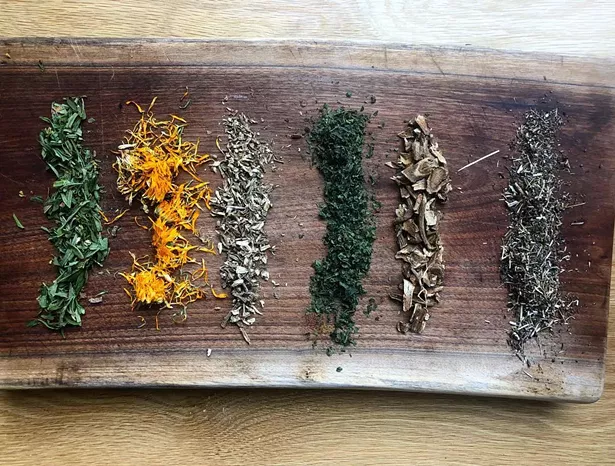 Kaaterskill Herb Exchange
We've come full circle: plant-based therapies are making a comeback with the back-to-the land movement. Apothecaries have become good-smelling gathering places for like-minded people looking to heal naturally. Wondering where to find your witchy community or loose-herb fix? We've rounded up seven upstate apothecaries worth their (bath) salt.
Plant medicines were humanity's first remedies; many of the
active ingredients in the current pharmacopoeia
are still those found in the forest, meadow or garden. (Everything has to come from somewhere, after all.) In many cases, seeking out the source is still a great idea when you're looking to settle your stomach, soothe your skin, and manage your microbiome—but It can be tricky sorting out exactly what you want and need.
That's where an apothecary comes in, working with growers and foragers, sourcing good organics and stocking their shelves with blends, tinctures and salves that make it easy for you to apply them to your life. You can purchase pre-made products or study up on growing, foraging, drying, and the other skills involved in building your own botanical medicine cabinet from scratch.
Just stepping through the door of an apothecary—the good smells, the sweet smart welcoming vibe—can make you feel better. Here are some spots where you can tap into various aspects of the local herbal and botanical wisdom:
Field Apothecary & Herb Farm
75 Main Street, Cold Spring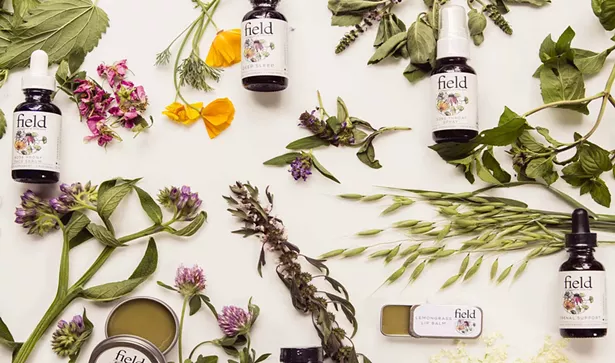 A family farm in Germantown, they grow fresh ingredients in a 1.5 acre herb garden with rescued rain water, saved seed-stocks, and lots of hands-on TLC. They offer seasonal Wellness Boxes that contain everything you need to build a medicine cabinet as locally and organically sourced as the finest menu, or you can make your own selections from their array of balms, bitters and remedies for all sorts of ills.
Village Apothecary
79 Tinker Street, Woodstock
You can get your prescription filled (along with a one-on-one consult with a licensed and friendly pharmacist) and find custom compounding and rigorously chosen supplements of all sorts in the same Woodstock location. Co-founder Neal Smoller styles himself "PharmD, Holistic Pharmacist, Big Mouth" and prides himself on evidence-based recommendations and superb customer service.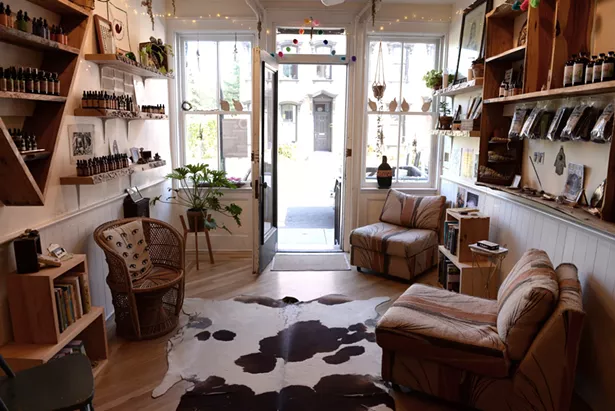 Founder Lauren Giambrone is also a co-founder and educator with Wild Gather: Hudson Valley School of Herbal Studies and opened her brick-and-mortar shop in Hudson in 2017, where you can find fine locally sourced herbal meds such as the Hard Workin' NYer Immune Blend and a Heart Mender elixir. There's a powerful strain of social and medical justice here. Recent workshops include smudging with plant allies, herbs for the active, and "healing sacral/sexual energy and deepening pleasure + intimacy."
The People's Cauldron
3669 Main St, Stone Ridge
You never know what they'll be blending next in
The People's Cauldron
, which began in Rosendale and has relocated to Stone Ridge, where they continue to offer prepared medicines, a great selection of bulk herbs, and apothecary. It's a vibrant community space rich in connectivity for lovers of 'zines, art, music, the Resistance, and locally roasted direct trade coffee.
5 Post Hill Road, Mountaindale




online.
Whether you're interested in natural remedies or a budding hedge witch, the Hudson Valley's wealth of apothecaries will make your hunt for just the right herb a whole lot easier.