Our Country Friends
Gary Shteyngart
Random House, 2021, $23.49
Soviet-born American satirist and best-selling author Gary Shteyngart's (Super Sad True Love Story) new novel is one of the first works of literary fiction to tackle the social, psychological, cultural, and emotional impact of the pandemic that we are all still living in.
In the spring of 2020, Russian-Jewish immigrant writer Alexander "Sasha" Senderovsky had the perfect plan to get through the pandemic: invite a small, curated group of friends to the country house that he shares with his Russian-born, psychiatrist wife Masha, and their quirky, adopted, daughter Nat, who's obsessed with K-pop. Where better to escape the terrifying, menacing grip that COVID had on New York City? Where better to reconnect, rekindle, and reflect upon the paths their lives have taken them on and to ponder or even act upon their desires? What unfolds however, is much more than a plague narrative as love, sex, immigration, betrayal, racism, stalking, Japanese reality TV, nature, celebrity, and Russian writers (Chekhov in particular) interweave in the relations of the assembled guests.
Set in the bucolic splendor of the Hudson Valley (where Shteyngart also maintains a residence), the main house, where Sasha and his family live, is affectionately known as the "House on the Hill" and is surrounded by a crescent of five, small utilitarian bungalows referred to as "the colony." It's a "dacha of his own" that Sasha hoped "would create the feel of a tidy European village, one that would have never welcomed his ancestors."
The invited guests include two of Sasha's high school friends, Vinod Metha, once an aspiring writer and a "former adjunct professor and current kitchen boy" and Karen Cho, a tech entrepreneur made wealthy through her wildly popular and somewhat controversial dating app, Troo Emotions. Their complicated relationship history coupled with Vinod's partial loss of a lung to cancer, makes their time at the colony an opportunity for them to reconnect and to soothe the pain of Vinod's unrequited love. Also in the mix is Dee Cameron, a pretty, young, slightly right-leaning writer and former student of Sasha's whose recent book of essays, The Grand Book of Self-Compromise and Surrender, has garnered her some critical acclaim.
Another guest, Ed Cho, who is slightly related to Karen through a dissipated ancestor back in Seoul, is a wealthy, world-travelling businessman. Masha, viewing Ed and her husband arrive at the house from the train station, is reminded of how much Ed reminds her of Sasha's parents. "Talking with them was like dealing with a smiling adversary who kept a handful of poisoned toothpicks in his pocket. Every time you let your guard down, there would be a sharp prick to your haunches."
Last, but not least, is "the Actor," a movie star and the executive director of a screenplay for a series that Sasha has written. The Actor has refused to sign off on the script, however, because, according to Sasha, "He doesn't want it to be funny. He wants The Odyssey." Sasha, once quite a successful writer, is now nearly broke with a lot of bills to pay to the locals (many in red caps) who help with the maintenance and upkeep, and is feeling a bit desperate regarding his finances. His hope (and ulterior motive for inviting him) is that the Actor's time at the colony will allow them to finalize the script and that money will follow.
The first night the group is together—at a socially distant dinner on the front porch—Karen is asked to demonstrate Troo Emotions. The app claims to have the ability to detect the presence or absence of authentic love between people using a proprietary algorithm's analysis of a single photo: working by tricking users into projecting a lost part of themselves onto another person and calling that "love."
The Actor and Dee agree to look into each other's eyes to be photographed, opening a Pandora's box of complicated emotions for all parties involved. Looking at the photo, the Actor sees that "the smiling man in front of him was who he needed to be, the final version, the finished version, and this woman, holding the phone in front of him with her defiant strawberry blonde cowlick and unplucked brows, was who allowed him to ascend the stage." He is smitten and so is she. Their relationship becomes a major social media event and just as quickly disintegrates in a Twitter-driven hate campaign that mocks them as the "first couple of quarantine."
By the end of the six months at the colony, Shteyngart's imperfect characters, through their interactions, flirtations, and betrayals with one another, have all learned lessons in humility, empathy, compassion, and grief. The heart of this engaging and humorous tragicomedy is the importance of friendship and family and how we create, mend, wound, and heal those we love the most.
—Jane Kinney Denning
The Missing Hours
Julia Dahl
Macmillan, $25.99, 2021
From Julia Dahl, Cornwall resident, former New York Post reporter, and author of Invisible City and Conviction, a novel about obsession, privilege, and the explosive consequences of one violent act. From a distance, Claudia Castro has it all: a famous family, a trust fund, thousands of Instagram followers, and a spot in NYU's freshman class. But look closer, and things are messier: Her parents are separating, she's just been humiliated by a sleazy documentary, and her sister is about to have a baby with a man she barely knows. When Claudia goes missing, the whole city begins to peer behind the facade.
The Jazz Masters: Setting the Record Straight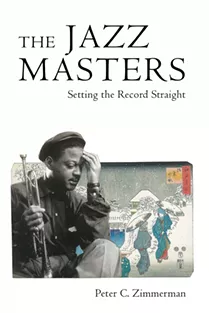 Peter C. Zimmerman
University Press of Mississippi, $25, 2021
Part of the American Made Music series, The Jazz Masters features 21 conversations with musicians who have had at least 50 years of professional experience, and several as many as 75. Older musicians started their careers during the segregation of the Jim Crow era, while the youngest came up during the struggle for civil rights. Appealing to casual fans and jazz aficionados alike, these interviews have been carefully, but minimally edited by Saugerties resident Peter Zimmerman for sense and clarity, without changing any of the musicians' actual words. This is valuable primary material for academics and jazz fans alike.
Tracking Wonder
Jeffrey Davis
2021, $25.99, Sounds True
"Wonder is a quiet disrupter of unseen biases. It dissolves our habitual ways of seeing and thinking so that we may glimpse anew the beauty of what is real, true, and possible," writes High Falls-based writer and consultant Jeffrey Davis in his manual for experiencing greater joy. Subtitled "Reclaiming a Life of Meaning and Possibility in a World Obsessed with Productivity," Davis offers a refreshing counter-narrative to our culture's hyper-productivity problem. Through inspiring stories from exemplary folks like surfer Bethany Hamilton, the wisdom of the ages, and practical tools, Davis invites readers to cultivate the lost art of wonder.
Boychik
Laurie Boris
2021, $14.99, Independent
Williamsburg, 1932. Teenager Eli Abramowitz works in his parents' deli. His family is his whole world—almost. He spends every Sunday at the movies and hopes to hit it big as a Hollywood screenwriter. But how can he tell his parents that one day he'll be leaving? Laurie Boris, an Ulster Park resident, spins a yarn that connects the ambitious Eli with Evelyn Rosenstein, whose father works for the mob. Even though her parents have chosen a husband for her, she fantasizes about a life in service to the unfortunate. When Evelyn and Eli meet, only briefly, their instant connection tempts an unlikely, forbidden romance.
Jennifer Golub
2022, $60, Princeton Architectural Press
In this lavish volume, Golub tells the story of modernist designers Russel and Mary Wright and their collaboration to transform their Hudson Valley estate, Dragon Rock at Manitoga, into an artistic haven. Although best known for American Modern dinnerware, the Wrights rejected rigid modernism for a life that invited ambiguity. The book is filled with personal histories and over 100 photographs, synthesizing multiple archives and charting the innovation of their design practice, their lives, and the development of their Dragon Rock home and the woodland paths of Manitoga. The grounds are open for public tours year-round.