Whether or not you are forsaking alcohol for the month of January, 'tis no secret that this is one of the best months of the year to catch up on your reading. The short days and crackle of the wood stove beckon you to cozy up on the couch with a cup of tea and dive into a book or two. Round out your NYT bestsellers picks with these six books by Hudson Valley authors.
The Art of Resistance
Justus Rosenberg
William Morrow, 2020, $28.99
Nearly 75 years after the official end of World War II, the urge to preserve the voices and stories of survivors is stronger than ever. Justus Rosenberg, professor emeritus of languages and literature and visiting professor of literature at Bard College, decided to capture his story in his own words. In his new memoir, The Art of Resistance, the nearly 100-year-old ("ninety-eight to be exact") Holocaust survivor chronicles the four years he spent in the French Resistance during World War II. Told chronologically, and rife with history, intrigue, and suspense, Rosenberg's memoir details an extraordinary life in an unassuming way.
Born to parents of the "Mosaic faith" (as Judaism was referred to at the time), Rosenberg was born in 1921 in the Free City of Danzig. The Rosenberg family tried to assimilate to German life and culture as deeply as possible. They, like many Jews in Germany, considered themselves "Germans 'of the Mosaic persuasion.'" However, as the Nazis rose to power, antisemitism and violence against Jews in Danzig intensified. In response, Rosenberg's parents decided to send their 16-year-old son to Paris to continue his schooling. In the early days of 1937, Rosenberg studied, wrote weekly letters to his parents, and wandered around the city, soaking up the art and culture. In December 1938, Rosenberg received an eight-page letter from his family—which would be their last correspondence until after the war ended.
In June 1940, with the German occupation of Paris imminent, Rosenberg asks, "Would they bombard this jewel of a metropolis, demolishing its magnificent and superbly tasteful architecture? Would the spirit of Paris itself be ravaged and destroyed?" In the face of this uncertainty, he decides to flee the city he's grown to love. In a series of chance meetings during his nomadic journey, Rosenberg meets journalist Varian Fry who, as a member of the Emergency Rescue Committee (ERC), was helping artists, writers, and intellectuals escape the Nazi regime. Fry gives Rosenberg his first job in the Resistance. As the war rages on, Rosenberg becomes more deeply enmeshed in the Underground, even assuming an alternate identity. In addition to tracking German movements, he trains and serves as a guerrilla fighter before he joined the United States' 636th Tank Destroyer Battalion. Over and over again, he narrowly escapes danger (including imprisonment at a detention camp) and even death.
In the memoir's final section "Epilogue: What Happened to...," Rosenberg writes about what happened to many of the people whom he crossed paths with during the war. The subsections include everyone in Rosenberg's life, his Battalion lieutenant, to the countless unknown persons who helped him while in the Underground. As for his family, his parents and sister survived by resettling in Palestine but the majority of the Rosenbergs (64 of 68 members) died during the war. In the epilogue's final subsection, Rosenberg reveals he received France's highest honor in 2017—being promoted to the rank of Commandeur de la Légion d'Honneur—and that he's nowhere near done telling his story (about his extensive FBI folder, he says he hopes to "deal with all these things in future memoirs"). Even at 100 years old, Rosenberg remains vigilant about rooting out hatred and intolerance, and helping to mend the world we live in. The Art of Resistance is an unforgettable account of one of history's darkest moments—and those who helped bring us into the light.
—Carolyn Quimby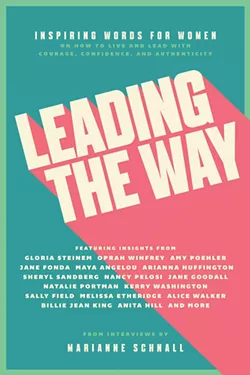 Leading the Way
Marianne Schnall
Tiller Press, 2019, $16.99
Schnall, a Woodstock resident, is a journalist and the founder of Feminist.com and Whatwillittake.com, websites engaging women to take action and advance in leadership roles. Her latest book is Leading the Way: Inspiring Words for Women, features insights from many of the extraordinary people she's interview over the past 30 years on how to live and lead with courage, confidence, and authenticity; interviewees include Nancy Pelosi, Glora Steinem, Anita Hill, Sheryl Sandberg, and more. Schnall will read from and sign Leading the Way and her new book for girls, Dare to Be You, on January 11 at Barnes & Noble in Kingston.
The River's Never Full
William Shannon
Two-Headed Calf Press, 2019, $12.95
Shannon, a former reporter for the Hudson Register-Star, became aware of the riverside shantytown in Hudson (also known as the Furgary Boat Club), when he was sent to cover the evictions by SWAT team of its inhabitants in 2012. Subtitled "Hudson's Lost Shantytown," Shannon's novel The River's Never Full is fictionalized account that follows a young newspaperman who's fascinated with the shanty dwellers and seeks to make sense of their plight, while they spend most of their time fishing for herring and striper, target-shooting, steaming clams, cooking eel, and talking about better days.
The Good Citizen
JoAnne Myers
Routledge, $44.95, 2019
Myers, an associate professor of political science at Marist College, examines five components of privilege that have come to define levels of citizenship in the United States in her latest book: patriotism, property rights, participation, productivity, and reproduction. Myers provides a new framework for looking at citizenship and power by going past the binary norm of citizen/noncitizen to investigate the norms, policies, and laws that can marginalize people and groups—citizens and noncitizens alike—as "other."
Green Day
Bob Gruen
Abrams, 2019, $24.99
For more than 40 years, part-time Woodstock resident Bob Gruen has documented the rock music scene in striking style, creating iconic images of such artists as the Clash, the Sex Pistols, Led Zeppelin, Ike and Tina Turner, and, perhaps most famously, John Lennon and Yoko Ono (see Gruen's famous shot of Lennon on his "New York City" T-shirt). His latest volume follows second-generation punks Green Day from mid-'90s Manhattan through their stratospheric global success to today.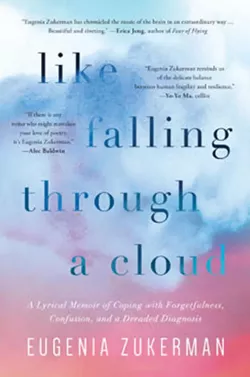 Like Falling Through a Cloud
Eugenia Zukerman
East End Press, 2019, $21
Zukerman, an internationally renowned flutist, has enjoyed a storied career as a musician, writer, and CBS arts correspondent. A few years ago, however, she began experiencing memory lapses and losses—Alzheimer's. Zukerman unflinchingly confronts her condition in her latest book, Like Falling Through a Cloud, a lyrical memoir of that details coping with forgetfulness, confusion, and a dreaded diagnosis. The poetry and simple prose in Cloud unfold in fragments, a testament to living in the now and the acceptance of future-as-mystery.