Levon Helm: Rock, Roll & Ramble
John W. Barry

Self-published, 2022, $29.99
Ten years after his passing, it feels, in many ways, like Levon Helm never left Woodstock. Of course, a big chunk of that is due to the timeless, world-renowned music he made here with The Band, Bob Dylan, his own bands, and so many other artists. But much of that feeling that flows through the pines and hollows around the mountain town comes from the love the community itself has for the late drummer, singer, and mandolinist. It also comes from the warm vibes that elevated the popular Midnight Ramble sessions that resurrected his career and continue to be held at the Barn, his home and recording studio at 160 Plochmann Lane. A note-taking fly on the wall since just about the beginning of those intimate events—I don't think I've ever gone to a Ramble and not seen him there—is former Poughkeepsie Journal music columnist John Barry, whose Levon Helm: Rock, Roll, & Ramble focuses on the Rock and Roll Hall of Famer and multiple-Grammy winner's final years and the scene around his beloved house concerts.
Through his own observations and anecdotes and interviews with and remembrances by the musicians who played at his side (Larry Campbell, Jimmy Vivino, Jim Weider, Erik Lawrence, others), members of the Barn's "Team Levon" staff (manager Barbara O'Brien, engineer Justin Guip, security crew member Chris Howe), local luminaries (Assemblyman Kevin Cahill), and even several of the attendees themselves, Barry sketches a you-are-there snapshot album of the weekly sessions whose freewheeling atmosphere and earthy music always felt like an extension of Helm himself.
Perhaps the book's most priceless passages, however, are the wonderfully, well, rambling stories about Helm's childhood and early years on the road that the writer collected firsthand during his time around the Southern-bred musician. Full of downhome banter and folk wisdom, they underscore his existence as a direct link to the vanishing past and, to borrow a line from Greil Marcus, the old, weird America ("I could eat, fight, and raise hell and listen to music all at the same time," the drummer recalls about growing up in Turkey Scratch, Arkansas).
Helm's history is touched on mainly through his homespun yarns, and for context there's a bit of the history of the Woodstock region he called home from 1967 on (except for a 1973-1975 spell in California with The Band), landing here after his wild years on the road with rockabilly warriors Ronnie Hawkins and the Hawks and the tumultuous 1965-1966 tour with Dylan's trailblazing electric group. For the most part, though, the book is a testament to the tenacity, struggle, and redemption of Helm as he weathered the fiery destruction of the Barn and its rebuilding (he cheekily named his post-fire ensemble the Barn Burners), financial bankruptcy, and cancer diagnosis and treatments while making some of the best music of his life—along with legions of new fans and friends. And it's those friends who do most of the talking here, sharing the moments they shared with the rock icon and, in the cases of the musicians, talking not only about what it was like to play with and spend time around him but also about the ways in which The Band's music and Helm's persona profoundly influenced them.
In his preface, Barry accurately asserts that his book doesn't take the place of Helm and Stephen Davis's 1993 autobiography This Wheel's on Fire. Instead, it serves as an epilogue to that more Band-centric tome, a parting portrait of Midnight Ramble-era (2003-2012) Helm and the rent party/medicine show-inspired house concerts that reflected, and still reflect, his vision and personality.
"Keep it goin'," Levon famously requested of his daughter Amy Helm and the rest of the events' organizers shortly before his death. In its own way, Rock Roll Ramble honors that request by celebrating both the series and the spirit of the man that forever runs through it.
—Peter Aaron

House of the Seven Heavens
Mark Morganstern
Recital Publishing, 2022, $15
Mark Morganstern's gift for the surreal, on vivid display in the reimagined Hudson Valley of his novel The Joppenbergh Jump, illuminates the lives being lived headlong in these two novellas and three short stories. Morganstern's straightforward voice lets us immerse ourselves thoroughly in slightly tilted realities without a hitch, in the company of characters whose precisely drawn inner lives are in crisis: an unquenchable young immigrant, an aging college professor, a seedy bro of a realtor being reeducated by powerful women. This is magic you can believe in.
Faire Mount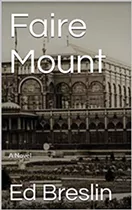 Ed Breslin

Parkside Books, 2022, $15
It's 1876 in the City of Brotherly Love, time for a centennial meant to evoke healing and unity in a reeling nation. All is set for a grand celebration. But what's a bloody corpse doing in the docents' booth? Ed Breslin, writer of an eclectic list of titles and retired up here after decades as an editor and publisher in Manhattan, puts us amid the scramble for solutions in a romp through his bustling native city in the age of Walt Whitman and U. S. Grant.
Cash on Cash: Interviews and Encounters with Johnny Cash
Robert Burke Warren

Chicago Review Press, 2022, $19.99
The Man in Black is one of the most iconic figures in American music history, treasured across genres and eras since the public first fell in love with that otherworldly poetic voice and gift for the guitar. Impossible to pigeonhole either musically, personally, or politically, he was often considered an enigma, but not because he didn't speak his mind. Catskills novelist, musician, educator, and journalist Robert Burke Warren does a deft job of pulling together both familiar and previously unpublished interviews into a revelatory self-portrait.
Elverhoj: The Arts and Crafts Colony at Milton-on-Hudson
William B. Rhoads and Leslie Melvin

Black Dome Press, 2022, $35
Hudson Valley history is full of artsy tales at least as fascinating as those of the warriors and captains of industry, and many of the best are captured by Catskill-based Black Dome Press. Elverhoj (Danish for "hill of the fairies") flourished through the first three decades of the 20th century, its creatives winning national acclaim from their rustic riverside studios, and art history profs Rhoads (SUNY New Paltz) and Melvin (Bard) bring us the story from bright-eyed origins through soaring success to ultimate demise.
Waking Up to the Dark
Clark Strand

Monkfish Publishing, 2022, $16.99
Subtitled "The Black Madonna's Gospel For An Age of Extinction and Collapse," this timely blend of paleobiology, memoir, history, science and spiritual archaeology is the perfect bedside companion for a chilly November evening amid late-stage capitalism and all its wonders. Strand, editor of the Haiku Challenge and author of several earlier works on spirituality and religion, helps us see past the harsh illusions of illumination peddled by the mainstream into timeless wells of wisdom that can help us meet the moment with clarity and love.
—Anne Pyburn Craig