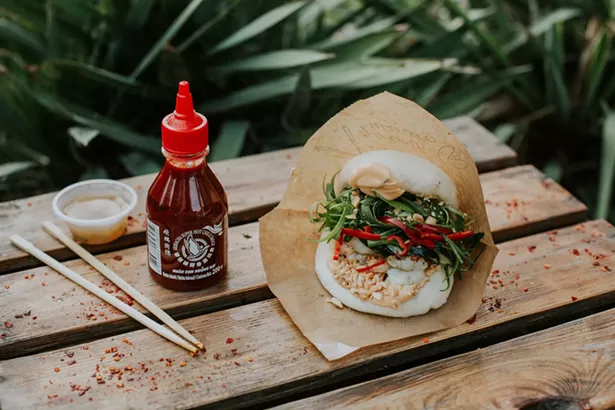 East-West, one of the food stalls in the forthcoming Academy Food Hall in Poughkeepsie, will serve up Asian eats like bao buns, ramen, and dumplings.
This January, instead of promises about what kind of diet regimens or exercise programs we're going to follow in the coming year, we're making resolutions about future dinner dates we're planning to take ourselves on. It's not just about us and all the yummy things we'll eat. It's about hope. It's been two years since we did our last roundup of anticipated restaurant openings. COVID shutdowns, permitting delays, trade bottlenecks, and supply chain shortages conspired to prevent, discourage, or delay new restaurants from opening the past couple years, but we're hoping that in 2022 things will get back on track. Here are five Hudson Valley restaurant openings we're looking forward to in 2022.
The Aviary & The Nest | Kinderhook
In the January issue we profiled artist Darren Waterston and chef Yen Ngo's ambitious plans for the Kinderhook Knitting Mill. The project encompasses three buildings, three restaurants, four apartments, and several small businesses, including a wine store, a garden shop, and a gallery. Coffeehouse and cafe Morningbird has already opened to the public, and is dishing up casual Southeast Asian comfort food for breakfast and lunch. The other two food concepts are a 150-seat upscale eatery called the Aviary and a cocktail lounge called the Nest, both of which will also focus on Dutch-Indonesian cookery and are slated to open this spring. "The Aviary is going to be more overtly Dutch-Indonesian, seen through a modern Hudson Valley lens," says creative director Nic Der. "The Nest will have small bites like fried smelt, or scotch quail eggs wrapped in sausage and deep fried."
The Academy | Poughkeepsie
The $13 million project The Academy, which broke ground in 2020, is a much-anticipated multiuse building that will blend hospitality with retail, coworking, and residential spaces. In addition to the 28 affordable apartment units and the 8,700-square-foot event space, Keepsake, that will occupy the upper levels, the ground floor will boast a robust food hall. For informal eats there will be four food stalls. Valley Greens will dish up made-to-order salads and grain bowls. Smoke 33 will specialize in slow-smoked meats and sides. East-West will dish up Asian-inspired street food like bao buns, ramen, and dumplings. And Hudson Hopworks will bring together the region's craft beers under one tap and bottle shop. For a more formal dining experience, head to the full-service restaurant Academy Kitchen & Bar, helmed by head chef Rachael Potts. At the front of the Academy's food hall will also be a coffee shop serving Ready Coffee and a Poughkeepsie outpost for Michael Kelly's beloved bakery the Newburgh Flour Shop. The whole kit and caboodle is slated to open at the end of April.
Krupa Bros Pierogi Co. | Kingston
Krupa Bros. Pierogi Co. (KBPC) was launched by twins Kyle and Tyler Krupa in October 2020 as a small-batch, wholesale company selling to independent grocery stores and specialty markets in the Hudson Valley and the Berkshires. The brothers, who began helping their Polish grandmother hand-making pierogies at age 9, have been producing out of the kitchen at Ray's Place in Oakville, CT. But they are getting ready to open a location on West Strand Street in Kingston's Rondout district sometime in March. "We will be geared towards production and distribution of our gourmet pierogi, with a couple doors of retail freezers for on-site purchases," says Kyle Krupa. "We won't be doing any food service initially as we establish ourselves in a new location, but have a lot of excitement to get into fairs and farmers markets." Krupa Bros. sells six pierogi varieties wholesale, all made with real mashed potatoes. The flavors range from the classic farmer cheese to the gourmet roasted garlic and black truffle oil to broccoli cheddar. In house, they'll also sell some retail specialties like buffalo chicken with gorgonzola cheese and; potato, jalapeño, bacon, and cheddar.
Kitty's Restaurant | Hudson
Under the direction of Anna Morris and chef Lauren Schaefer, Kitty's Market Cafe in Hudson rapidly earned fame the valley over for their "spinning" chicken (essentially perfectly seasoned, rotisserie-style chicken), simple, comforting sides, and breakfast sammies. From the beginning, the master plan for Kitty's included a full-service restaurant in the space next door to the market (plus a natural wine shop, Grapefruit, which is open). Due to COVID delays, the dream was deferred multiple times, but after a long wait, Kitty's sit-down restaurant looks to open in late spring 2022. "We are currently recruiting for the Culinary Director position, and while we do anticipate opening in May, if we have learned anything from the pandemic, it is that things don't always work out as expected," staff replied in an email. Though the culinary director will, of course, define the specific direction of the food program, the restaurant will stick with the market and cafe's farm-to-table ethos, sourcing meat and produce from local purveyors. Given Grapefruit's exclusive focus on natural wines, we think it's probably a safe bet that the wine list at Kitty's restaurant will feature low-intervention and farmer-made wines alongside local spirits, craft beer, and ciders.
First Bloom!? | Bloomville
In a December New Yorker article, chef, cookbook writer, and culinary personality Alison Roman confirmed the rumor that she had bought a rambling old Victorian in the Catskills hamlet of Bloomville. The ground floor was previously home to Table on Ten, a beloved farm-to-table pizzeria, while the upstairs had been rented as guest rooms. Roman plans to transform the retail space, which came with an industrial-grade coffee machine and a wood-burning oven, into a small provisions market. She also floated the tantalizing possibility of hosting pop-up dinners in the dining room post-makeover. Roman didn't respond to requests for comment, but if you are familiar with her recipes, you'll join us in daydreaming about an upstate outpost for her signature hearty, complex yet accessible staples like caramelized shallot pasta and frizzled green beans, mushrooms, and onions.