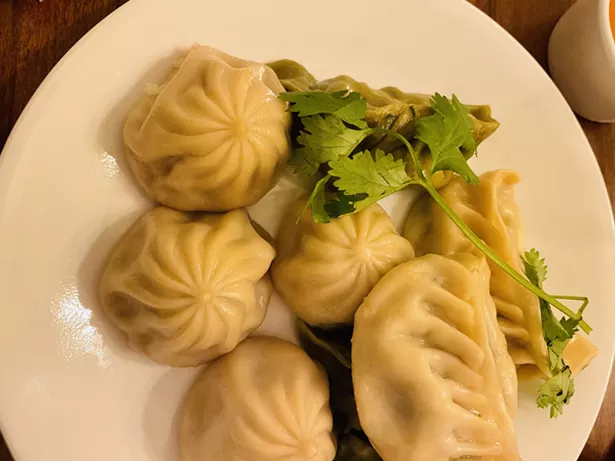 From Southern comfort food to Himalayan momo (dumplings) to a converted train depot-turned-cafe, here are five Hudson Valley food and drink destinations to check out this month.
Darlings
838 Route 32, Tillson | Darlingsny.com
Just like there are flyover states, there are what could be called drive-through towns. The hamlet of Tillson in Ulster County is one. Tillson is mostly a residential community, a place you pass through on your way to somewhere else—especially since its one watering hole, the Postage Inn, closed in 2021. But after more than three decades, the building is getting a facelift and a new identity. It will reopen in early May as Darlings, a bar and restaurant serving Southern food and craft cocktails. The venture is the latest hospitality undertaking from the owners of Huckleberry in New Paltz, Julie Dabbs and Billy Simkiss and Leah Allen and Mike O'Neil, who own six bars including New York City-based Abilene, Skylark, Lowlands, and The Adirondack between them. These two couples are joined by a third—Madi Taylor and Luke Peters, who have worked front-of-house at Huckleberry since its opening in 2015.
The Central
330 Railroad Avenue, Peekskill | Centralpeekskill.com
The historic Peekskill train station was built in the 1870. From the late '90s to the end of the aughts, the beloved PJ Kelly's Pub and Restaurant occupied the space. They closed in 2011, and the building remained empty for almost a decade. Now, partners Louie Lanza, Chippy Manzer, and John Sharp (Birdsall House, Gleason's) have given it a chance at life with The Central, which opened in November. There's plenty of coffee for commuters who need their caffeine fix, with lattes, cappuccinos, and macchiatos made with Peekskill Coffee. A wide selection of pastries is available, with sweet and savory scones ($3.50), biscuits served with honey butter ($3.75), and a quiche with bacon, caramelized onions, and manchego cheese ($4.50). There's also a variety of sandwiches available. For a classic breakfast, there's the bacon, egg, and cheese on a kaiser roll ($6). The Spanish brie press comes with jamón, honeycrisp apple, and hot honey dijon ($16). Another option is the veggie press, with hazelnut pesto, eggplant, bell peppers, and feta ($12). A liquor license is in the works, so The Central will offer drinks to returning commuters as well.
Stissing House
7801 South Main Street, Pine Plains | Stissinghouse.com
The Stissing House, an 18th-century landmark in Pine Plains, has operated as a bar/restaurant/inn since it was an overnight spot for Revolutionary War hero the Marquis de Lafayette. Most recently it was run as a French restaurant for 15 years by Michel and Patricia Jean until 2020. In mid-March, chef Clare de Boer reopened the it, keeping the historic name. The revived eatery is the first solo restaurant project for de Boer, an alum of London's River Cafe (along with Hugh Fearnley-Whittingstall, April Bloomfield, and Jamie Oliver, among others revered chefs) who opened the Michelin-starred King in the West Village with fellow Brit Jess Shadbolt and Annie Shi in 2017. The menu is elevated tavern food that's sturdy and understated—and mostly wood-fired. Dishes includes fin de la Baie oysters from New Brunswyck ($3.50), a Caesar salad ($17), beet and caper soup ($15), wood-roasted chicken with lemon and wedge potatoes ($29), seafood chowder with a giant saltine ($31) and sticky toffee sundae ($13) for dessert.
Blue Plate
1 Kinderhook Street, Chatham | Chathamblueplate.com
After being closed for more than a year, in late January, Chatham institution Blue Plate reopened for dining. The new owner, David Grunberg, is the son of longtime proprietor Judy Grunberg, who died in 2019. Chef Tomas Antonio is sticking to the established New American culinary vibe of the restaurant›s former identity, but he's leaning more heavily into local sourcing of ingredients. Some of the dishes currently on the menu include Blue Plate meatloaf ($19), eggplant and chickpea stew ($18), vegetable tempura ($13), herb-roasted half chicken ($24), and grilled trout filets ($28).
Momo Valley
455 Main Street, Beacon | Momovalley.com
J. Lama, a native of Nepal, has been slowly upscaling her dumpling business since 2018. First she ran a pop-up, then at a stall in the Hudson Valley Food Hall in Beacon. In January, Lama opened her own brick-and-mortar location at the east end of the city. For the uninitiated, a momo is a traditional dumpling found primarily in the cuisines of Nepal and Tibet. Momo Valley offers four varieties—chicken, beef, spinach and cheese, and a vegan vegetable medley—(all 6 for $12). All the food is made on premises by Lama and her parents, and the menu includes entrees as well. The Himalayan Chicken Bowl is creamy, chunky chicken and garlicky broccoli served with jasmine or brown rice ($14). The Thukpa Bowl is house-made grass-fed beef bone broth with egg noodle, topped with seared chicken strips and garnished with scallion & cilantro ($16).