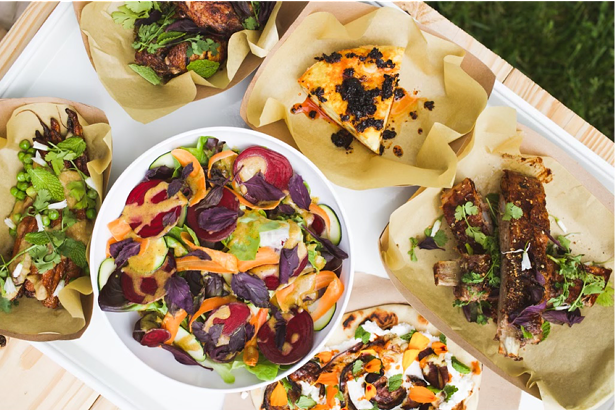 Embers at Bartlett House is a wood-fired pop-up that runs through October.
Embers at Bartlett House
2258 Route 66, Ghent

Like their Argentine cousins across La Plata river, Uruguayans are master grillers. In Las Pampas, the asado is a long, slow, sacred affair and a regular part of life. Uruguayan-born chef Leo Ruiz brings a taste of that tradition to Embers, Bartlett House's first seasonal, outdoor dining pop-up. Using grills that he custom-designed with a local blacksmith, Ruiz seeks to strike a balance between classic Uruguayan dishes and the American palate. The latest menu includes ancho- and honey-barbecue tossed St. Louis ribs ($21), dry-rubbed wings served with salsa verde ($18), charred mixed vegetables ($11), and three variations of grilled flatbread pizzas ($16-18). Perhaps most authentic, the shaved leg of lamb is served with house-made chimichurri ($22). Dishes are small, served tapas-style, and are meant to be shared.
Whitecliff Tasting Room in Hudson
4150 State Route 23, Hudson

In June, Whitecliff Vineyard & Winery hosted the grand opening of its new tasting room in Hudson on the 10-acre plot its owners have been cultivating for the past seven years. Set on a beautiful property that slopes down to the Hudson River, the new tasting room sits in the shadow of Frederic Church's historic home, Olana, and overlooks the Rip Van Winkle Bridge. Open Friday through Monday, the modern-industrial bar serves flights and glasses of wine, along with local cheese from McGrath Cheese Company and the occasional food pop-up, plus live music and views of the Catskills. Sit and watch the sunset before grabbing a case of wine on your way home.
Sonder
346 Broadway, Kingston


It's been a year since chef Daniel Bagnall closed down the Hudson location of his natural wine bar and small plates spot, Sonder. When things at the Warren Street storefront didn't work out, Bagnall packed up shop and set out looking for a new home, determined to keep the concept alive. The newest incarnation of Sonder, in a small house-like storefront on Broadway around the corner from Kingston Standard, picks up where Warren Street left off with vegetable-forward fare for sharing and a rotating, globetrotting list of adventurous low-intervention wines.
Tanner's Boat House
27 Lake Road, Tannersville

We admit it, we're late to the party on this one: Tanner's Boathouse opened in September 2021. The red-and-white lakefront lobster shack smacks of summer vacation spots like Montauk or Nantucket, where owner Ryan Chadwick also has eateries, but it's surprisingly at home among the hills of Greene County. Because, well, who doesn't love a laidback ordering window where cash is exchanged for loaded hot dogs ($3.99), cups of clam chowder ($6.99), fish and chips ($18.99), and fried shrimp ($19.99)? Out front, scarf your seafood down at picnic tables beneath blue-and-white striped umbrellas before hitting the water in a rental canoe, kayak, stand-up paddle board, or inner tube. If frutti di mare ain't your thing, there's also a $7 burger and a $16 vegan quinoa bowl served with seasonal veggie and a coconut curry sauce.
Catskill Chocolate Co.
473 Main Street, Catskill

In the elegant storefront at 473 Main Street in Catskill, the vintage tin ceilings, tiled floors, and a long, heavy wooden bar will have you feeling like you just stepped into a scene from
Chocolat
—a place where confectionary dreams come true. At
Catskill Chocolate Co
., which opened in June, seasoned chocolatier Lauren Robbiani and her cofounders are serving up chocolates handmade with ethically sourced cacao and local ingredients, candies, cookies, cakes, and other pastries alongside espresso. Oh, and housemade gelato in flavors ranging from classics like chocolate and coffee to bright originals like lemon-almond and malted-chocolate-pretzel. And lest we forget, affogato is also on the menu.