Megan Burns, A.W. Hastings
There is cozy charm in a simple life in community and comfort. Imagine your friends and family gathered around a long farmhouse table for a dinner party, toasting to health and happiness. Imagine a sun-drenched breakfast nook where you can snuggle up with your morning coffee to do the crossword. These images snap us out of our technology daze and allow us to harken back to a simpler time. A deep desire for this lifestyle and the way it seems to relax us and lift our spirits is at the very heart of modern farmhouse style that is so popular right now.
Whether you are building a new home or remodeling an existing one, what you want to achieve is not the trend itself—it's the way it makes you feel. When you think beyond the trend and add your own twist, you will find a new level of enjoyment that is uniquely yours.
Here are five keys to making today's Modern Farmhouse style your own.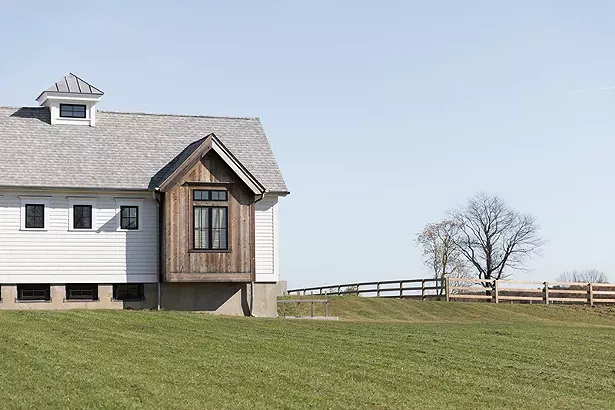 Megan Burns, A.W. Hastings
Think beyond design.

While the actual design of the space is important, it is only a means to an end: to achieve that feeling of comfort and relaxation. Get a feel for the way the sun moves through the house or property. The positioning of windows and doors is key to the Modern Farmhouse aesthetic, as they are the literal portals through which sunlight streams, bathing your life in a more positive light. This helps to increase your serotonin levels and enhance your mood. How's that for a benefit of remodeling?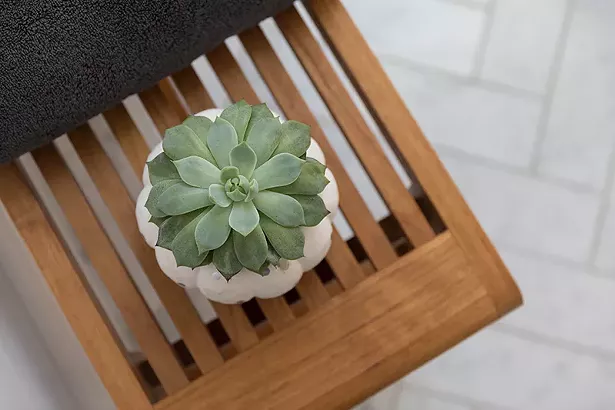 Megan Burns, A.W. Hastings
Think beyond style.
Don't restrict your creativity by trying to follow a preconceived notion of what comprises this design style. While for some, the trend may be synonymous with double-hung windows, you may decide that mixing window and door styles will add dimension to your home, all the while framing your view of a pond or beautiful trees to create the feeling of relaxation you and your family crave. Experiment with different wood species, colors, materials, as well as sizes and shapes for windows and doors. Let the light in. You're creating a simply beautiful space.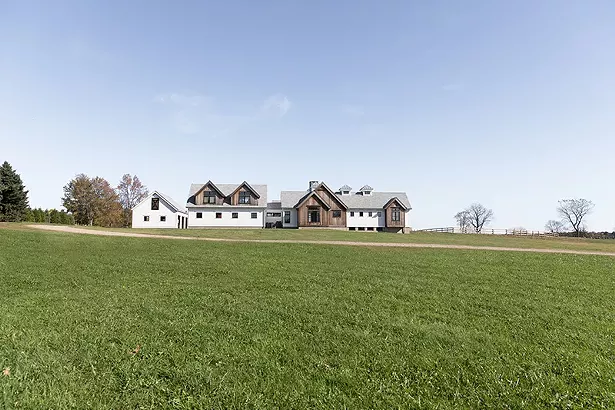 Megan Burns, A.W. Hastings
Think beyond rustic.
The very concept of a farmhouse may conjure up a vision of miles of reclaimed wood, but a modern farmhouse can actually embrace contemporary elements to create a feeling of elegance with a rustic touch. Perhaps you'll introduce refined materials like marble alongside wall surfaces that provide an echo of a rustic barn structure. Then you might integrate artful panes of glass and minimalist hardware, like those offered by
The Marvin Contemporary Studio collection
. These add modern detail in just the right proportions on the way to creating the open airy feeling you desire.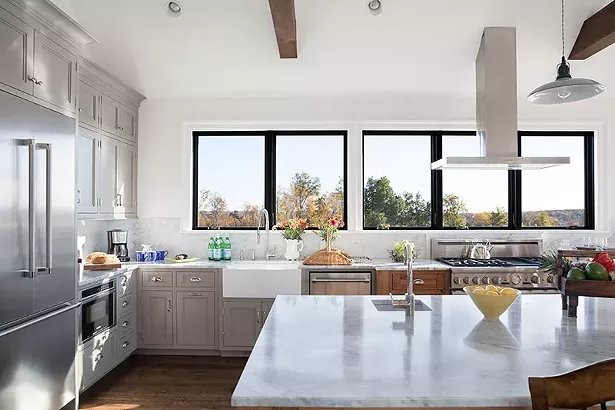 Megan Burns, A.W. Hastings
Think beyond white.
While white window frames, sills, and divided lites may be expected in a farmhouse, adding black to crisp color palettes of white and natural woods gives a surprise twist that can define your personal style. Do you want your home to be sophisticated and timeless, yet relaxed and welcoming?
Marvin Windows and Doors' Designer Black
is helping couples define their homes in a whole new way.
Megan Burns, A.W. Hastings
Think beyond conventional boundaries.
Creating the life you imagine often means blurring traditional lines. Consider ways to connect your interior space to the beauty of nature beyond in a seamless way. Imagine glass spanning across the back of your home with little visual interruption. Then imagine sliding that glass effortlessly to invite an abundance of cool, fresh air into the heart of your home. With
Marvin's Scenic Door Portfolio
, your Modern Farmhouse can embrace the world outside its walls in an inviting way.
Long before you select vintage maps, industrial pendants, or an antique entryway bench, set the stage by carefully curating the structure of your Modern Farmhouse. It starts with thinking beyond the trending style and defining the space with access to the natural light, warmth, and views that can truly transform your life. This has everything to do with selecting windows and doors that will not only let the light and vistas into your life but also reflect your personal style.
Explore ways to cultivate your unique aesthetic by making an appointment with a millwork specialist at
Williams Lumber & Home Centers
showroom.