Poppy Mountain, Sascha Mallon
"Sascha Mallon: Innen Welten-Inner Worlds" at WAAM
The Woodstock Artists Association & Museum reopens its on-site galleries on November 13 with two solo exhibitions, Mallon's and "C. J. Matherne: Stacked Against You," both chosen by Kristen Dodge, owner and director of September Gallery in Hudson. Mallon makes small ceramic sculptures representing female figures, plants, and animals, which she groups in site-specific installations.Her work is predominantly about the cycle of life, and within that context her sculptures serve as pictograms, carriers of hidden messages, and memento mori, creating dreamlike worlds whose narratives illustrate relationships, transitions, and dichotomies such as life/death. There is a surreal quality to Mallon's work, with figures covered by flowers and insects, an unusual sense of scale, and bodies opening up to reveal scenes inside. "Innen Welten-Inner Worlds" will be on display through February 1. Woodstockart.org
"Kiki Smith: River Light" at Storm King Art Center
This solo exhibition of outdoor works marks Kiki Smith's first presentation of flags—a new element within her expansive production—in the United States. For this exhibition (which closes November 9) Smith has created a new collection of flags whose unpredictable, ever-changing movements mimic the ebb and flow of water in a river. Installed on Storm King's Museum Hill with long views of Storm King Mountain and the Hudson Highlands, the flags present an ephemeral installation that is activated by the natural world around it. Arranged in a circular procession, the images in the nine blue flags are pulled from a film Smith created in 2005 of glints of sunlight on the East River. Do make sure to reserve a spot ASAP as Storm King tends to sell out, especially on weekends. Stormking.org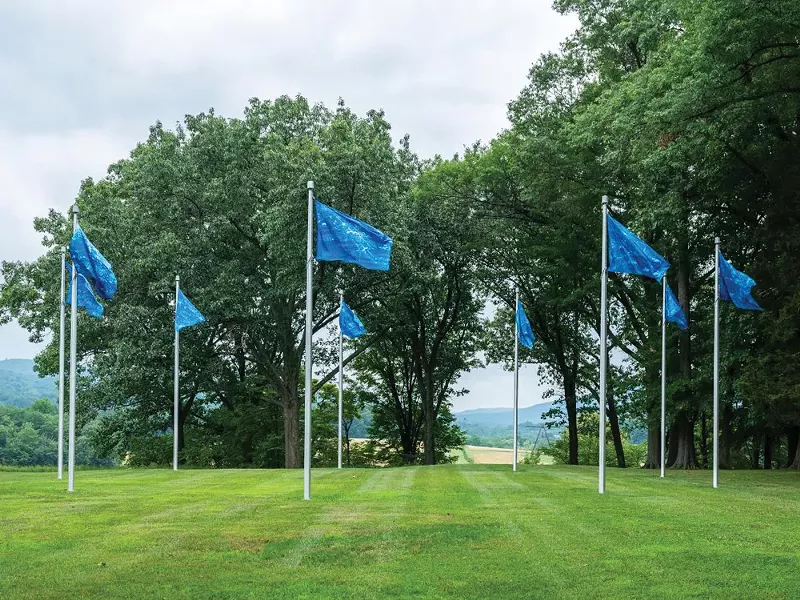 Photo by Jeffery Jenkins
An installation view of "Kiki Smith: River Light"
"Ransome: The View from Here" at Barrett Art Center
Part of Barrett's series of solo shows selected by leading curators from across the country, "Ransome: The View from Here" was chosen by Ashley James, associate curator of contemporary art at the Guggenheim Museum. Ransome's work focuses on images that centered around his African-American lineage, a through line that connects back to his sharecropper ancestors. Combining acrylic paint with an array of found, created, and purchased papers, Ransome's work is imbued with the spontaneity of hip hop artists and the resourcefulness of rural quilters, creating a fusion that unites historical folkways with a modern, urban sensibility. The pictorial narratives are personal, yet the symbols interplay with larger social, racial, ancestral, economic, and political histories that speak to current issues. The show in Poughkeepsie runs through November 14. Barrettartcenter.org
Who Should Own Black Art?, Ransome
"Pamela Zaremba: Transposed" at BAU
Running from November 14 through December 6 at BAU in Beacon, Pamela Zaremba's new series of photographs created during the pandemic, "Transposed." Zaremba captures a skewed domesticity in her work, imbuing the seemingly banal scenes with an undertone of The Stepford Wives-style creepiness. That the photographer happens to live in the suburban idyll of Westport, Connecticut, which the town of Stepford was based on in Ira Levin's satirical thriller, is a fitting subtext for the series. The photos also try and marry the current moment of heightened domesticity, when we are all spending more time in our homes, with the historical confinement of women to homes and householding. As Zaremba notes in her artist's statement: "This pandemic prompted a resurgence of finding comfort in the day-to-day chores under a profoundly complex context, one that continues to unfold seemingly indefinitely." Baugallery.org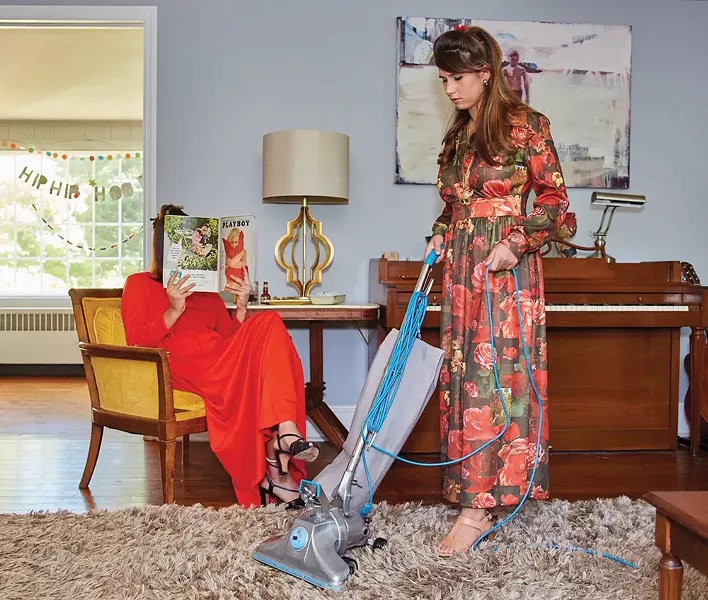 Electrolux, Pamela Zaremba
"We're All in This Together" at ArtPort Kingston
Though November 9 at the newly opened contemporary art space in the historic Cornell Steamboat building in Kingston's Rondout neighborhood, works that address the challenging times we live in and invites the twin questions: What is our communal awareness? What do we all have in common? The works in "We're All in This Together" are frankly optimistic and refreshingly upbeat. Artists in the exhibition: Doreen McCarthy, Alexander Hammond, Kirsten Hassenfeld, Jacinta Brunnel, Jennifer Dalton, Ann Tarantino, Patricia Tewes Richards, Mary Ann Strandell, Roxanne Faber Savage, Stefan Saffer, Jeila Gueramian, Susan Rowe Harrison, Karlos Carcamo, Dan Devine, Michelle Weinberg, and Christine Stiver. Artportkingston.com
Memory Blanket, Jacinta Bunnell
"Terra/Derma" at Holland Tunnel
This three-person show in Newburgh brings together the work of Marieken Cochius, Kent Peterson, and Romina Gonzales. A central theme running through the exhibit: the ways in which natural and human-made forces are changing the surface of the Earth in both subtle and dramatic ways. Cochius' mixed-media collage series, "Elements of the Motherboard," includes a variety of natural materials and shows how natural forms change over time, addressing the destruction of the environment as man-made systems collapse and damage the world around them. The cracked surfaces of Peterson's "Strata" paintings are made by painting over tar, reminiscent of geological structures that have been eroded over time. Gonzales' series of sculptures, "Finding the Window" are life-sized masses of pulled glass. Hollandtunnelgallery.com

Romina Gonzales working on a piece from her"Finding the Window" series.