This week's hoppin' hoedown of Hudson Valley events boasts two hot music documentaries, as well as an art exhibit, live music, and the rare local staging of a popular podcast.
FILM
Once Were Brothers in Rosendale
Naturally, anything having to local musical legends the Band is of interest to us here at Chronogram, as it would be to so many others. Once Were Brothers: Robbie Robertson and the Band, a new documentary about the influential quintet and their guitarist and central songwriter, opens March 6 and runs through March 12 at the Rosendale Theater. Ticket prices are $10 for evenings, $6 for members, students and matinees. Check website for show times. (Band fans should also take note of photographer Elliott Landy's current Kickstarter campaign for Contacting the Band, a new book of his previously unpublished photos of the group.)
FILM
Reverend Fred Lane Film in Kingston
Another intriguing music doc makes its way to our area this weekend, when Icepick to the Moon, a film about outsider music icon Reverend Fred Lane, screens at the Kingston Artists Collective. Born in Tuscaloosa, Alabama, Lane is a fascinating figure who materialized on the 1970s music scene. His weird style fuses French symbolist writer Alfred Jarry with big band jazz, Frank Zappa, Beat poetry, and Dadaist art. Accompanying the movie will be live musical sets by Blood & Stomach Pills and Gregory Stovetop, starting at 7pm. A $7 donation is requested.
ART
Eleni Smolen Exhibit in Woodstock
Painter Eleni Smolen's new exhibition at WAAM in Woodstock, dubbed "Girl by the Sea/Guardians," brings together small- and large-scale works from it two titular series, both of whose content was created over the course of the past year. According to the artist, all of the pictures—which "[explore] memory as well as the ambiguity of nostalgia"—were inspired by a 1959 photograph of her that was taken by her late mother in France. The show opens on March 7 and runs through April 5.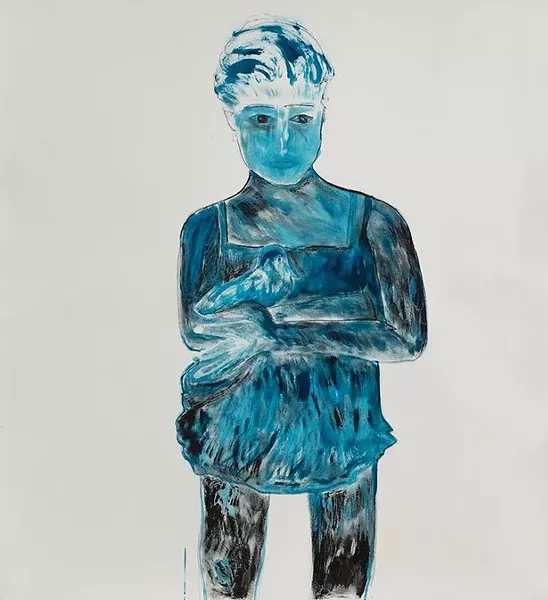 Howard Goodman
Hermione, Eleni Smolen, oil and ink, 2019.
Music
75 Dollar Bill in Kingston
New York experimental music duo 75 Dollar Bill, who will perform at Tubby's in Kingston on March 7 at 8pm, has topped many a "Best of 2019" list thanks to their third album, I Was Real. Comprised of guitarist Che Chen and percussionist Rick Brown and sometimes complimented by other players, the band makes mesmerizing, atmospheric sounds that evoke psychedelic rock, traditional African, Middle Eastern, and Far Eastern trance music, and free jazz. Admission is $10.
PERFORMANCE
"Welcome to Night Vale" in Woodstock
"Welcome to Night Vale" is a wildly popular podcast that focuses on the fictional Southwestern town of Night Vale, where oddball conspiracy theories run rampant. The surreal series, which comes to
Colony
in Woodstock for two performances on March 14 (the 8pm show is sold out; tickets remain for the 10:30pm show) is presented as a radio show narrated by central character Cecil Gershwin Palmer (voiced by Cecil Baldwin) and plays like a combination of "The News from Lake Wobegon" and the Firesign Theatre. Indie singer Eliza Rickman will play prior to the live production. Tickets are $35.
Photo by Sceptre courtesy of Wikipedia, CC BY-SA 4.0
Cecil Baldwin as Cecil Palmer in the live Welcome to Night Vale episode "The Investigators".
To find out about more upcoming events in the Hudson Valley, subscribe to our weekly newsletter Eat. Play. Stay.