"110 St. Crossing" by William Clutz
Once again, here's your weekly curated tip sheet of great things to do in our region. Art, music, film, and wine are in the hopper this time around, so mark your datebook and enjoy!
ART
"Painted Cities" Art Show in Hudson
"Painted Cities," a group exhibit headlined by painter William Clutz, opens today at Carrie Hadad Gallery in Hudson. Clutz is renowned for his 60-year career of painting ordinary city street scenes transformed by surprising light. The show runs through November 10 and also features work by Richard Britell, Matthew Chinian, Susan Hope Fogel, Scott Nelson Foster, Robert Goldstrom, Patty Neal, Dan Rupe, and Darshan Russell. The opening reception will be held at the gallery on September 28 from 5 to 7pm. http://www.carriehaddadgallery.com/
MUSIC
"Do the 45" Dance Party in Beacon
For the last few years local DJ Pete Pop has been delighting dancers at Quinn's in Beacon on fourth Fridays, spinning hot 'n' wild sides from his constantly growing collection of top-shelf soul, R&B, and garage rock singles at his "Do the 45" parties. On September 27 at 8pm he's back behind the decks once again, this time with returning guest DJ Moptop Mike and go-go dancer Vana Vroom atop her lighted platform. Grab a bite from the menu and a beverage from the bar and shake a tail feather! (Donation requested.)
https://www.facebook.com/events/920995248259088/
FILM
The Apollo Screens in Kingston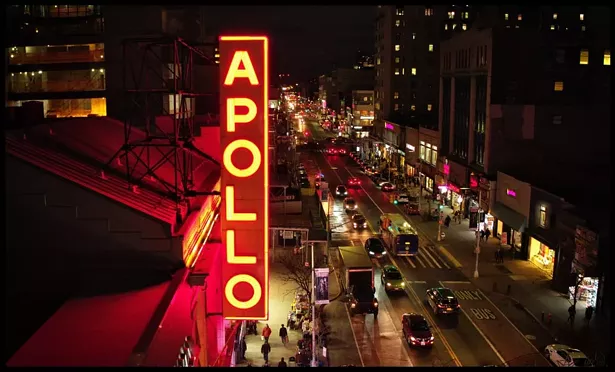 On October 1 at 7pm, UPAC in Kingston will present a pre-Woodstock Film Festival screening of the HBO documentary
The Apollo
. Directed by Oscar and Emmy winner Roger Ross Williams, the film chronicles the unique history and contemporary legacy of New York City's landmark Apollo Theater. The feature-length film weaves together archival clips of music, comedy, and dance performances from an astonishing list of legendary talents that includes Ella Fitzgerald, James Brown, Aretha Franklin, Richard Pryor, and Lauryn Hill; behind-the-scenes verité footage of the team that makes the theater run; and interviews with such artists as Jamie Foxx, Angela Bassett, Pharrell Williams, Common, Patti LaBelle, and Smokey Robinson. The screening is free.
https://www.bardavon.org/
FOOD & DRINK
Wine Festival at Bethel Woods
On October 5 from 1 to 5pm, the Bethel Woods Center for the Arts pops the cork on the eighth annual Wine Festival at Bethel Woods. Attendees can savor the finest wines from the Hudson Valley and Finger Lake regions while listening to live music, participating in fun games, and enjoying the diverse fare at the on-site food court. Pre-festival events include a "Paint & Sip" experience overlooking the Pavilion Stage led by artist and printmaker Susan Pantaleone (11am to 1pm) and a Vintage Run Half Marathon and 5K (10am and 11am, respectively). Tickets are $30 and $70 ($15 designated driver).
https://www.bethelwoodscenter.org/
MUSIC
Jazz Festival in Western Massachusetts It's taken a couple years off since launching in 2011, but this year the Northampton Jazz Festival, which will take place on October 5 and 6, is back in a big way. Topping 2019's bill at this town-wide event is Grammy-winning vocalist Kurt Elling and his quintet, who will perform at the Academy of Music Theatre on October 5 at 7:30pm. Also appearing at the festival are Emmet Cohen, the Native Soul Quartet, Endea Owens and the Cookout, the Jack Wilkins Trio, and more. https://www.northamptonjazzfest.org/
To find out about more upcoming events in the Hudson Valley, subscribe to our weekly newsletter Eat. Play. Stay.