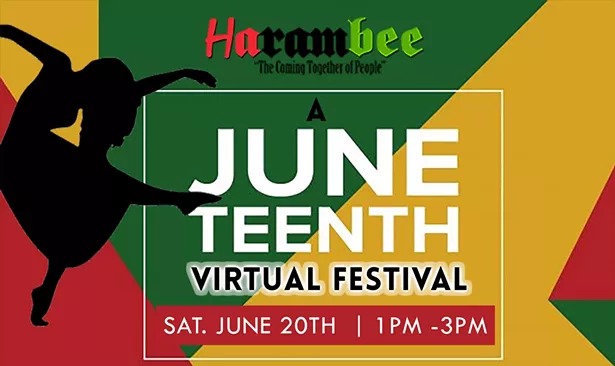 Juneteenth, or "Freedom Day," celebrates the official end of slavery in the US on June 19, 1865. Although Lincoln issued the Emancipation Proclamation almost three years earlier, in September 1862, it wasn't until Union troops came through Galveston, Texas and read the presidential order that the institution of slavery actually ended in the state, and thus in America.
(And in case you thought the institution of chattel slavery only existed in the Antebellum South, here is a good primer on the history of slavery and Black Americans right here in the Hudson Valley.)
While COVID-19 is making in-person festivities challenging this year, the recent incidents of police brutality and the general heightened awareness of systemic oppression in this country make it all the more important to celebrate Juneteenth this year. On June 17, Governor Cuomo even signed an executive order decreeing Juneteenth as a holiday for state employees. Here's some ways you can celebrate Juneteenth in the Hudson Valley this weekend.
Juneteenth Celebration/Black Lives Matter March | Beacon
On Friday, June 19, at 6:30pm there will be a Juneteenth Celebration March/Black Lives Matter Protest in Beacon. Community members will meet at Polhill Park and will march down Main Street to Memorial Park. The event is organized to give an opportunity to hear from community members and learn about Beacon's Black history. Food and beverages will also be provided in celebration of Juneteenth.
Defend Black Lives March | Katonah
Westchester residents are invite to gather for a "Defend Black Lives Event" in Katonah on Friday, June 19, at 1pm. The event organizers' demands include defunding the police, investing in Black communities, and charging officers for police brutality against Black Americans. The event will meet outside the Katonah Village Public Library and will march throughout the town.
Virtual Juneteenth | Kingston
Harambee, in collaboration with the A.J. Williams-Myers African Roots Center in Kingston, Seasoned Gives, and My Kingston Kids, will be hosting a virtual Juneteenth festival on Saturday, June 20 from 1-3pm, in memory of Pastor Paul Worthington, who passed away May 2. This family-friendly event will be live-streamed on Facebook and will include storytelling, song, dance, and spoken word performances by POOK! (Percussion Orchestra of Kingston), Energy Dance Company, Marlene Merrit, Kortnee Simmons, Alex Simmons, Evelyn Clarke, and others. The virtual event will be hosted by Radio Kingston's Jessica McNabb. Also honored will be local resident and world-renowned African drummer and performer Juma Sultan.
Virtual Juneteenth | Albany

The annual South Pearl Street festival in Albany in honor of Juneteenth will be a mixed in-person/online event this Saturday, June 20 at 12pm. Cohosted by the African American Cultural Center of the Capital Region and three other area groups, the festival will spotlight Black history, music, and culture. The outdoor reflection garden at the center is being dedicated as a safe space for community members to gather, reflect, and grieve in this tumultuous period. The garden will also be the setting for music performances, which will be live-streamed on Facebook and Instagram, and free soul food dinners will available for pickup or outdoor dining in the garden. Entertainment includes Jeid Ebanks, JahQuai Oliver, Ewart Simpson, Liana'kim, and Kai Yola.
Find more virtual and in-person Juneteenth events happening throughout the weekend.