Whether you're a visitor to the Hudson Valley or a local looking to plan a staycation (or a visit to one of our neighboring regions), you probably know how difficult it can be to find the right space to stay for an overnight trip, a weekend getaway or a week-long retreat.
While there's a wealth of sites to choose from when starting your hunt, the folks at New York Rental by Owner Vacation Rentals are advocates for the model that lets you rent a space—as their name implies—directly from the owner, ensuring fair pricing (no traveler fees), strong communication between property owners, and transparency from the moment a trip is booked.

That peace of mind (for both property owners and travelers) can do wonders for making a trip or a transaction more relaxing. As all the owners are thoroughly verified and are given space to set their own policies for their rental, it offers a local alternative to the larger national rental services. It also doesn't hurt that they have a number of the same listings shared on those sites—but offer savings for the same rentals because "why should travelers pay more?"
To show off just a few of the properties available on New York Rental by Owner's site, we've rounded up some listings that will level-up your next vacation.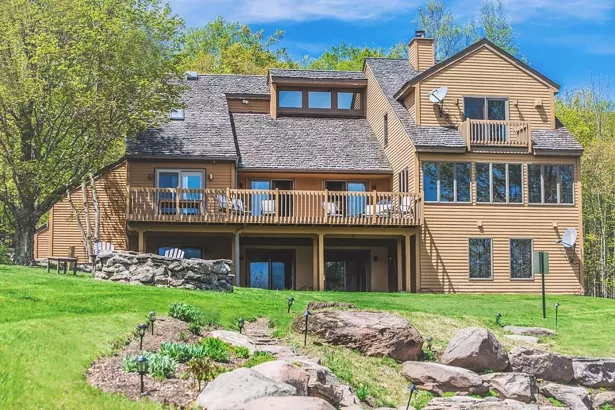 Perfect for a gathering of friends or family, the Mountain House in Windham features eight bedrooms, six and a half bathrooms, and a dining room table ready to seat 22 people.

The house is on five acres with views of some of the Catskills highest peaks and boasts proximity to ski resorts (minutes from Windham Mountain and Hunter) for winter fun and a newly-constructed natural swimming pond for the warmer months.

Located on 160 acres in upstate NY, the Red River Farm is suitable for events and getaways. Tucked away in the valley, the three bedroom house can comfortably accommodate six guests in the relaxing space.

Owned by a yoga instructor, the space offers a chance for you to connect with your spiritual side or just relax on the well-kept and private property.

Comfortable in all seasons thanks to a shady location and wood-burning fireplace, Pop's Cabin is a cozy piece of on-grid bliss (with an off-grid feel) all year long. With a loft and master bedroom, there's room for friends and family to cuddle up and enjoy the cabin experience, cook family dinners in their functionally designed kitchen, or explore all sorts of nearby shops, boutiques or restaurants in the area.

Pivoting into the Adirondacks, this beautifully renovated five-bedroom vacation home in the heart of Lake Placid has four spacious levels to host one big family or multiple families (great for weddings when you need to accommodate out-of-town guests!) If you aren't the type to just kick back and read away your off time, there's plenty to keep you entertained: the house is just a block away from shops, lakes, golf courses, and walking trails.

Want to see more beautiful rental properties in the area? Or maybe advertise your own property? Contact New York Rental by Owner for more information.