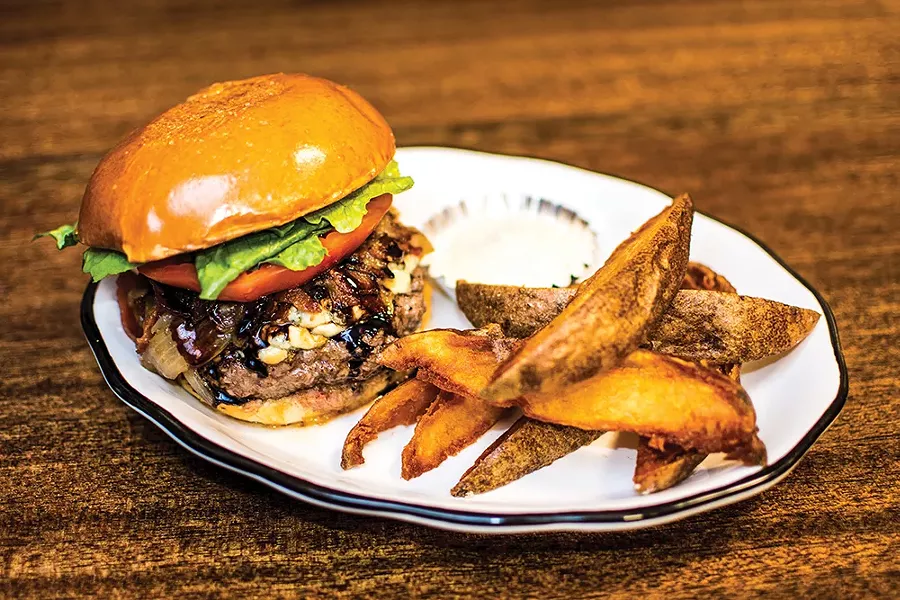 Photo by Simply Steph Photography
The Blue Burger at The Dutch Ale House.
The burger has come a long way. Hannah Glasse's 1747 English cookbook, The Art of Cookery, first describes the Hamburgh sausage as a humble piece of spiced, minced meat served on toast. Today's pantheon of burgers is downright expansive: From over-the-top chef creations featuring everything from gouda to avocado to the humble, loveable diner burger to the plant-based Impossible Burger, there's an iteration to please everyone.
Luckily, a bounty of delicious burgers is also waiting for you on Chronogram Smartcard—the free app that saves you up to 50% at select Hudson Valley restaurants. Head over to the App Store or Google Play to download the free app, then head out to find any (or all!) of the burgers below.
The Blue Burger at The Dutch Ale House
The historic Saugerties gastropub is known for indulgent comfort food, and this burger is no exception. (It's an exercise in extra.) The juicy beef patty is topped with smoked blue cheese, sweet caramelized onions, applewood bacon, and a rich balsamic reduction—all served on a tender brioche bun ($16). Go ahead and upgrade to the truffle parmesan frites ($3.50). We already know you're a little fancy.
This welcoming New Paltz watering hole serves over 300 different beers—plus their own from the microbrewery in back. Whether it's lunch or late-night eats, the house-made Veggie Burger ($9) is there for you. It comes on a hard roll alongside aromatic basil pesto and an appropriately large pile of sprouts. Fries are included, and you better opt for the curly ones (more surface area equals crispy heaven).
The Lamb Eater at Buns Burgers
Buns is spreading the good word about farm-to-table burgers. They've got locations in Saugerties and Rhinebeck, with one in Kingston on the way. Branch out and order the Mediterranean-inspired Lamb Eater (whimsically named for the Hall and Oates song "Maneater"). The rich lamb gets bracing contrast from a lemon-oregano mayo and pickled red onion ($9 for a single patty, $12 for a double).
The B-Side Burger at B-Side Grill
New Paltz's B-Side is a combo breakfast and burger joint, so it's feels appropriate to order the breakfast burger. The B-Side Burger is two thin griddled patties topped with an over-easy egg, bacon, their special sauce, sautéed onions, and melty cheddar cheese ($10.95). If you're ready to profess your undying love to the kingdom of burgers, try your hand at the Notorious B.I.G. Burger Challenge. If you can finish two one-pound cheeseburgers, a pound of fries, a pound of onion rings, and a large milkshake in 30 minutes, your meal is free (but $25 if you fail).
Refer a Friend and
Get $10 SmartCash
Get more money to spend at your favorite restaurants on Chronogram Smartcard!
You navigate to the "Free SmartCash" menu in your Chronogram Smartcard mobile app.
You copy your Invite Code, then text it to a friend.
Your friend downloads the free app, then enters your referral code when registering their new account.
After they make their first purchase, you both get $10 SmartCash to use at any restaurant on Chronogram Smartcard!