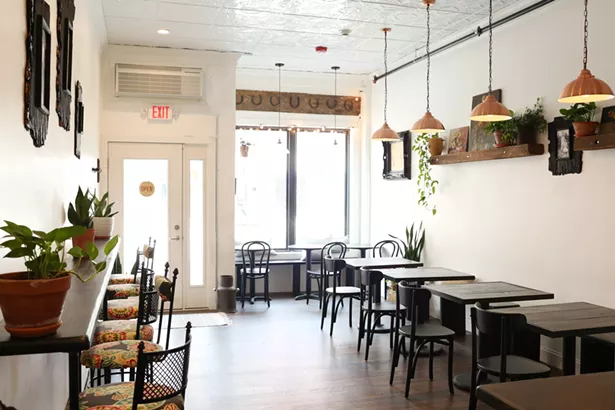 40 Albany Street, Poughkeepsie, NY

The Little Italy section of Poughkeepsie's culinary renaissance continues with the opening of John Lekic's Farmers & Chefs last July in the former digs of Andy's Place, a 40-year-old institution known for its chili and its patio with a killer view of the river. The food at F&C will be familiar to fans of Lekic's previous restaurant, Le Express. There's a lobster spaghetti dish ($30); steak au poivre ($30); and a cheese and charcuterie platter ($28). The menu also indicates a willingness to travel further afield, with a Moroccan chicken tagine with preserved lemons ($26) and Baja-style fish tacos ($13). There's also a $14 lunch buffet, served in the banquet room, which facilitates a timely meal for those on the go. Recent entrees included beef bourguignon, roasted chicken in Thai curry sauce, and carrot stew made from Poughkeepsie Farm Project carrots.
13 Scribner Hollow Road, Hunter, NY

Start with the sourdough bread and cultured butter ($5). Yes, it's five bucks for bread and butter, but the execution of this time-honored combination tells you a lot about Chef Alex Napolitano's food: unpretentious, well-sourced, and spot-on. Another good example of Napolitano's straight-ahead, rustic New American is the steelhead trout, served with marble potatoes, house-made sauerkraut, and whole grain mustard ($34); the dish has a wonderful textural contrast between the crispy trout skin and the pliant sauerkraut. Other standout-outs include the heritage pork chop served with smoked apple butter, crispy Brussels sprouts ($38); polenta with smoked maitake mushrooms, farm egg, and horseradish ($25); and diver scallop crudo with marble potato chips, creme fraiche, and caviar ($18). The restaurant, housed within the sleekly renovated 38-room lodge, is warm and cozy, with expansive views of the surrounding peaks.
24 Front Street, Port Jervis, NY


Last May, Diana Bezanski, founder of the viral food blog Fogwood & Fig, opened a vegan cafe of the same name in Port Jervis. For decades, vegetarian cooking was tofu-centric, but in the seven years she has been on the scene, Bezanski has watched the world of animal-free cuisine evolve (and done her part to spur it along). Making innovative use of nuts, spices, and legumes, the cafe serves up hearty plant-based comfort food that ranges from Korean BBQ to garlic and sage pasta served with buttery trumpet mushrooms. With a careful attention to flavor and texture that even omnivores can appreciate, Fogwood & Fig is a long-awaited beacon on the hill for the vegan foodies in the region.
3279 Franklin Ave, Millbrook, NY


In November, Luciano Valdivia and Chef Gianni Scappin—who have worked together both at Cucina in Woodstock and Market Street in Rhinebeck—threw open the doors to Barbaro. Located in Millbrook, this cozy bistro is a temple of Italian cuisine with specialties ranging from grilled octopus—served with beans, lemon, parsley, celery, and dusted in chili flakes ($16); to classic wood-fired pizzas ($15-$16); to handmade meatballs with parmesan polenta ($11). The interior features clean, chic design with a long marble-top bar, blonde banquets, and a whitewashed floor. With a handful of craft cocktails and a well-rounded, predominantly European wine list, this is an elegant place for a night out.