Admit it: There's something satisfying about trying on another home for size. Whether it's housesitting a friend's place, staying at an Airbnb, or shacking up in a particularly cute bed and breakfast, envisioning your everyday with that rainfall shower head or luxe wool blanket is just plain fun. When it comes to the Catskills and Hudson Valley, Red Cottage Inc.'s jaw-droppingly gorgeous home rentals will definitely have you dreaming about life in one of their stylish cabins, Instagrammable farmhouses, or elegant estates full-time.


The nearly 60 rental listings in Red Cottage's portfolio boast well-curated interiors, because many of the homeowners actually use the homes they make available for rent. Jennifer Grimes, the owner of Red Cottage, started the business by renting out her own home in the Catskills, with requests from her neighbors following quickly behind. After her 12 years in Catskills and Hudson Valley vacation rental management, Grimes has developed close relationships with homeowners and renters alike. "Our guests know to come to us for that special spot Upstate or a fabulous house that is its own destination," she says.
If you're already deep in daydreams of sipping cocoa next to a wood stove this winter, we've rounded up four listings from Red Cottage that are waiting for your next Catskills or Hudson Valley getaway.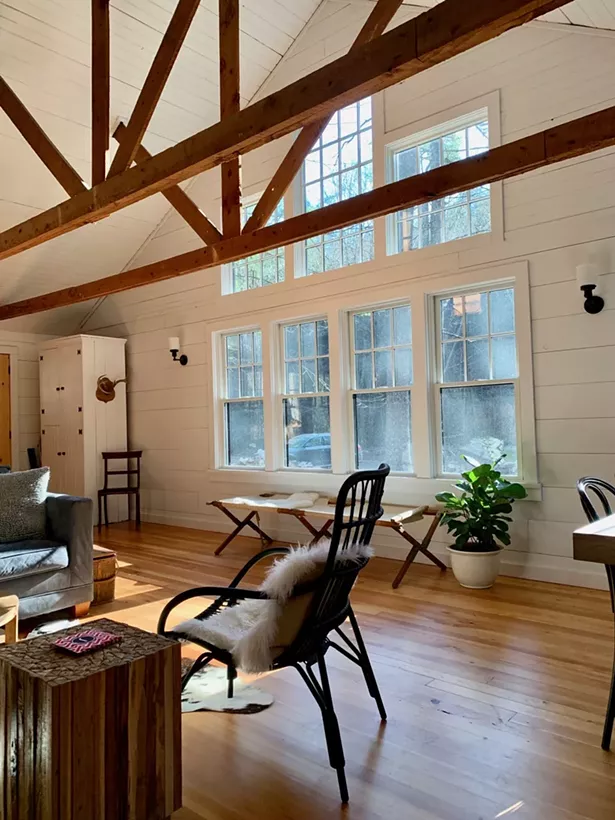 With rustic exposed beams, a stone fireplace, and a wall of windows in the living room, this intimate spot is the quintessential cabin in the woods. It's located on the headwaters of the Neversink River, where a brisk dip in a swimming hole awaits during warmer months. It sleeps four, so its intimate size makes it ideal for small groups or a romantic getaway.
This impeccably styled farmhouse boasts an expansive interior defined by Midcentury Modern touches, like the warming cherry wood trim and sleek furniture. The outdoor hot tub and a cozy sauna in the master bathroom are ready for ultimate relaxation. If you're looking to break away from the privacy and get into town, Livingston Manor's strip of cute shops and eateries is just a short drive away.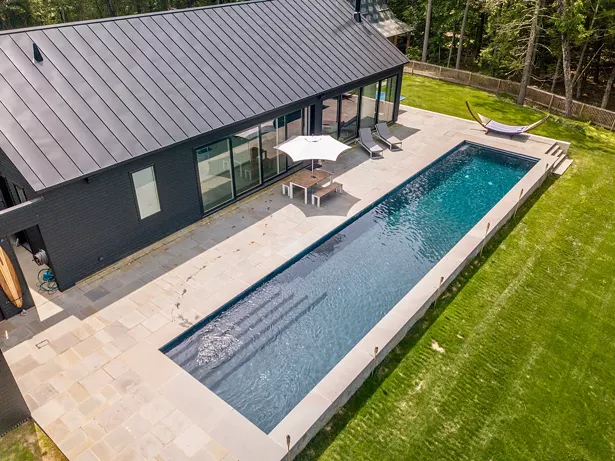 This minimal, ultramodern home will make you feel like you took a vacation to Norway, even though you're still in New York. Its striking black facade and floor-to-ceiling picture windows provide exciting contrast to the impressive views of Overlook Mountain in the distance. It can easily accommodate up to 10 guests, so your whole family or band of amigos can cuddle up on the extra-large leather couch for a movie on the projector. And the picture-perfect pool is a strong draw in the summertime.
When you're in need of pure luxury, opt for this breathtaking estate, which is ideal for large family gatherings, company off-sites, or the best friends getaway of your dreams. The lush 20-acre property includes a historic five-bedroom house, uber-romantic seasonal guest cottage, tennis court, in-ground pool, and pool house. Inside the main house, the dining room features a warm farmhouse table set against a palette of moody, suede-like green, which stands out among the stately white of the rest of the house.

Interested in browsing all of Red Cottage's rental properties, or want to start renting out your own? Head over to Red Cottage Inc. for more information.