In recent years, the Hudson Valley's waterfronts and downtowns have been infused with fresh, welcoming energy as makers and bakers, brewers and do-ers have re-fashioned the industrial era landscapes to suit the citizenry. And there's really no lovelier way to explore these places when you're an out-of-towner than by hopping on the train and starting from the riverside—and no better season for it than autumn.
So grab a window seat (perfect for maximum leaf peepage) and an off-peak ticket and take yourself a day (or weekend) trip to any of these
Hudson Valley towns just a train ride away
. While enroute, download the free
Hudson River Train Tour App
for more information about the sights and stories of the valley.
Schedules and ticket information can be found on
MetroNorth's website
, along with destination information and some
cool package deals.
Meanwhile, here are four of our favorite walkable
train towns for car-free exploring
and a few of the reasons we love them so much:
Cold Spring
Image Courtesy of Wikimedia Commons
Cold Spring, NY
At
Cold Spring,
take a moment to enjoy the view of Storm King Mountain across the water and then plunge into an exquisitely varied wonderland of shopping, eating and drinking. Antiques and boutiques beckon, delicious aromas waft out over outdoor cafe tables.
It's all housed in a beautifully preserved 19th-century landscape and surrounded by outdoor recreational choices; you can even take the train straight to the
Breakneck Ridge
trailhead for a challenging hike to a blissful view to start your day.
Peekskill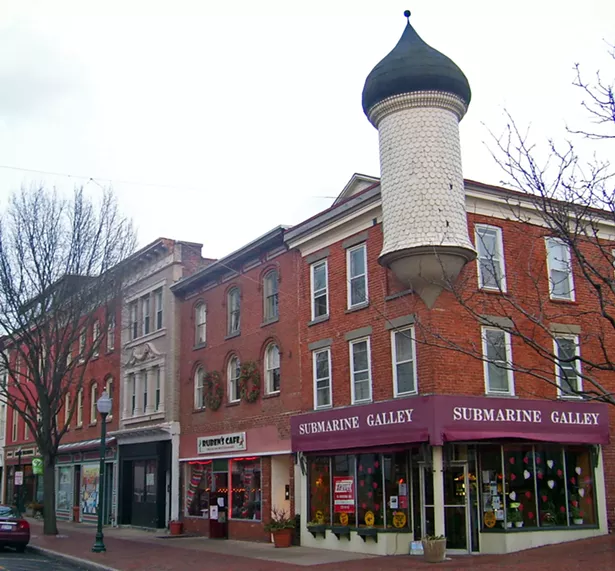 Image Courtesy of Wikimedia Commons
Peekskill, NY
When you pull into
Peekskill,
stretch your legs along the
Scenic Hudson Park,
a mile-long trail adorned with sculptures. Across the river, you'll see Jones Point and Dunderberg (Thunder) Mountain. You can walk just down the block to the
Peekskill Brewery,
where they're having an Oktoberfest every weekend through the end of October, or cruise the glorious, historic Hudson Highlands aboard the
Evening Star.
You can take a 15-minute walk (or a Zipcar or Uber) up into town and, starting October 12, catch How We Live at
Hudson Valley MOCA.
Beacon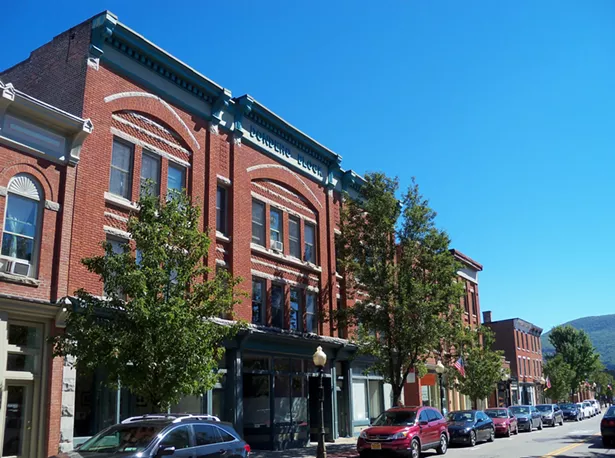 Image Courtesy of Wikimedia Commons
Beacon, NY
Beacon's
waterfront on the gloriously picturesque Newburgh Bay is a living monument to environmentalism — there's the Pete and Toshi Seeger Riverfront Park and Scenic Hudson's Long Dock Park, where you can rent a kayak.
An easy .75 mile walk takes you to Dennings Point State Park, home of the
Beacon Institute for Rivers and Estuaries;
the visitor's center there is open midday on weekends through October. And then, of course, there's
Dia Beacon
to visit—not to mention a romping small city full of art and treats.
Poughkeepsie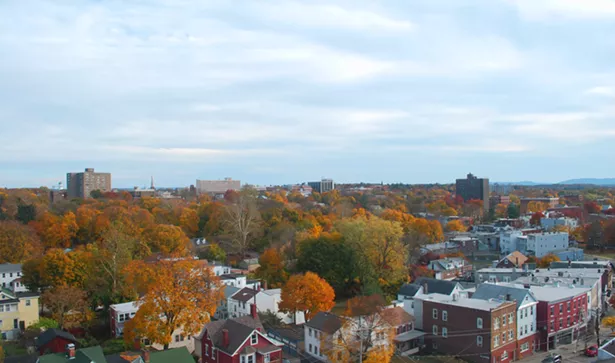 Photos Courtesy of Wikimedia Commons
Poughkeepsie, NY
Poughkeepsie's
waterfront offers a variety of parks to play in and riverside restaurants. And only in Poughkeepsie can you whoosh upward in a scenic glass elevator to
Walkway Over The Hudson State Historic Park
, the world's longest elevated pedestrian bridge. Walk up the hill through Little Italy and you'll find yourself in the heart of the Queen City of the Hudson, surrounded by eats, drinks and art, much of it in cleverly repurposed industrial buildings.
Whether you're a weekend warrior looking for new places to explore or a Hudson Valley newbie planning your next weekend getaway or day-trip, there's plenty of cool places to explore without straying too far from the next train back home.