With summer upon us, landscaping takes a front seat as the lawn becomes the plein air living room. With decking becoming a more affordable and prevalent option, bluestone patios aren't as common as they used to be. But if you envy the bucolic elegance of the region's historic homes, you can borrow some of the grace by adding stone features to your home. Whether natural or manufactured, incorporating stone is a simple way to give your yard some character, while seriously bumping up your curb appeal.


Williams Lumber & Home Centers offer a wide selection of natural stone and paver bricks to help you get started. Here are some ways you can incorporate stone in your outdoor oasis this season.

Stone Paths
Whether they lead to the front door, the pool, or the back patio, stone pathways give off a quaint English cottage-feel. To create the walkway, you'll need either flagstone or paver bricks. Dug from a quarry, flagstone is a flat and smooth natural stone that will give your path a rustic, country vibe. Whereas with bluestone you might spend hours trying to figure out a way to fit the stone shapes together, pavers offer a off a tidier, more uniform feel (though you'll pay a higher price for the convenience). Williams Lumber sells several types of paving bricks, including one of North America's premier paver brands, Unilock. Use your stone pathways to connect little outdoor nooks and spaces, and don't forget to line them with foliage for maximum charm factor.
Stone Patio
A stone patio is the perfect place to sip lemonade beneath the sun umbrel
la or fire up the barbecue. (If you're looking for a grill, read our recent post on the top three summer grills). You'll want to use flagstone or paver bricks for this one. Flagstone is usually locally sourced and relatively inexpensive. Working with natural stone doesn't give "clean lines" although you can choose to work with similar sized and shaped stones to get a more uniform look if desired. Paver bricks are durable, colorfast, uniform in color and texture. They come in a range of styles that imitate stone and brick to give the designed effect. They are also sturdier, so they'll fare better on your patio, which will likely more wear than a periphery pathway. "Pavers are manufactured to be strong as heck and resistant to salt damage, oil spills, and other elements," says Andrew Jozefowicz of Williams Lumber. "They usually have a good warranty against wear and fading as well.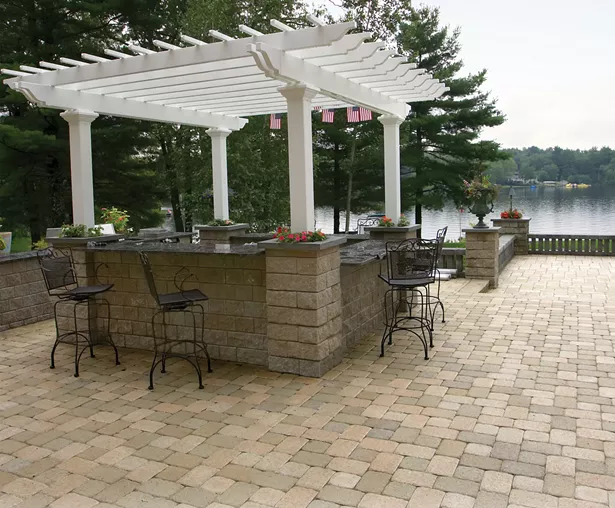 Stone Walls
Stone can also make great accent walls. Stacking stone around a fire pit, garden area, flower bed or as a property boundary marker can give your landscape a touch of understated class. Natural or manufactured stone will work for this. Again, pavers offer precision and uniformity in this use. "It seems like you can build just about anything with pavers and the layout patterns possible are infinite," Jozefowicz says. Fieldstone is the term for above-ground natural stones of varying sizes, shapes, and colors. Either fieldstone or quarried flagstone will work for a wall, though with very different visual effects. Flagstone offers a more vertical, retaining wall effect, while fieldstone recalls the sprawling old walls between agricultural pastures.