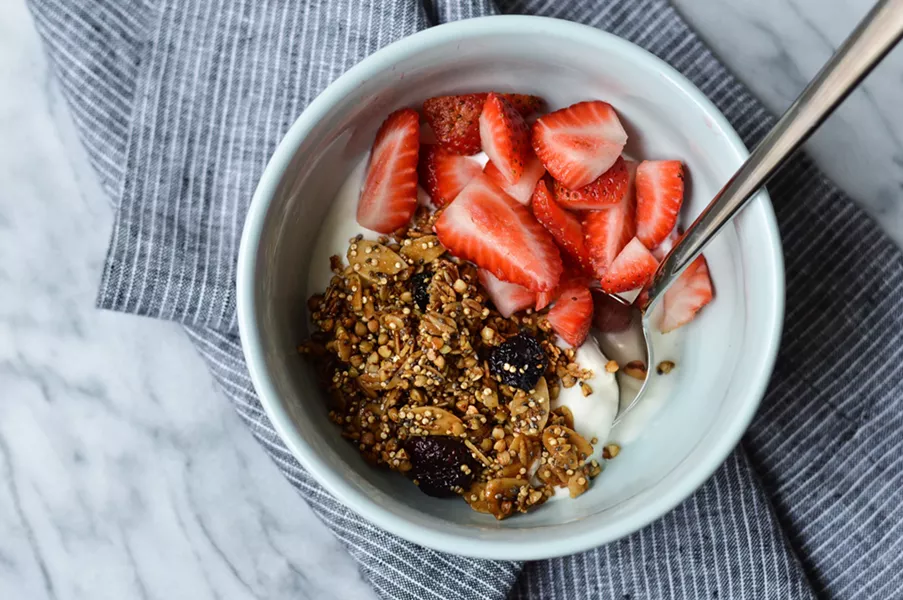 Eating a nutritious breakfast helps set the tone for a healthy and positive day. Your first meal doesn't have to be overly complicated to make. With a little bit of planning and a few extra minutes each morning, you can easily add a delicious and healthy breakfast to your daily routine.

Natural Gourmet Institute in Manhattan offers classes, workshops, and a Chef's Training Program all aimed at teaching health-supportive cooking to the next generation of professional and home chefs. Here are a few favorite breakfast recipes from NGI.

Vanilla-Balsamic Granola with Cherries
(Yield: 6 cups)
Buckwheat and quinoa make this granola unique and health-supportive. It can be made in advance and stored in an airtight container for a few weeks. Sprinkle it on your favorite yogurt or smoothie bowl for a delicious breakfast.

Wet Ingredients:

½ cup maple syrup

¼ cup melted coconut oil

3 tablespoons balsamic vinegar

2 tablespoons vanilla extract

1 teaspoon almond extract

¾ teaspoon sea salt

1 vanilla bean, scraped

Dry Ingredients:

1 cup raw buckwheat groats

1 cup rolled oats

1 cup sliced almonds

½ cup quinoa

¼ cup chia seeds

1 cup dried cherries

Procedure:
Preheat oven to 225 degrees F.

In a medium bowl, whisk together wet ingredients.

In separate bowl, combine all the dry ingredients, except for cherries.

Using a rubber spatula, stir the dry ingredients into the wet ingredients. Transfer onto a parchment paper-lined baking sheet and bake until golden, about 1 hour, stirring granola every 15-20 minutes during baking.

Toss in the cherries and let cool. Store in an airtight container.

Pumpkin Pancakes

(Yield: about eighteen 4-inch cakes)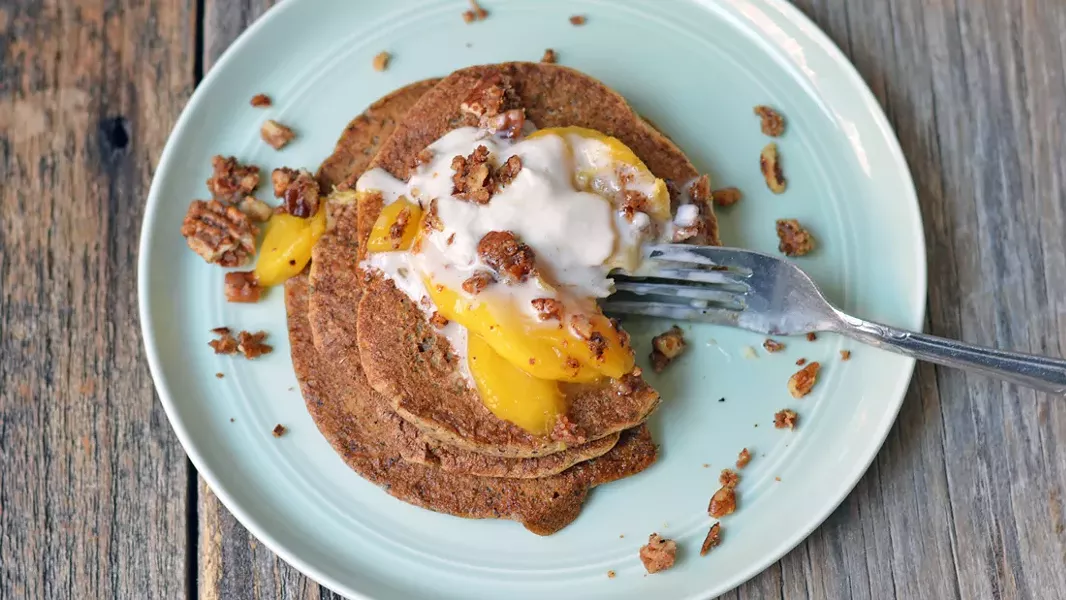 These gluten-free and vegan pumpkin pancakes are perfect for celebrating the beginning of fall. Make a double batch to enjoy half on a cozy weekend morning and freeze the other half for a quick weekday breakfast treat.
Ingredients:
1 cup buckwheat flour

6 tablespoons sorghum flour

2 tablespoons tapioca starch

3/4 teaspoon baking powder

1/4 teaspoon baking soda

1/4 teaspoon sea salt

1 tablespoon maple crystals

1/2 cup pumpkin puree

1/3 cup unsweetened coconut yogurt

1 ¾ cup almond milk

1 tablespoon kuzu mixed with 2 tablespoon water

1/2 teaspoon vanilla extract

1 teaspoon apple cider vinegar

To Serve:

Grade-A Maple Syrup

Optional:

Coconut Whipped Cream

Fresh Fruit

Toasted Pecans
Procedure:
In medium bowl, sift buckwheat flour, sorghum flour, tapioca starch, baking soda, baking powder, sea salt, and maple crystals. Set aside.

In a blender, combine pumpkin puree, coconut yogurt, almond milk, kuzu, vanilla, and apple cider vinegar. Blend until smooth.

Add wet ingredients to dry ingredients. Whisk batter only until blended. Let sit for 5-10 minutes. If mixture is thin, add 1-2 tablespoons buckwheat flour.

Heat an 8-inch nonstick pan, or a griddle, until hot.

Using 1-ounce ladle, pour batter onto griddle. Cook cakes over low heat until bubbles in batter break on surface, about 1-2 minutes per side; flip and cook until golden-browned.

If pancakes are sticking, lightly coat pan with oil before pouring batter.

Serve warm with maple syrup, and coconut whipped cream, sliced fruit, and pecans, if using.

Amaranth Porridge with Blueberry Sauce and Toasted Almonds

(Yield: 4 servings)
This dish is great alternative to traditional oatmeal. Amaranth is an ancient grain that is rich in fiber and protein, as well as many important micronutrients. Make this porridge to warm up on one of those first crisp mornings. You can also make this in advance and portion into individual reusable containers to heat and eat at work.
For the Porridge:

1 cup amaranth, soaked in cold water and 2 tablespoons lemon juice for 6 hours

3 cups water

½ cup unsweetened nut milk

3 tablespoons pure maple syrup

Sea salt

For the Sauce and Assembly:
8 ounces blueberries

2 tablespoons lemon juice

2 tablespoons water

1 teaspoon maple syrup

1 teaspoon all-purpose flour

½ cup almonds, toasted, roughly chopped

Procedure:

Drain amaranth in a fine mesh sieve or cheesecloth and combine with water in a medium pot. Cover, bring to a boil and turn heat down to low. Cook until porridge is creamy and most of the bite from the grains is gone, about 30 minutes, stirring often to prevent it from sticking.

Take off heat. Stir in nut milk, maple syrup and a generous pinch of sea salt. Taste and adjust seasonings, if needed.