Cooking Thanksgiving dinner for guests can be daunting enough without throwing in the added layer of dietary restrictions and lifestyle choices. When most people think of "vegan options" at holiday meals, they conjure images of bland steamed veggies, butterless bread, and side dishes cobbled together in an approximation of a meal. But no longer: Compassionate Cuisine, the award-winning culinary program from the Hudson Valley's own Catskill Animal Sanctuary, is here to save the holidays with rich, indulgent vegan food that will satisfy eaters of all varieties.
Your vegetarian and vegan guests will be delighted, and any omnivores at the table won't know (and likely won't care!) that the luscious meal they're enjoying is 100% plant-based. Here are three guilt-free, delicious vegan recipes to bring to the table.
These and dozens of other indulgent plant-based recipes can be found in the Catskill Animal Sanctuary's new cookbook
Compassionate Cuisine: 125 Plant Based Recipes From Our Vegan Kitchen
, published earlier this year.
Butternut Harvest Roll

Serves 6 to 8 (two 2-inch slices per person)
Alexandra Shytsman, courtesy of Catskill Animal Sanctuary
Vegan Butternut Harvest Roll
The Butternut Harvest Roll honors all the bounty of the season. Rich, creamy squash, flaky puff pastry, and savory fragrant herbs will draw your guests to the table— and the finished product is a perfect centerpiece for a show-stopping holiday table. Serve with golden gravy. Chef Linda has created a free tutorial on this recipe that's just like having her in your kitchen!
Ingredients
Roll
2 Tbsps olive oil
1 medium onion, chopped finely, about 1 cup
1 tsp salt, plus more to taste
1 medium butternut squash, about 2 pounds, peeled and cut into ½-inch pieces, about 4–5 cups
1 (15.5-ounce) can chickpeas, drained and rinsed
½ cup finely chopped walnuts
3 large cloves garlic, minced, about 1 Tbsp
1 Tbsp minced fresh sage (or 1 tsp rubbed sage)
1 Tbsp fresh thyme leaves (or 1 tsp dried thyme)
1 tsp cumin
½ tsp ground cinnamon
3 Tbsps water
To Assemble
1 sheet of vegan puff pastry dough, thawed for 2 hours or overnight in the refrigerator
Olive oil, for brushing
Pinch of coarse salt
To Serve
Sautéed or steamed greens
Directions

1. To make the filling, heat 2 tablespoons of oil in a large pan over low-medium heat. Add onion and salt. Cook, stirring occasionally, for about 8 minutes, or until onion has softened and turned translucent. Add the squash, chickpeas, walnuts, garlic, sage, thyme, cumin, cinnamon, and water. Cover pan and cook, stirring occasionally, for about 20 minutes, or until squash is fork-tender. When done, remove from heat, keep covered, and set aside.
2. To assemble the roll, preheat the oven to 400ºF. Lay out a piece of parchment paper about the size of your baking tray. Unfold one sheet of puff pastry on the parchment. Roll the pastry sheet into roughly a 16-by-12-inch rectangle. With the longest side horizontal to the counter, spoon the butternut filling onto the bottom half of the pastry sheet to within 1 inch of the edge. Starting at the side closest to you, roll the pastry sheet and filling up like a jelly roll. Tuck the ends under to seal. Lift the parchment paper up and onto the baking sheet. Brush with oil and sprinkle a little coarse salt on top. Cut 3 or 4 diagonal slits several inches apart in the pastry to allow steam to escape.
3. Bake for 25 minutes or until the pastry is golden brown all over. Remove the oven and let cool for about 5 minutes. Use a serrated knife to slice into desired-sized portions. Serve with Golden Gravy.
Golden Gravy
Ingredients
2 Tbsps olive oil or vegan butter
2 Tbsps all-purpose flour or gluten-free flour
1½ cups vegetable broth, plus more to thin if necessary
½ cup nutritional yeast flakes
1 Tbsp tamari or soy sauce
2 tsps onion powder
1 tsp garlic powder
¼ tsp salt (optional)
Directions
Heat the oil in a small pot over medium heat. Add the flour and continuously whisk for 2 to 3 minutes. Slowly add in the broth and whisk until smooth. Add nutritional yeast, tamari, onion powder, and garlic powder. Continue to cook, whisking continuously, until mixture is thick and velvety. Taste and add salt if necessary. Thin to desired consistency with more broth. Store extra in a covered container for up to five days or freeze for up to three months. Gravy will thicken considerably when chilled. Microwave or heat on the stove top, adding more broth to thin if necessary.
Stovetop Mac and Cheese
Serves 6 to 8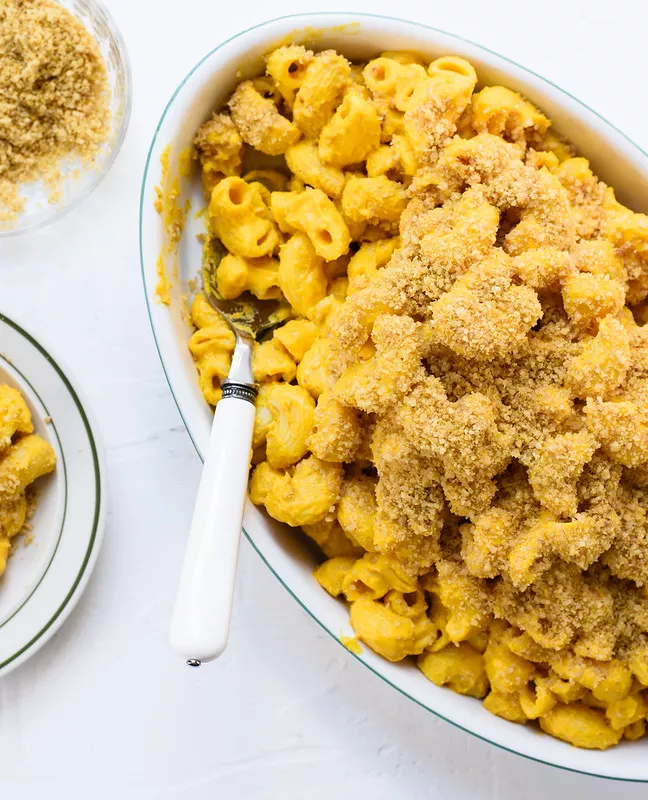 Alexandra Shytsman, courtesy of Catskill Animal Sanctuary
Vegan stovetop mac 'n' cheese
Stovetop Mac and Cheese is a side dish that's filling enough to be a main (and so delicious you'll want to eat it every night of the week): An "I can't believe it's vegan" macaroni & cheese. Your guests will be shocked that this creamy, luscious stovetop sauce contains absolutely no dairy! Chef Linda has a macaroni & cheese how-to video that will get everything on the table in a snap.
Special hint for feeding young diners: this sauce is a great way to dress up vegetables like broccoli— worth doubling the recipe!
Ingredients
Cheese Sauce
4 medium carrots, peeled and roughly chopped, about 2 heaping cups
2 medium waxy potatoes, peeled and cubed, about 2 heaping cups
½ medium onion, roughly chopped, about ½ cup
3 large cloves garlic, peeled
2 Tbsps vegan butter
2 cups unsweetened nondairy milk
1 (15.5-ounce) can chickpeas, drained and rinsed (or 1½ cups cooked)
¼ cup nutritional yeast
2 Tbsps fresh lemon juice, plus more to taste
2 tsps yellow mustard
¾ tsp ground turmeric
1 tsp salt, plus more to taste
Macaroni
1 pound elbow or shell macaroni, regular or gluten-free
Salt
Nut Parmesan
1 cup raw almonds, walnuts, or Brazil nuts
⅓ cup nutritional yeast
2 medium cloves garlic, peeled
¼ tsp salt
Directions

1. To make the cheese sauce, place carrots, potatoes, onion, garlic, and butter in a small pot and cover with the milk. Bring to a boil, then reduce heat and simmer until the vegetables are soft, about 10 minutes. Remove from heat and carefully pour into the blender. Add the chickpeas, nutritional yeast, lemon juice, mustard, turmeric, and salt. Do not blend right away. Let the mixture cool off while you start the macaroni.
2. Boil the macaroni in salted water, according to package directions.
3. Blend the cheese sauce for about 1½ minutes, until smooth and glossy. Taste and add more salt or lemon juice if you like.
4. To make the nut parmesan, put all of the ingredients in a food processor and pulse until finely ground.
5. When the pasta is done, drain and return it to the pot. Add most of the cheese sauce and stir to combine. It will seem very saucy, but the pasta will absorb some of the sauce as it sits. Serve immediately, drizzled with additional sauce and garnished with nut parmesan. Store the remaining nut parmesan in a sealed container in the refrigerator for up to one month. Extra sauce can be stored in the refrigerator for up to five days or frozen for up to six months.
Heavenly Pies
Alexandra Shytsman, courtesy of Catskill Animal Sanctuary
Vegan Coconut Cream Pie
Pie is a homey, comforting holiday classic— and getting the perfect pie crust is key. If you're in the mood for a non-traditional and memorable dessert, our vegan pastry expert Chef Sara is sharing her Coconut Cream Pie recipe. If you're craving a traditional apple or pumpkin pie for the holidays and not sure where to start on making a vegan pie crust from scratch, she'll show you her favorite tips and tricks in this video!
Coconut Cream Pie

Makes one (9-inch pie), 8 to 12 servings

Ingredients

Pie Crust
1 cup vegan, graham cracker crumbs, from approximately 5–7 graham crackers, depending on the brand (Nabisco's regular graham crackers are vegan)
½ cup unsweetened shredded coconut
2 Tbsps granulated sugar
4 Tbsps vegan butter, melted
Filling
1 Tbsp agar flakes
½ cup water
1 (13.5 ounce) can regular (not light) coconut milk
½ cup unsweetened nondairy milk
½ cup granulated sugar
Pinch of salt
¼ cup cornstarch
1 tsp vanilla extract
1 cup unsweetened shredded coconut
Toasted shredded coconut, for garnish
Directions
1. To make the pie crust, preheat the oven to 325°F. Pulse graham crackers in a food processor until finely ground. In a medium bowl, combine graham cracker crumbs, coconut, sugar, and melted butter, and mix well until it barely holds together when pressed between your fingers.
2. Lightly grease a 9-inch pie plate, and spread the crust mixture evenly over the bottom and sides. Press it down evenly and firmly into the pie plate, using your fingers or the bottom of a measuring cup, covered with plastic wrap to prevent sticking. Be sure to press firmly, especially up the sides. This will ensure a stable crust. Prick the crust several times with a fork, including along the sides.
3. Bake at 325°F for 12 to 15 minutes, until golden brown. If the crust has puffed up a bit during baking, gently press it down with a spatula to compact it. Cool completely before filling.
4. To make the filling, combine agar flakes and water in a small pot and let sit for about 10 minutes to soften. Bring the mixture to a boil, cover, and simmer for about 10 minutes, until the agar is completely dissolved.
5. While the agar mixture is simmering, combine the coconut milk, nondairy milk, granulated sugar, coconut sugar, and salt in a medium pot. Whisk in the cornstarch and bring to a boil over medium heat, whisking frequently to prevent sticking. After coming to a boil, the mixture will be the texture of a thin pudding. Stir in the vanilla extract, shredded coconut, and agar mixture. Mix well.
5. Pour the coconut custard into the prepared pie crust, smoothing out the top with the back of a spoon. Refrigerate for at least four hours, until set. To decorate the pie, spread or pipe coconut whipped cream over the pie surface and sprinkle with toasted coconut. To slice easily, dip a sharp knife in hot water, wipe with a clean cloth, and slice. Repeat for each slice for beautiful, clean slices.
Grab your plate and bring your appetite to this delicious, compassionate holiday meal that welcomes every diner to the table— all you have to do is add love and stir!
Buy a copy of Compassionate Cuisine.