The Center at Mariandale in Ossining is known for the spiritual, environmental, arts, and wellness retreats held on the center's scenic 61-acre campus on the Hudson River. But you don't have to enroll in a retreat to visit the center and enjoy its peaceful grounds. The Center at Mariandale also hosts an array of events open to the public, from weekly yoga classes to theater performances. Below is a sampling of some upcoming events at the Center for Mariandale that are all about Easter.
"The Lent Exhibit," February 26-April 15
On view now, "The Lent Exhibit," showcases the portfolio of artist David J. Morrison across a variety of mediums. A retired Metro-North machinist, Morrison gets inspiration for his paintings from religious themes, and his blown glass pieces reference the tradition of stained glass that prompted him to study glass blowing at Urban Glass in Brooklyn. A public reception for Morrison's work will be held Wednesday, March 11 from 4-6pm.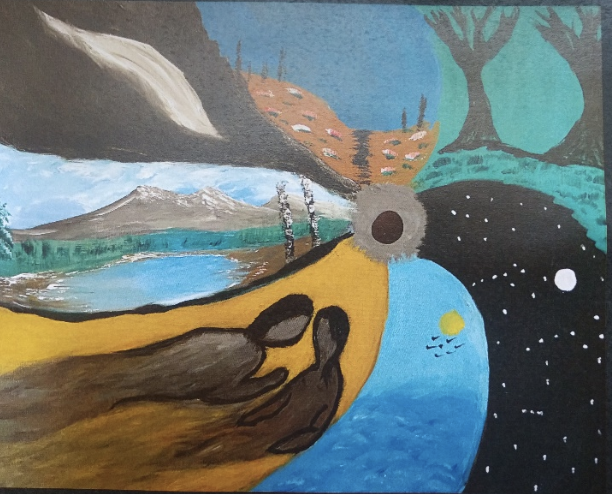 Painting by David J. Morrison
"Merton and Me," March 15
On Sunday, March 15 from 2-5pm, catch a performance of "Merton and Me," a solo show written and performed by Douglas Hertler, an actor known professionally as Doug Lory. The show depicts Hertler's life-changing encounter with the writings of Thomas Merton, a 20th-century Trappist Catholic monk who lived in Kentucky and penned more than 50 books on spirituality, social justice, and pacifism. "Merton and Me" centers around the conflicting private and public personalities of Douglas Hertler and Doug Lory, who each struggle to understand the nature of their respective identities. The figure of Thomas Merton appears throughout the show as a conduit for self-reflection. A Q&A with Hertler will follow. Tickets are $25 and can be purchased here.
"No Greater Love," April 4
On Saturday, April 4 from 1:30-3pm, the center will host a stop on the Lenten season tour of "No Greater Love," a musical drama that celebrates the passion, death, and resurrection of Jesus Christ. The show will be performed by The Xavier Company, a professionally trained group of actors, singers, and dancers in residence at St. Francis Xavier Church in New York City. Founded in 1982, the company tours throughout New York, New Jersey, and Pennsylvania performing original works that explore themes of faith and social justice. Admission to the show is by donation.