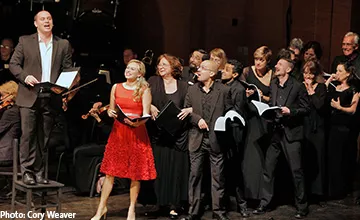 Bard Music Festival
Celebrates Silver Jubilee with In-Depth Survey of Music by Schubert and His Contemporaries.
The 25th anniversary
Bard Music Festival
continues this weekend after a successful, sold-out opening. The festival opened with standout performances. This weekend, the programs address the nature of Schubert's originality, his exploration of form and harmony, and the connection of words and music. Schubert's legacy and influence are considered through music for men's choir, works written for and by Schubert's closest friends, his late piano sonatas, his sacred music, and a performance of his opera
Fierrabras.


Weekend Two: A New Aesthetics of Music (August 15–17) opens with three special events. At 11 am on August 15, there will be a special screening of
Notturno – Mit meinen heißen Tränen
, a German-Austrian film about the life of Franz Schubert, directed by Fritz Lehner. The screening features a commentary by Christopher H. Gibbs. Another special event,
The "Path toward a Grand Symphony": Schubert's Octet
(August 15 at 3 pm), presents a rare performance of Schubert's Octet in F Major. Featuring the Bard Conservatory Chamber Players, the octet features a mixed group of instruments—a string quartet, double bass, horn, clarinet, and bassoon—and its six heterogeneous movements distinguish it as a divertimento. "But that same unusual group of instruments marks it as a very particular divertimento, a direct descendant of Beethoven's Septet, Op. 20," writes John M. Gingerich. Hear how Schubert's one-upped Beethoven's Septet. And at 5 pm on August 15, there will be a performance of Schubert's Kosegarten Liederspiel. Set to the text by Gotthard Ludwig Kosegarten, Schubert's
Kosegarten Liederspiel
tells the story of love and loss, sung by a small cast of characters in a dramatic presentation. This special event features a commentary by Morten Solvik and performances by soprano Deanna Breiwick, mezzo-soprano Rebecca Ringle, and tenor Paul Appleby, accompanied by pianist Reiko Uchida.
Beethoven's Successor
, the inaugural event of
Weekend Two
, offers a historic recreation of the sole public concert that Schubert devoted entirely to his own music. With the profound Piano Trio in E-flat as its centerpiece, Schubert's program showcased some of his finest recent work, as well as a selection of his most ambitious Lieder and part-songs, including the opening movement of his bittersweet new string quartet "Death and the Maiden." The festival concludes with Program Twelve,
Schubert and Opera
, a semi-staged performance of Schubert's great neglected opera,
Fierrabras
. Led by Leon Botstein, this performance draws the
25th anniversary Bard Music Festival
to a gripping close.
Tickets start at $25. For more information visit
fishercenter.bard.edu
or call 845-758-7900.