Sally Hawkins plays an amateur British historian who discovers the remains of Richard III in a Leceister parking lot in The Lost King, directed by Stephen Frears.
Independent film festivals have been known to launch the careers of some of today's biggest filmmakers, such as Steven Soderbergh, Quentin Tarantino, Catherine Hardwicke, and Wes Anderson, just to name a few. Will the next virtuosic talent or blockbuster emerge from the 23rd Woodstock Film Festival?
Whether or not a successor to Reservoir Dogs or Bottle Rocket will be screened, the festival will create its own singularly charged cinematic atmosphere. "At a film festival, a world is created for you and you are surrounded by amazing filmmakers," says Meira Blaustein, cofounder and executive director of the Woodstock Film Festival. "You can watch incredible independent films that have been curated for you. Some of the films are hard-hitting, others are funny and entertaining and some are thought-provoking and pushing the envelope, but very artistically done."
Brian Cox plays a Vietnam vet who teaches an injured Marine (Sinqua Walls) to flyfish in Mending the Line.
At this year's festival, there are (as of this writing) 20 full-length documentaries, 20 full-length narratives, 86 shorts in 14 categories, and 12 music videos that will be shown online only.
Feature selections include Linoleum, directed by Colin West and starring comedian Jim Gaffigan. This film—shot locally—takes an inventive look at the disappointments of middle age. You can also check out Sarah T. Schwab's A Stage of Twilight, starring Karen Allen (Raiders of the Lost Ark) and William Sadler (The Shawshank Redemption), a poignant story about a man struggling with his impending death and the decisions he makes about his final months.
Fans of superstar Harry Styles can check out his starring role in My Policeman, a film directed by Michael Grandage. It centers on the arrival of Patrick into Marion and Tom's home, which triggers the exploration of seismic events from 40 years previously.
Luke Cook and Dani Barker in Follow Her, about a woman who responds to a classified ad and finds herself trapped in her new boss's revenge fantasy.
"I'm very excited that the film submissions are coming from all corners of the country," says Blaustein, who explains that there are 25 volunteer screeners who watch the submitted films and send in their reviews and grades.
Other talented and well-known actors appearing in films at the festival include Ewan McGregor and Ethan Hawke in Rodrigo Garcia's dramedy Raymond and Ray. Hawke, a four-time Academy Award nominee, will receive the festival's Maverick Award.
"Ethan is amazing," says Blaustein. "Not only is he one of the best actors that we have, but he is a passionate director who has done both documentaries and narrative films, a prolific writer, and a very smart individual. He's one of those Renaissance men who can do everything exceptionally and also be very supportive of others."
Ewan McGregor and Ethan Hawke star in Rodrigo Garcia's dramedy Raymond and Ray. Hawke will receive this festival's Maverick Award this year.
Hawke directed the critically acclaimed six-part documentary, The Last Movie Stars, now on HBO Max, which gives viewers a revealing look into the lives and work of Joanne Woodward and Paul Newman. "He's expanding our horizons and the whole tapestry of what you can do in the film industry, so he's definitely a maverick and I'm3 thrilled we are honoring him this year," says Blaustein.
Also being honored is Arianna Bocco, the president of IFC Films, who will receive the Trailblazer Award. Throughout her tenure, she has acquired over 800 films for the company, including some of the most revered independent films of the last decade. The Trailblazer Award is given to a leader in the film and media arts industry who has carved innovative paths for all to follow, establishing independent vision and creating strong and widespread appreciation to quality, substantive filmmaking.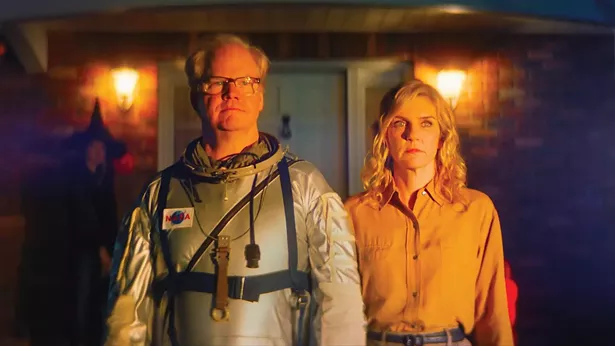 Jim Gaffigan stars in Linoleum, about a failed children's science show host who decides to build a rocket in his garage. The movie was shot in Kingston.
Debra Granik, the director and cowriter of Winter's Bone, which premiered at Sundance and was nominated for four Oscars, will receive this year's Fiercely Independent Award. The award is given to a singular filmmaker whose unique vision has furthered the field of independent filmmaking by following their own path, serving as a role model for other filmmakers, and advancing the highest quality of independent filmmaking.
Actress, comedian, and rapper Awkwafina, who had supporting roles in the comedy films Ocean's 8 and Crazy Rich Asians and a leading role in the comedy-drama The Farewell, will receive the Transcendent Talent Award, presented to a creative who breaks through the boundaries of their artistic field, be it in acting, writing, directing, or more.
Bill Pullman receiving the festival's Excellence in Acting award in 2017.
There will be conversations with each of the honorees and panels featuring the four filmmakers who participated in the spring filmmakers residency/incubator, a panel presented in collaboration with NYWIFT (New York Women in Film and Television), featuring Karen Allen, a panel in collaboration with the Writers Guild of America East, and more.
While some of the festival will be online, the majority of it is back to in-person screenings at locations in Woodstock, Saugerties, Rosendale, and Kingston.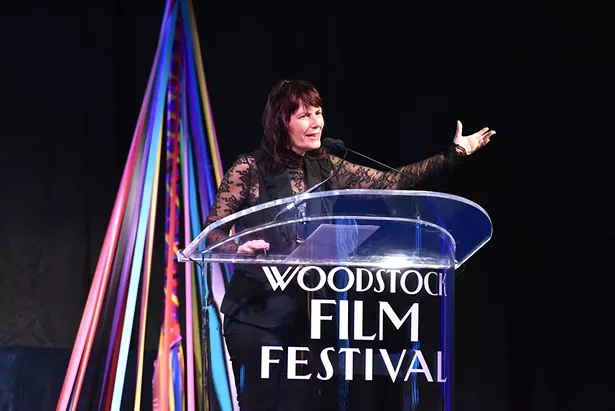 Meira Blaustein, cofounder and executive director of the Woodstock Film Festival.
It's been 23 years since the Woodstock Film Festival launched its first event, and Blaustein is proud of how far it's come. "Twenty three years ago we had about $5,000, so the film festival was really a labor of love," she says. "Nobody got paid and everything was donated. It was a crazy undertaking at that point."
According to Blaustein, a generous donor has since paid off the mortgage on the festival's main headquarters. "During the pandemic, we renovated the building and upgraded our systems. Our board of directors has grown and our full-time staff members have gotten stronger," she says.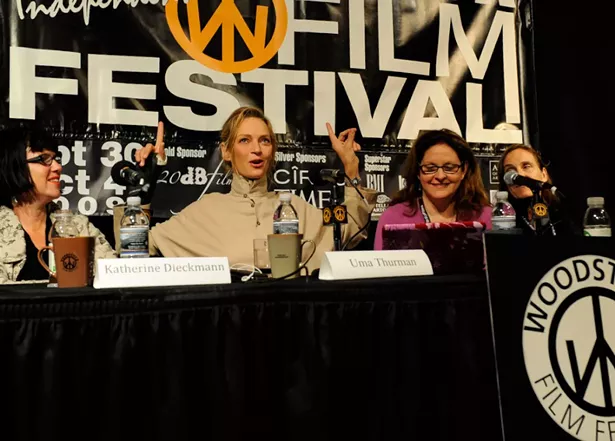 Uma Thurman, Katherine Dieckmann, and others on a previous year's panel.
In addition, the Woodstock Film Festival now offers year-round programming, a month long residency incubator for filmmakers and a youth film lab. "The organization benefits so many people and just when I think I can't work harder, I think about all the great things that we are doing and how wonderful that is."
Attending a film festival is about more than just watching the films. "There are parties and you get to meet so many different people, have these incredible conversations," she says. "It opens so many windows into a unique experience that is educational, fun and entertaining."
The Woodstock Film Festival will run September 28-October 2.