Wildsam Field Guide: Hudson Valley & Catskills
Edited by Hannah Hayes
Wildsam Field Guides, $20, 2021
This pocket-sized guide to the region is ideal for any traveller, no matter how light they pack. At just over 100 pages long and pocket-sized (with tiny font to match), all the essential information about the Hudson Valley is in these pages. Premier shops and art centers, as well as spotlights of Beacon, Hudson, and other towns, provide plenty of ideas for things to do. There's even an itinerary for a five-day road trip that goes from Kingston to Stone Ridge. Interviews with local legends, including Dan Suarez of Columbia County's Suarez Family Brewing, and Nora Lawrence, curator at Kingston's Storm King Center, capture the area's irresistible charm.
Skolnick Architecture + Design Partnership: Public/Private
Lee H. Skolnick
Pointed Leaf Press, $95, 2021
This massive two-sided collection of the past 40 years of Skolnick and his team's work, split into public and residential building designs, is full of architecture designs spread out across pages that are over a foot long. A foreword by Paul Goldberger, Pulitzer Prize-winning architecture critic, and introductions by Skolnick explain the designs of each building. Stunning full-page photographs take readers through multiple rooms in the Congregation B'nai Yisrael in Westchester as well as Port Washington's and East Hampton's children's libraries. There's also several Long Island private residences, including the living and studio spaces of painters April Gornik and Eric Fischl. The firm has also designed several Hudson Valley buildings, including the Mohonk Preserve Visitor Center.
Slapstick Gravitas: Selected Spells, Centos, and Lists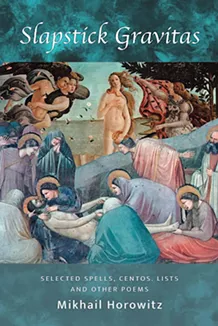 Mikhail Horowitz
Station Hill Press, 2021, $19.95
Over the course of his 70 years, Mikhail Horowitz has been an English Romantic poet, a Chinese hermit poet of the Tang Dynasty, a neo-Beat jazz poet of the Third Millennium, a pseudo-Surrealist poet of Paris between the wars, and a postmodern spoken word performer in an increasingly medieval America. This volume offers a generous selection of his various avatars, featuring poems and prose pieces that are bracing, ludic, and often madly obsessive. The poet Anne Gorrick sums up the Horowitz gestalt quite nicely: "Party invitations went out to Emily Dickinson, Groucho Marx, Charles Olson, Billie Holiday, and Basho. In the party's aftermath, you'll find Mikhail's work."
Bohemian Magick
Veronica Varlow
Harper Design, $29.99, 2021
Varlow, founder of Woodstock's annual Witch Camp and the last daughter in a line of Bohemian Witches, shares her secrets to budding witchcraft practitioners. Learn the basics of proper spellcasting by practicing some of Varlow's best spells, then be initiated into the Spectaculus, the branch of witchcraft developed by Varlow and her husband, David Garfinkel-Varlow. In keeping with the theme of growing a witchcraft practice at home, the book looks like a scrapbook, complete with highlighter markings and photos that seem as if they're taped onto the pages. Varlow's immersive writing takes readers through her own journey with witchcraft while giving them advice on how to cultivate their own relationships with the practice. She even shares just the right candle to use to make sure the spells stick.
Coping Skills
John Cuneo
Fantagraphics, $25, 2021
Curated with drawings straight from the plastic container he labels "loose sketches," New Yorker cartoonist and Woodstock resident Cueno's third collection of "helpful drawings" invites readers to see some of his work that is not suitable for magazine publication. Unlike his first two erotica-themed collections, nEuROTIC and Not Waving by Drawing, there's no focus to this new book. Scenes of domesticated manatees, climate change, and sex fill the pages in full color. Like with his other works, all the images are drawn in Cueno's signature squiggly ink and watercolor style.
Crazy in Poughkeepsie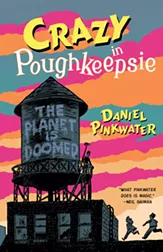 Daniel Pinkwater
Tachyon Publications, $16.95, 2022
This middle-grade read takes audiences on a mystical adventure with main character Mick through Poughkeepsie and the rest of the Hudson Valley. Mick's brother has just returned from Tibet with two guests in tow—Guru Lumpo Smythe-Finkel and his dog, Lhasa. Readers follow the group on a quest that also includes an unfocused spiritual guide, a graffiti artist, and other characters. Their journey includes stops at parties with ghosts, and more lessons about the afterlife than they bargained for. Pinkwater, who lives in the Hudson Valley, has written more than 100 books. The novel is available for preorder now.
Collective Wisdom: Lessons, Inspiration, and Advice from Women over 50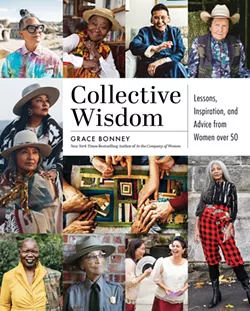 Grace Bonney
Workman Publishing, $35, 2021
Hudson Valley resident and Design Sponge founder Bonney curates an inspiring collection of photographs and stories from over 100 female trailblazers. Olympic athlete Gail Marquis, NASA team member Elaine Denniston, restaurateur Cecilia Chiang, and others share lessons in growing self-confidence through interviews with their family members and other young women. Bonney was inspired to create the book after one such friendship that she had with then 90-year-old Georgine, who she met while volunteering at Angel Food East in Kingston. Their stories cover deeply personal experiences, including loss, grief, and living with illness and disability. Life achievements are also celebrated, raising themes about how self-confidence and empowerment can increase with age.
Wonderland
Annie Leibovitz
Phaidon Press, $89.95, 2021
Featuring a foreword written by Anna Wintour, Leibovitz's newest anthology chronicles her evolving relationship with fashion photography while shooting for Vogue during her five decades-strong career. It includes 350 full-page images, many of which were previously unpublished. Photos of fashion icons, including Lady Gaga, Nicole Kidman, Cate Blanchett, RuPaul, and even Nancy Pelosi are featured. On December 5, Oblong Books in Rhinebeck will host a book signing with the famed photographer. The book must be purchased from Oblong to attend, so it's the perfect time to pick up a copy.
Noisy Autumn
Christy Rupp
Mandala Publishing, $45, 2021
With a title inspired by Silent Spring, Rachel Carson's groundbreaking book that exposed the harmful environmental impacts of indiscriminate pesticide use, Noisy Autumn also encourages people to think more deeply about the relationship between themselves and their environment. Rupp is a Hudson-Valley based eco-artist who's been creating sculptures since the 1970s. Her book covers five decades of artwork rooted in activism, beginning with depictions of Lower East Side rat installations to more recent sculptures of endangered species made with the plastic products that harmed them. Essays by Amy Lipton, Carlo McCormick, Bob Holman, and others are paired with photographs of Rupp's work to address how geopolitics, culture, and economics impact an ecosystem's strength. Rupp launches her book on December 11 at the J. J. Newberry Building in Saugerties, in conversation with Carrie Feder at 4pm.