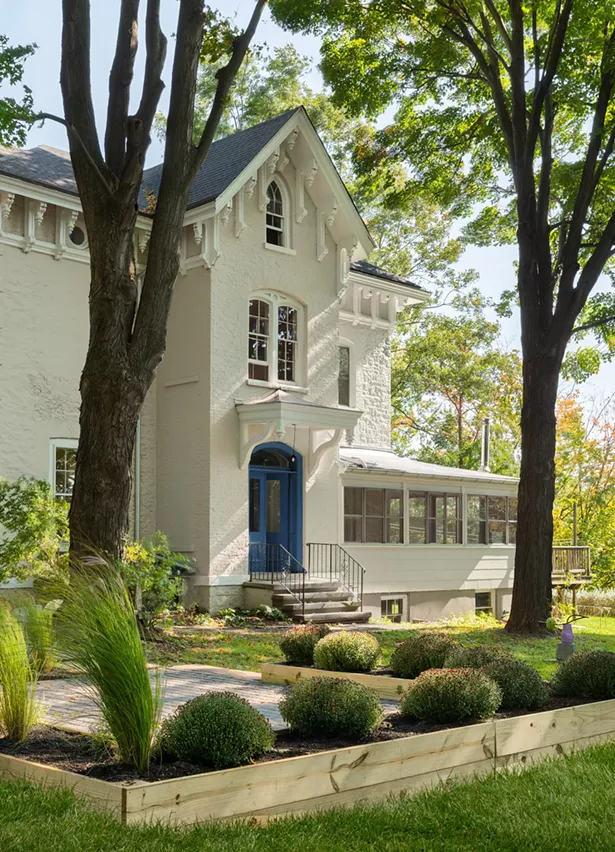 Ariel Camilo Photography CO
Kingston Design Connecton's Maryline Damour gave the house's cream exterior a pop with the blue front door. Stone Ridge Landscaping beautified the yard, while Jen Dragon of Cross Contemporary Partners curated a mini sculpture garden.
From Hudson River School painters Thomas Cole and Frederick Church up through the architectural fancies of Calvert Vaux and his 19th-century contemporaries, through the arts colonies and Woodstock's music recording heyday, and now into modern day, upstate New York has always been a refuge for creatives. And yet, in the shadow of the colossal cultural and aesthetic icon that is New York City, the Hudson Valley has not been thought of as a design destination.

But that perception is changing, as talented artisans, architects, and designers—and the clients who work with them—have chosen to move to the region, adding to the base of locally born and bred creatives who choose to stay and work their craft here.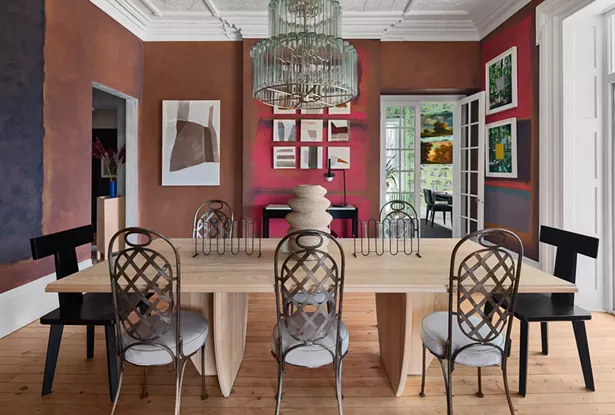 Ariel Camilo Photography CO
But a movement needs a champion, which it's found in designer Maryline Damour of Damour Drake. Damour has spent the last several years pushing for the recognition of the region's design scene with her annual Kingston Design Showhouse. Now on its third year, the showhouse, which changes location every year, has already become a powerful vehicle for coalescing the Hudson Valley's emerging design scene, bringing professionals together to collaborate and network, and creating a deliciously sensual, immersive experience for homeowners, professionals, and design devotees. (A shout out to Design House, another showcase working to promote local designers and creatives by offering curated house tours through the historic riverfront city of Hudson.)
Despite the pandemic, the 2020 Kingston Design Showhouse went forward and was possibly even more magnificent than in years past. The setting was a beautiful c.1800 white-painted brick Italianate home in the Ponckhockie neighborhood of Kingston, which was purchased by a family of three last summer.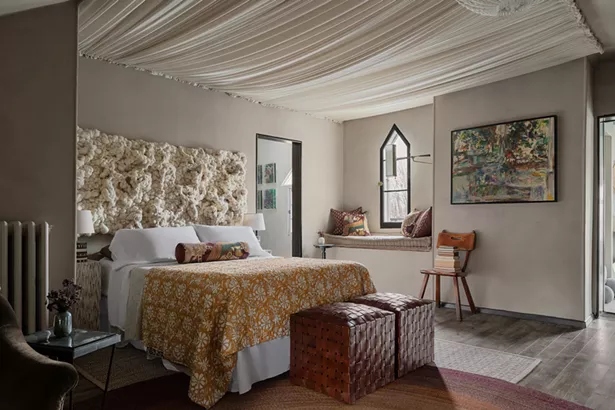 Ariel Camilo Photography CO
The three-story Victorian sits on a one-acre lot at the end of a dead-end road, with spectacular vistas of the Rondout Creek and the Hudson River beyond. The family gave their property over to a dozen designers for a complete makeover—inside and out—with each creative taking over one space. "I think being shut in and not being able to be creative, we all had a lot of pent up creative energy," Damour says. "We saw that this year in the level and quality of spaces people produced." The list of 2020 designers included some KDS alumni like
Jennifer Salvemini
and
Ana Claudia Design
, as well as newcomers including
Lava Interiors
and
Krishna Fitzpatrick
.
Ariel Camilo Photography CO
A twist on the classic dark, masculine library with tasteful pops of pink and plum from Patrick Ryan of Patrick Ryan's Office. The book selection was curated by Jessica DuPont of Half Moon Books.
The showhouse, which was open for tours the last weekend in November and the first two weekends in December, was a sumptuous celebration of the wide-ranging vernacular of the Hudson Valley, with the creativity of the designers at the helm and the hundreds of local makers, artisans, artists, craftspeople, and purveyors they worked with to make each of their spaces come to life.


Photos by Ariel Camilo
KDS founder Maryline Damour, of Damour Drake, tackled a mixed-use work-from-home and classroom space, reflecting our 2020 reality. Also on theme with the year—the seemingly playful, mint-green wallpaper by Sheila Bridges, which lampoons some of the stereotypes deeply woven into the African American experience.
"The showhouse is different every year," "At some point, it will fully become what it's meant to be, but this year is the closest I've seen, with rooms that are not only designed but more like artistic installations. It's great to have a showhouse that pushes the boundaries between a real, livable space and something more artistic."
The web of connections being woven through the hub of the Kingston Design Showhouse is impressive and ever-growing—designers working with plasterers and painters, lighting fabricators, woodworkers, and fiber artists to create custom pieces. The showhouse gives you direct inspiration and a valuable list of local resources, but most importantly: permission to dream. The takeaway? Anything you want to make, design, or build, you can do right here in the Hudson Valley.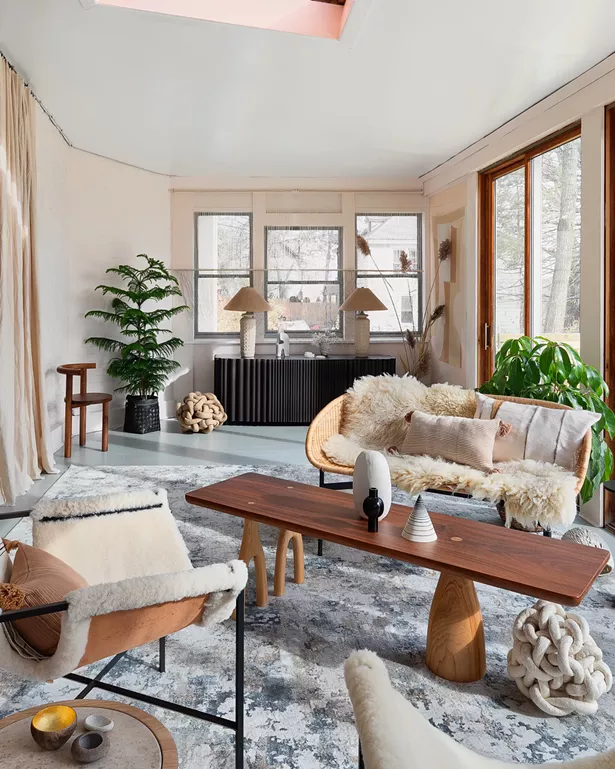 Ariel Camilo Photography CO
"Creatives generally have a big role to play in moving society forward after a bad period," Damour says. "There was such vision, such hope, such celebration in this showhouse. We haven't had a lot of occasion to experience that this year, so I love that people could feel that."
In case you missed it, Kingston Design Connection collaborated with Coldwell Banker Village Green to create a visual tour of the 2020 Kingston Design Showhouse.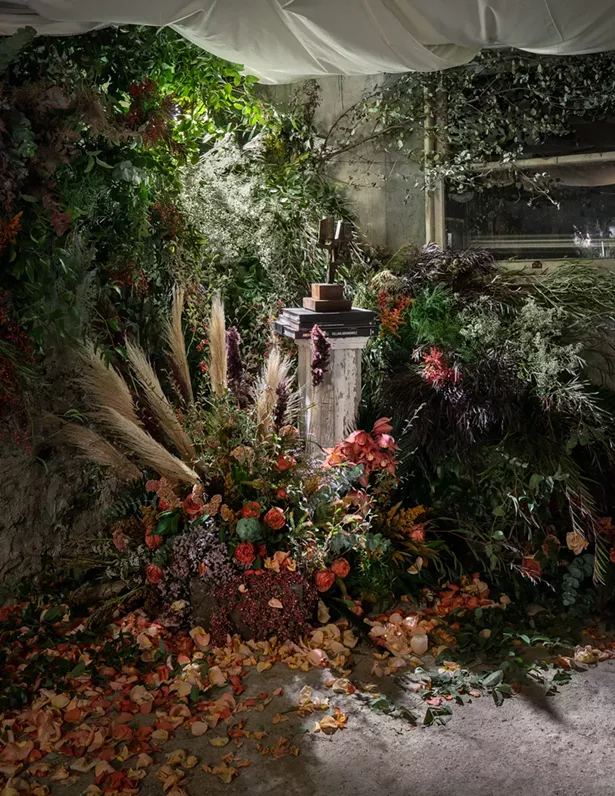 Photos by Ariel Camilo
Rondout florist Hops Petunia collaborated with Cross Contemporary Partners to bring an oft-ignored, unfinished part of the basement to life. The floral installation was done with live flowers, chosen for their ability to dry gracefully.
Full List of 2020 Participants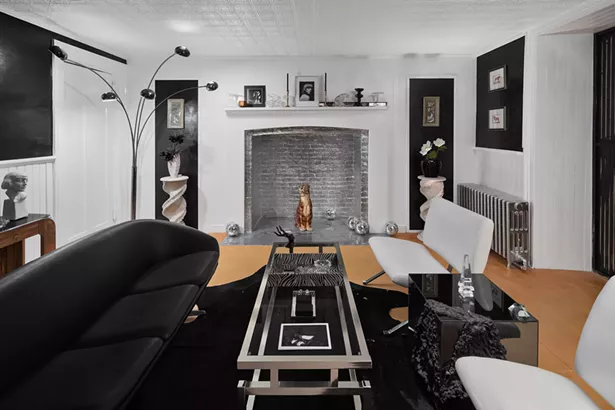 Ariel Camilo Photography CO