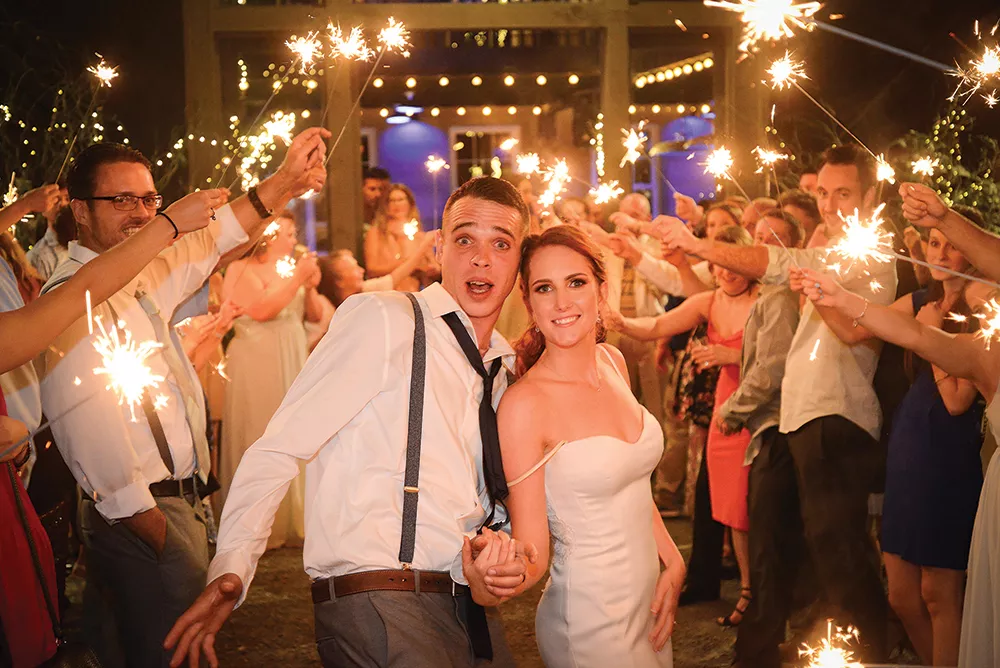 Photographer: Jean Kallina
Spencer and Amy from Phoenicia were married at the Roxbury Barn.
Yes, we're in the darkest days of winter, but another glorious summer in the Hudson Valley will be upon us before you know it, and with it an explosion of taffeta, table settings, and bouquet tosses—wedding season! For couples tying the knot in 2019 (and 2020!), the time is nigh to start planning in earnest. We've rounded up some of our favorite Hudson Valley wedding vendors this year, plus asked some local industry pros for their tips on nailing the big day.
2019 Wedding Vendor Recommendations
Caterer: Simply Gourmet
Poughkeepsie-based caterer
Simply Gourmet
uses ingredients from surrounding Hudson Valley farmers to offer locally sourced wedding fare that is seasonal and approachable. Their offerings range from an herb-marinated flank steak perfect for cool-weather weddings to a salmon main with fresh fruit salsa in summer. After homing in on your menu style with their event coordinator, you can opt for a tasting available. Wedding catering with Simply Gourmet always includes full-service coordination and service from set-up to breakdown.
Flowers: Shoving Leopard Farm, Barrytown

Photo credit: Natalie Conn and Becky McNeel, courtesy of Shoving Leopard Farm
In 2006, Marina Michahelles established
Shoving Leopard Flower Farm
on the grounds of the historic 430-acre Rokeby estate in Dutchess County. Aside from its popular flower CSA, Shoving Leopard offers several options for nuptials at a range of price points ranging from pick-your-own wedding flowers and bulk flower buckets for DIY arrangements to full service floral design, where each arrangement is harvested, designed, and custom-created according to the aesthetic and color scheme of your wedding.
Cake: The Pastry Garden

Since 1984,
The Pastry Garden
has been whipping up lip-smacking cakes, cookies, and pastries for weddings and special occasions, straddling the line between traditional and trending. Each of The Pastry Garden's three wedding package tiers offer a range of cake flavors (think from marbled, white, and chocolate all the way up through red velvet, hazelnut, and funfetti) and fillings (from fruit preserves to champagne mousse to ganache). Stick to the classic and timeless flavor profiles or spring for an exotic and unexpected combination.
Invitations: Thornwillow, Newburgh

Thornwillow Press
founder Luke Pontifell has been printing and binding books since the age of 16. This Newburgh-based custom stationery company is one of the last stewards of the centuries-old craft of printing. Their traditional boutique press shop specializes in letterpress printing, custom engraving , and hand-binding. Choose from one of their designs online or in store, or work with them to develop your own wedding correspondence—from Save the Dates to Invitations and Thank You cards. Printed on archival paper, these textured, hand-crafted communications are enduring mementos of your big day.
Lawn Games: Upstate Jamboree, Napanoch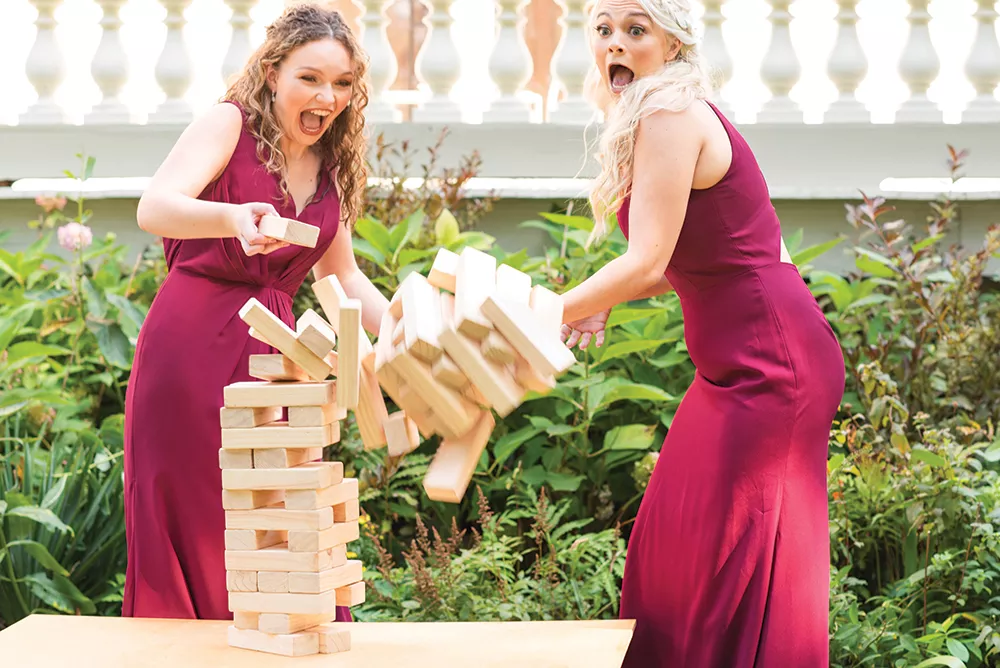 Photographer: Jeannine Lombardo
Upstate Jamboree rents handcrafted lawn games for cocktail hour.
Taking aesthetic inspiration from medieval France, Moorish architecture, and traveling carnivals,
Upstate Jamboree's
wooden lawn games are exquisite works of art that add a tasteful twist of fun to your cocktail hour. Handcrafted using locally harvested timber, each game is a blend of old traditions and modern twists, with a clear, helpful placard to help get you on your way to gaming glory. Some of the games include Japanese Billiards, Arches, Dice, Cornhole, Ricochet, Gruyere, and others you've never heard of.
Photographer: Jean Kallina, Kingston
Throughout her career in New York City,
Jean Kallina
shot places, faces, and features for publications ranging from
House Beautiful
to
Vogue
to
Vanity Fair
and
The New York Times
. An accomplished fine art photographer as well, Kallina strives for both authenticity, composition, beauty, and candor in her wedding photography. Her self-described approach is "a mixture of fine art documentary and editorial style portraiture." Working with an assistant, Kallina shoots upward of 25 weddings per year in the Hudson Valley and Catskills, everywhere from fields and barns to event halls and industrial chic warehouses. She also photographs elopements and proposals.
Bar & Photobooths: Hudson Trailer Co., Washingtonville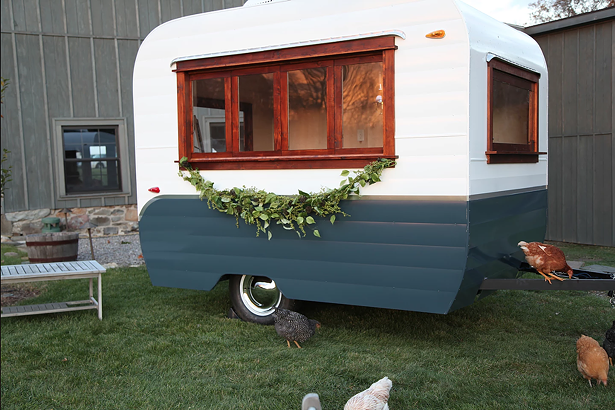 Once upon a not-too-distant past, "trailer" was dirty word. While the tiny house fad has catalyzed a generation of DIY airstream remodels, many of those refurbished trailers remain stationary. But
Hudson Trailer Co.
is sprucing up vintage tow-behind campers for a traveling destiny—transforming them into elegant mobile bars and photo booths for rent as whimsical-yet-functional centerpieces for weddings, rehearsal dinners, and other events.
Pro Tips on Choosing the Right Wedding Vendor
Who better to offer tips on picking the right vendors than the folks on the inside. From DJ to Reverend, we asked some Hudson Valley wedding industry insiders to share advice on picking the right vendors.
Wedding Coordinator
"The top thing to consider when hiring a wedding coordinator is experience level and organizational ability. You want a person with lots of hands-on training, someone's who's efficient and capable. Most couples find me through past clients, and I encourage couples to speak to past clients about their experience working with me. Ask for references and be diligent about checking them. You can also discover a lot about a coordinator by having an open discussion about their planning process. If they can't organize a planning meeting, they probably can't organize your wedding."

— Cathy Ballone, Cathy's Elegant Events
Cathy Ballone is a wedding coordinator based in Catskill.
Finding the Right Officiant
"Legally, all that needs to be done for a marriage to happen is that two people agree to be married in front of two witnesses and a state-licensed individual. That's it. If you go to a church or a temple, you don't really have any say—they made their ceremony up years ago. Find a minister who does what you want and meets your needs. And check online reviews!"
—Stuart B. Chernoff
The Right Reverend Stuart B. Chernoff is a Kingston-based Reverend and entertainer.
Picking the Music

"A couple has to figure out their priorities. Some people really care about music and budget accordingly. I obviously believe that music is an integral part of the success of any wedding. Live music is a great way to go, but it can be expensive. A DJ can be more eclectic and cover more musical landscape than a band. Also, make sure to find someone who fits your artistic vision and is then able to balance that with the mood of the room. There's an art to that. Don't forget this is going to be the best part of your lives."
—Dave Leonard, JTD Productions
Dave Leonard is a DJ and head of JTD Productions, a boutique DJ and events company.
Hunting for a Venue
"It seems a new barn venue or industrial space opens up monthly in New York. While not the most glamorous discussion point to have, if you are seriously interested in a venue, ask how it is permitted and what the local laws are. If a venue owner doesn't know or doesn't quickly recite things you may want to call the town directly. A few key things to look for are: fire suppression in the building, amplified music cut off time, adequate electrical supply, and approved water and septic. Ask the venue owner if they operate on a special use permit and what the conditions are. While it sounds fun to party all night long, the reality is that no town law permits that and venues need to be compliant to eliminate the risk of anything happening that could impact a couple's big day!"

—Kerri Corrigan, Owl's Hoot Barn
Owl's Hoot Barn is a wedding venue in Coxsackie.