Photo by Stratton McCrady
Shakespeare & Company's 2017 production of "The Tempest."
Photo by Stratton McCrady.This summer is chock full of drama—from "The Taming of the Shrew" to "The Waves," you have the opportunity to see staged productions of classic and contemporary works at the area's theaters and outdoor venues. We've rounded up some dramatic destinations for your viewing pleasure as part of 2018 Summer Arts Preview. (
Also don't miss our write up about the Williamstown Theater Festival >>
)
All the World's A Stage, But Particularly the Hudson Valley
Powerhouse Theater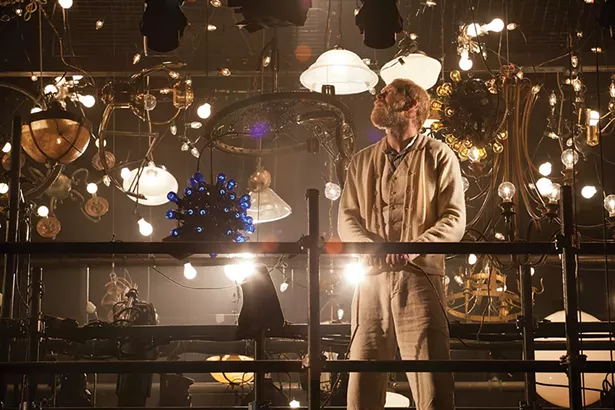 Photo by Buck Lewis
"The Light Years," was staged at Vassar & New York Stage and Film's Powerhouse Theater in 2015.
June 22-July 29. Vassar University and New York Stage and Film have copresented plays, musicals, workshops, and readings via Powerhouse Theater since 1985; 2016 Tony Award winners "Hamilton" and "The Humans" and nominee "Bright Star" premiered here. This season's Mainstage features Liza Birkenmeier's "Radio Island" and the Virginia Woolf adaptation "The Waves"; Musical Workshops include "Alice By Heart" (music and lyrics by Duncan Sheik and Steven Sater) and "The Connector" (music and lyrics by Jason Robert Brown); Inside Look Workshops have comedy and drama; the two-part Readings Festival examines new works; the free Training Company program offers Ovid, Shakespeare, and more. Powerhouse.vassar.edu.
Hudson Valley Shakespeare Festival

Photo by T. Charles Erickson
Zach Fike Hodges, Michael Broadhurst, Stephen Paul Johnson in "The Book Of Will" at Hudson Valley Shakespeare Festival.
June 7-September 3. Held outdoors beneath a massive, open-air theater tent on the grounds of the historic Boscobel estate in Garrison, the Hudson Valley Shakespeare Festival celebrates its 32nd season this year. Although Shakespeare's classics naturally take center stage on the calendar—2018's selections are "Richard II" and "The Taming of the Shrew"—the company also airs related and compatible productions alongside those of its namesake: This summer also includes "The Heart of Robin Hood" (commissioned by the Royal Shakespeare Company in 2011 and based on the iconic English folktale), "The Sea-Maid's Music," and "Rip Van Winkle." Hvshakespeare.org.
Shakespeare & Company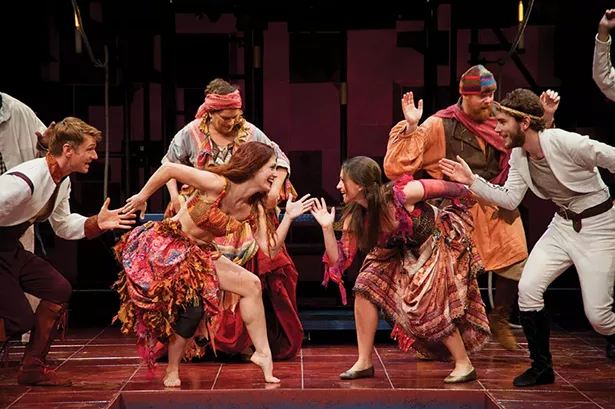 Photo by Kevin Sprague
Shakespeare & Company's "Henry IV parts I and II" from 2017.
Through October 28. Located in Lenox, Massachusetts, Shakespeare & Company has been bringing the Bard to the Berkshires since 1978. "Macbeth" will be presented on the mainstage of the Tina Packer Playhouse; "As You Like It" will be produced plein air in the Roman Garden Theater; and "Love's Labors Lost" will be staged on the neighboring grounds of the Mount, author Edith Wharton's historic estate. New plays include the Carey Crim comedy "Morning After Grace"; August Strindberg's "Creditors"; "Heisenberg" by Simon Stephens; Tony Award winner Terrence McNally's "Mothers and Sons"; and Pulitzer Prize finalist Taylor Mac's "Here." Shakespeare.org.
Shadowland Stages

June 2-December 16. The beautifully restored Art Deco movie theater in Ellenville focuses on producing adventurous new plays and musicals across its two stages. For 2018, Shadowland's schedule boasts Patrick Meyers's mountaineering thriller "K2"; the comedies "Elemeno Pea" by Mary Smith Metzler ("Orange is the New Black"), "Bang! Bang!" by Monty Python's John Cleese, and "The Mystery of Love and Sex" by Fulbright scholar Bathsheba Doran ("Boardwalk Empire"); the drama "Papermaker" by Monica Wood; and the Roger Bean musicals "Honky Tonk Laundry" and "The Winter Wondrettes." The Matinees at Shadowland film series screens classic movies, cartoons, and shorts on Saturday afternoons. Shadowlandstages.org
The Secret City Art Revival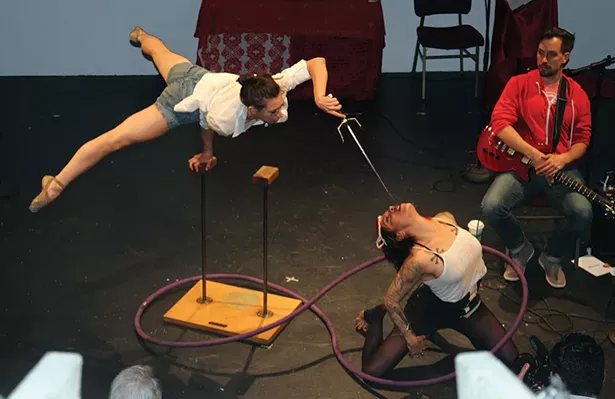 Circus performers at the Secret City Art Revival, which takes over Woodstock July 26-29.
July 26-29. Called "sort of a salon, sort of a church...[and] a half-irreverent, half-earnest blend of revival meeting and group meditation session" by the New York Times, the Obie Award-winning Secret City group began in New York in 2007 and relocated to Woodstock in 2013. Led by founder and performer Chris Wells, the organization's ecstatic, ongoing, art-as-religion-themed happenings culminate this summer with the Secret City Art Revival, a Woodstock-wide weekend festival of site-specific performances and installations in a wide variety of settings; community gatherings; a parade; a town picnic; and a tent revival starring the Secret City Singers and the Secret City Band. Thesecretcity.org.
Daniel's Art Party

June 12-30. This intriguing, brand-new addition to the region's summer theatrical stage is being presented by Bard College at Simon's Rock in Great Barrington, Massachusetts. A culturally diverse, family-friendly festival, it brings together art, music, dance, and performance with a varied, yet cohesive, flair. On the 2018 debut roster are the site-specific, pop-up ballet "Elgar's Variations Tour"; a campus-wide scavenger hunt curated by director and designer Michael Counts with art by fiber artist/sculptor Huck Elling; comedic choral concert "Maestro Doolally and the Choir"; oral history "Leatherheads: Berkshire Firefighters Tell Their Stories"; an onstage farm and livestock fair; musical farce "Orange Smasheroo!"; and more. Simons-rock.edu/student-life/campus-experience/daniel-arts-center/daniels-art-party.