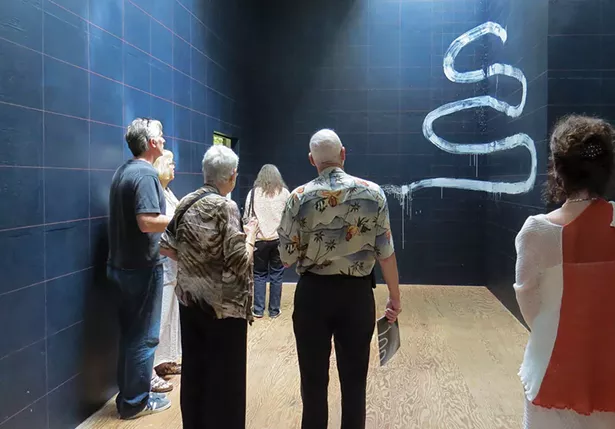 Photo by Susan Wides
Above: The Floating Line, an 2016 installation by Pat Steir at 'T' Space. Below: The exterior of 'T' Space.
For many, Rhinebeck is a town that comes to mind when they want to do a little upscale shopping or enjoy some fine dining—not immerse themselves in some daring new contemporary art. But
'T' Space
, a gallery designed and established by architect Steven Holl on the T2 Reserve forest at Round Lake, located just outside the Village of Rhinebeck, has as its mission the aim of doing exactly that. And for its 2018 summer season, 'T' Space has announced an expansion of that mission that will include enhanced exhibits and multidisciplinary events as well as increased artist residencies and more access opportunities for visitors to the gallery and its wooded surroundings. (
Read about other 2018 summer art exhibits >>
)
"The fusion of art, poetry, music, and architecture is a core aim of 'T' Space," Holl says. "Today a great breadth of digital information is instantly available and segregated into categories. Yet, as in the greatest cultural cycles in history, the Arts are interrelated. Architecture, painting, sculpture, music, and poetry all inspire one another. 'T' Space aims to synthesize the arts and present original programs in the Hudson Valley."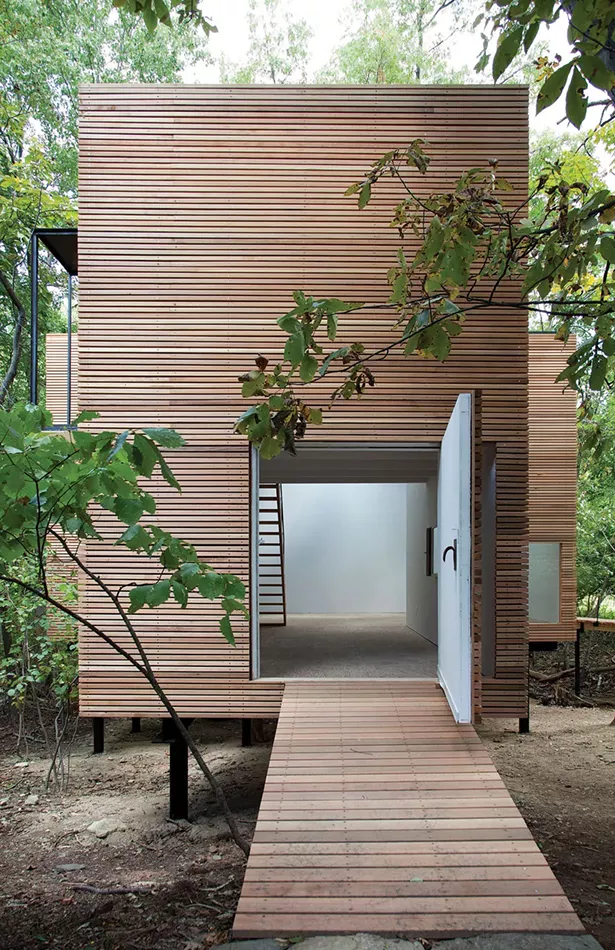 Starting this month, 'T' Space will present a series of three exhibitions featuring new works by artists Richard Nonas and Ricci Albenda and architect Tatiano Bilbao; the opening of each work will be paired with performances and readings by leading poets, musicians, and composers.
The season officially starts with the opening of a new permanent installation by New York's Richard Nonas, a 900-foot outdoor sculpture utilizing 80 railroad ties, that includes a reading by poet David Shapiro and music by saxophonist Stefan Zeniuk (June 2). Next, Mexico's Tatiano Bilbao will unveil and discuss her recent collages and experimental musician Martin Maugeasis will perform (July 21). For the final summer exhibition, Brooklyn visual artist and sculptor Ricci Albenda will present Open Universe, a three-dimensional architectural "drawing" rendered in bent willow ribs (commonly used for basket making) that will be complimented at the opening by experimental poetry from Darren Bader and live "bluegrass-inspired" music by banjoist Jim Krewson (Neko Case, Songs:Ohia, Jim & Jennie and the Pinetops).
Additionally, the summer also features the newly opened T2 Installation Trail, a two-mile hiking path lined with commissioned sculptural works. 'T' Space's public visiting hours are on Sundays from noon to 5pm, with a suggested admission of $10. Exhibition openings are free and open to the public.