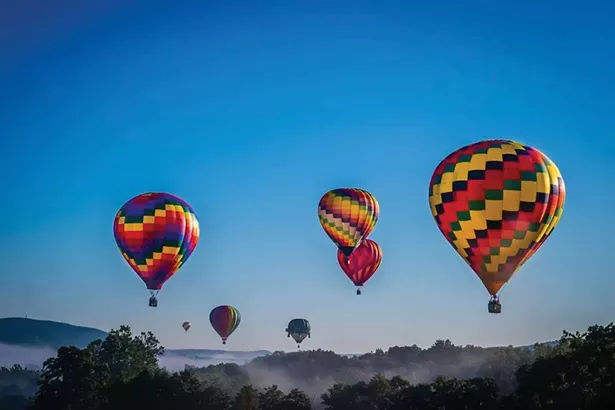 The Hudson Hot-Air Balloon Festival lands in Rhinebeck for the first time this year on July 6-8.
So far in the 2018 Summer Arts Preview, we've covered theater, music, visual art, dance, and craft festivals—that would seem to about cover it, right? Wrong! From hot air balloons to healing arts, the Hudson Valley has lots going on in every arena of interest. Here is a roundup of some the other fairs and festivals happening this summer that you won't want to miss.
Hudson Valley Fairs and Festivals Galore
Zen Mountain Monastery Buddhist Poetry Festival (July 5-8)
Chase Twichell joins a talented rosters of poets at the Zen Mountain Monastery in Mount Tremper for the Buddhist Poetry Festival.
It's hard to imagine a more suitable local setting for a
festival of Buddhist poetry
than Zen Mountain Monastery in Mount Tremper. The tranquil retreat, set on 203 wooded acres and a short drive from Woodstock, has been welcoming those interested in Buddhist teachings since 1980 and is the perfect spot to immerse oneself in the meditative poems, koans, and haikus of Buddhist traditions. Among the masters who will read for this reflective summit are Jane Hirschfield, David Hinton, Margaret Gibson, Ocean Vuong, and Chase Takusei Twichell. Registration includes meals and room accommodations.
Rosendale Street Festival (July 21-22)

A total blast and overflowing with family fun, the
Rosendale Street Festival
has taken some time off here and there since it began in 1978—but back it is, with a bang, this year. The volunteer-run event benefits the music departments of the Kingston, Rondout Valley, and New Paltz school districts and scholarships for a graduating high school senior and honors gregarious area icon Uncle Willy. The festival fills Main Street in Rosendale for two full days with parades, food, crafts, kids' activities, vendors, a film festival, and live music by over 80 acts on seven stages.
Hudson Valley Hot-Air Balloon Festival (July 6-8)

Lofting skyward for 27 years, the
Hudson Valley Hot-Air Balloon Festival
recently relocated to the Dutchess County Fairgrounds in Rhinebeck and touts new and expanded attractions with the move. Expected to pull in as many as 40,000 attendees of all ages, the high-flying fest adds live music, carnival rides, food trucks, and more to the main draw: over 100 launches of colorful hot-air balloons by 25 balloonists from around the country (sunrise launches on the Saturday and Sunday are free to view; evening launches on all three days require tickets). Balloon and helicopter rides can be reserved in advance.
Take Care Fair (June 30-July 1)

Hudson River Exchanges produces the holistic healing expo Take Care Fair on June 30-July 1.
Sponsored by artisan/vintage vendors boutique/fair Hudson River Exchange (see Crafts),
Take Care Fair
showcases vendors and other specialists in the fields of healing arts, living food, and other well-being-related endeavors. Along with merchants offering handmade items, healthful food made with natural ingredients, and other related wares, the event at Henry Hudson Waterfront Park in Hudson includes massage therapists, acupuncturists, nutritionist advisors, personal trainers, and other practicing healers. Reiki sessions, yoga classes, Tarot readings, and healing sound baths will be available on the premises. Admission is free and all ages are welcome.
CreativesMX Marathon (July 29-August 5)

With a mission of uniting and encouraging the exchange of ideas between imaginative individuals working in pretty much every creative field—music, film/TV, dance, literature and publishing, visual arts, architecture, graphic design, the culinary arts, fashion design, theater, media and advertising, crafts, healing arts, even technology and gaming—the
CreativesMX
organization began downstate and has recently begun opening offices and sponsoring events in locations around the Hudson Valley. The group's flagship happening is its week-long Marathon, which aims to help participants promote and improve their skills via workshops, talks, master classes, and more. See website for locations and information.